By Chris Miles for Press Pros
Dublin Coffman displayed a quick-strike ability via the pass that it hadn't exhibited much before, feeding an early getaway to a 28-14 win that puts the Shamrocks alone atop the OCC Capital Division.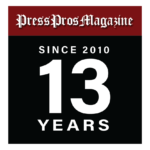 Dublin, OH
— It must've seemed like the good old days for fans of the Dublin Coffman and Hilliard Davidson high school football teams on Friday night.
 The Shamrocks and Wildcats squared off on a cool October evening with first place in the Ohio Capital Conference Central Division on the line. Nostalgic indeed, considering for 17 straight years one or the other of the two Central Ohio rivals won or shared the league title before Upper Arlington won the crown outright last year.
 Both schools came into the clash undefeated in OCC Central play, but it was Coffman, which also seemed turn back the clock and revive its high-powered offense of yesteryear to produce a rewarding 28-14 victory.
The Shamrocks (6-2, 3-0), known more for their power running game and stout defense this season, threw a wrench in the Wildcats' preparation by instead looking a lot like the 'Rocks of old by featuring a high-powered passing attack straight from its storied past with QBs like Brady Quinn at the helm.
Coffman's offensive explosion seemed to catch the visiting Wildcats (4-4, 2-1) by surprise, going to the air with astonishing success, particularly in the first quarter.
 After forcing a Davidson three-and-out on the game's opening possession, the Shamrocks set up shop at the Davidson 49-yard line for their first play — a beautiful pass from quarterback Quinn Hart to a wide-open Garrett Peterson, streaking down the right side of the Wildcats' defense for a touchdown. The point-after from Matthew Schramm made it 7-0 less than two minutes into the game.
Coffman took advantage of a short Davidson punt later in the first quarter and struck again with lighting precision, with Hart hooking up with Amari Valerio-Hadson on a 36-yard scoring strike…another one-play scoring drive to make it 14-0, Coffman.
 "Did they surprise us?" Davidson head coach Jeremy Scally asked. "No. They showed it on film, at least the ability to (throw the ball). No, I don't think we were surprised. Were we geared up to stop the run? Yes, but I'm not surprised that they threw the ball like that.
 "The one thing they did that I will give them a lot of credit on was, I would call it an ambush look, a scatter look. One where we check our defense, they were getting us kind of confused a little bit, then throwing the ball. I think the scatter look is what got us more than them passing the football."
 Coffman coach Geron Stokes, who's in his second year at the helm of the Rocks, said his team was happy to take advantage of Davidson stacking the line and daring his team to throw the ball.
"We just saw what they were doing," Stokes said. "Our quarterback did a great job. They came up and challenged us to throw the it, and if you do that, we're going to throw it. That was their choice."
Coffman stretched its lead to 21-0 when it recovered a blocked punt in the end zone late in the first quarter. This time, they were able to pounce when Davidson punter Andrew Lewis bobbled a punt snap deep in the Wildcats end of the field. A good snap slipped through his hands, and by the time he gathered it, a swarm of Shamrocks were on top of him and the ball bounded into the end zone, where a trio of Coffman players converged for the TD.
"The punt for sure was the one play that broke it open," Scally said. "Not that I am an expert, but it's just hard to recover from that type of miscue. The snap was good, really good. He dropped the punt. That's basic, fundamental football.
 The Wildcats got on the scoreboard on the first play of the second quarter when running Keevin Gibbon busted through the defense and outraced everyone to the end zone for a 66-yard touchdown, making it 21-7 at the half.
Coffman flexed its offensive muscle in the third quarter when it put together an impressive 11-play, 89-yard drive that featured the pass-catching ability of Valerio-Hadson and the running of junior Carson Cox.
Valerio-Hadson caught two passes for 46 yards on the drive and Cox carried it five times, including the final play, a 4-yard scoring run.
 Davidson scored its second touchdown on a nifty double pass from quarterback Johnny DiBlasio to junior Mikey Clark to Drake Conrad that covered 79 yards on the first play of the fourth quarter.
 "I told them, if it hurts, good, it's supposed to," Scally said of the loss. "We work hard and put in a lot of work in the off-season and we only have 10 Friday nights that are guaranteed. So if it stings, good, it's supposed to. I'd be more concerned if it didn't sting. They have to hurry up and make a choice, in my opinion. This is a loss that you better not let it linger very long. They better get home get some sleep and come back with a bounce in their step in the morning. There was a lot of good in there, but we got our butts whooped tonight."
 For Stokes, he's seeing his team continue to put in the work in practice and the results are starting to show on Friday nights.
"Our kids are just showing up to practice every day and they're going as hard as they can," he said. "That's what we need to keep doing.
 "We really only gave up two plays defensively, the long run out of the Triple-I and the double pass. Everything else was pretty much smashed. Our guys are playing hard. It's not pretty, it's not going to be super-fun to watch, but we're just going to play really hard.
 "Our practices are getting better. We're starting to practice like really good football teams practices. When you do that, everybody gets better. Credit our seniors they're forcing the issue at practice."
 With the win Coffman now sits atop the OCC Central with two games to play.