Coldwater quarterback Marcel Blasingame again proved as big as the moment, accounting for 314 total yards and three touchdowns, in a second half slugfest with New Bremen.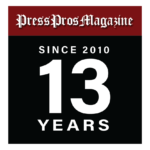 Coldwater, OH – It wasn't that it was unexpected.  To the contrary.
Any of the 2,500 people who watched fully expected Friday's MAC showdown between #1-ranked Coldwater (Div. V) and #3-ranked New Bremen (Div. VII) to be a battle of the respective quarterbacks.  Coldwater's Marcel Blasingame and New Bremen's David Homan are hands down the two most dynamic offensive players in the Midwest Athletic Conference.
And all of those 2,500 got their money's worth as Blasingame ran for 147, passed for 167, and scored three touchdowns in what turned out to be a 35-28 Coldwater win, keeping the Cavaliers unbeaten and no worse than #1 or #2 in Region 18…while proving without a shadow of a doubt that the New Bremen Cardinals are a bonafide contender to compete in Region 28 for a trip to Canton on the first weekend in December.
Statistically, Homan finished with 74 yards rushing and two touchdowns, passed for 248 yards and two more touchdowns, and made Coldwater coach Chip Otten hold his breath every time he touched the football.
"You got two quarterbacks who wear the same number, they're the same size, and when they produce like they did tonight…it's incredible,"  said Otten afterwards.
In a game that saw 797 yards of total offense by both teams (442 by New Bremen and 355 by Coldwater), Blasingame and Homan combined accounted for 636 of those yards!  It moved one onlooker to remark:  "Coldwater got tested, and outlasted New Bremen and David Homan."
It started out modestly, though, with New Bremen using tempo to keep Coldwater off stride and out of synch defensively, enabling Homan to catch the Cavalier defense flat-footed on a 23 yard touchdown pass to Hayden Zeller at 2:24 of the first quarter.  New Bremen was first to score, 7-0.
Coldwater, of course, soon adjusted, put together a drive of their own at the outset of the second quarter, and Jack Ebbing ran it in from a yard out at 8:07…7-7.
After punt exchanges, Coldwater was the last to possess the ball in the first half, moved the ball to the shadow of the New Bremen goal line, and Blasingame scored from a yard out with :35 seconds left to got up 14-7.
Coldwater had elected to take the ball in the second half.  And to give you an idea of how much contemporary Otten and Company rely on the legs of Marcel Blasingame…in the old days (a couple of years back) they would have taken a shot downfield and over the New Bremen secondary on the first play – drive in the dagger.  Not this year.  Blasingame ran it…for three yards.

"Our offense does go through me a bunch,"  explained Blasingame afterwards.  "But we keep plugging away and eventually we catch the defense off guard.  Sooner or later they slip up and we have a big play.  We just keep chunking and keep on going."
Exactly!
It took them two and a half minutes to move the ball to the New Bremen goal line again, where Blasingame squeezed around the end and into the end zone from a yard out for his second score, and a 21-7 Coldwater lead.
That part about slipping up comes in different shapes, and on the ensuing kickoff New Bremen's Cale Tangeman fumbled the kickoff, picked it up and ran to the 35 yard line, where he fumbled it again, Coldwater recovered and was in position to take a commanding lead.  Which they did 50 seconds later on a one yard run by Ebbing to increase the margin to 27-7.  New Bremen blocked the PAT attempt of Coldwater's Justin Kaup.
Tangeman again fumbled the kickoff a moment later, but it was New Bremen who fell on it this time, and owing to the impact of David Homan…on the second play he found Grant Dicke behind the Coldwater secondary for 79 yard touchdown to cut that margin in half with 8:25 remaining in the quarter.
When Coldwater couldn't move the ball, it punted, leaving Homan enough time to incorporate running back Hunter Schaefer (18 carries, 81 yards) and receivers Dylan Bambauer and Aaron Thieman, and move the ball inside the Cavaliers five yard line.  With :35 seconds remaining Homan slashed into the end zone, and suddenly that commanding lead was just Coldwater 27, New Bremen 21.
Coldwater had the first possession of the fourth quarter, and Marcel Blasingame borrowed a page from his counterpart Homan.  He kept plugging and chunking, and on the fourth play from scrimmage he finally broke contain, got through the line untouched, and sprinted 52 yards for his third touchdown of the game.  Otten elected to go for the two-point conversion, which they converted, and people's shorts on the Coldwater side suddenly felt a little better with a 35-21 lead.
But…there was 10:32 left in the game, and David Homan was far from finished.  In a span of four minutes he, Schaefer, and with a little help from their friends had the ball inside the ten yard line, where Homan scored his second rushing touchdown of the game, cutting the lead to 35-28, and with six minutes left, and plenty of time to tie it.
They had two shots.  After a Coldwater punt they moved to the Cavalier 30 before failing to convert on fourth and 8…a pass intended for Ben Sailer broken up by Coldwater's Blade Buscher.
Coldwater took over, couldn't get a first down to run out the clock, and had to punt it again, giving Homan two minutes of do, or die.  He got one first down, and on the next series of downs he skipped a pass attempt off the hands of an intended receiver…and into the waiting hands of Coldwater's A.J. Hemmelgarn with 50 seconds left.  Interception!
Blasingame took a couple of knees in the victory formation, and that was that…35-28.
It was a remarkable game, owing to the leadership of the two respective quarterbacks who proved that when it mattered most everything that's been said and written about them is true.  They are…dynamic!
And no irony.  Blasingame, playing in only his first – and last – year at quarterback, is the near-spitting image of his brother Myles, who played the position just two years ago and led Coldwater to its latest state title in 2020.
"We watch film and we talk together every day,"  says younger brother Marcel.  "He gives me advice before every game, and he's been a tremendous influence…he and my dad."
His confidence, and his play-making individuality, has changed, for a time, the way Chip Otten and Coldwater go about their business.  Otherwise, they would have gone over the top and for the dagger on the first play of the second half.
"It's always in the back of my mind,"  smiled Otten, post-game.  "And we had one (big play) earlier (to AJ Harlamert) that got called back because of a penalty.  And we had a kickoff return brought back on a penalty.  But that's the way it goes.
"They (New Bremen) did a good job of mixing up their coverages.  I didn't get a good feel about when I could get a good matchup and take advantage of a long one.  We just never had the right moment for it."
But Blasingame's ability to tread water – three yards here, five yards there, plug and chunk away – is so threatening it's worthy of comparison and appreciation with the way they used to do things.  Hence, his last, and his biggest, touchdown run of the game.
"Once you get the read on the defense, after that you just gotta' get through the D-line, and then through the linebackers, and after that…that's the best part,"  he says.  "You get through the linebackers and it's just freedom.  All you can see is the back of the end zone once you get past those 'backers."
If it was that easy, of course, we'd all be Marcel Blasingame.  But the reality is there's only one, who's having the time, and the season, of his life.  And he owes it all to some pluggin' and chunkin'.
With help from brother Myles, and Dad…of course!