They played OK, and senior Kate Sherman lifted them through a tough third set as Russia settled into its stretch run with with 15 win…a straight-set decision over visiting Anna.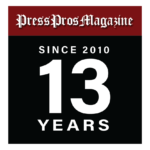 Russia, OH – It was 'unofficial' senior night, a night in which Russia volleyball coach Aaron Watkins was trying to get additional playing time for some of his not-so-frequently-used players against the visiting Anna Rockets.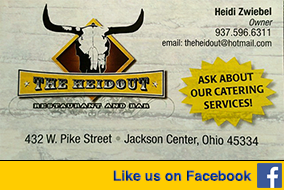 Not their best, perhaps, as the #5th-ranked Raiders (15-4) used a lot of players, different combinations, and played with alternating efficiency.  But as good teams do, they found a way to eventually beat Anna (8-10) in straight sets…25-13, 25-20, and 32-30 in one of the best-contested match-deciding sets of the area season – one that featured eight ties and lead changes over the final 14 points.
"We played OK,"  admitted Watkins, with no excuses owing to the jumbled lineup at the outset.  "We got some extra playing time for girls like Lindsey Vastano, Jenna York, and Audrey Stickel.  And they did some good things tonight."
But they were far from overwhelming – far from looking like the 5th-ranked team in the state – as a young and developing Anna team pushed them to the brink in both the second and third sets.
"We played well enough to win, and that's what matters,"  he added.  "We could have had a little more focus, and a little more energy.  But a win is a win.
"Every night is a tough night against Kelli (Zumberger).  She coaches well, her team is disciplined, they scrap, and you're going to get a fight every night you play them."
Not so much in the first set, where Russia got out big early, and cruised to a 25-13 win.
But in the second it was Anna that got out early, took a 12-7 lead, and watched as Russia tied it at 13-13 on a Kate Sherman serving ace, then take the lead for good with a Sherman kill…and the set, 25-20, with another Sherman kill to put it away.
The third set was epic, back and forth with innumerable ties that saw the game eventually tied 22-22 with the young Rockets sensing opportunity as Russia got a little sloppy with hitting errors, and a little out of 'system'.  Enter the remarkable influence of Sherman, who from that 13-13 point of the second set, took command of the Raiders fortunes, spiking thunderous kills over the net and through the Anna defense…with just as much defensive presence through her ability to block.  As complete a player as there is in area Division IV volleyball, Sherman showed her full complement of abilities down the stretch in the third set.

But it took a while – eight ties and lead changes from the 22-22 point on as one team would go ahead by a point, only to see the other creep back through a kill, a hitting or serving error…and in Anna's case, mounting confidence that they were going to win.
But Sherman had some say in the matter, as did senior teammates Cece Borchers and Simone Puthoff.  Borchers had a critical kill and block at the net amounting for a pair of points;  and Puthoff made a remarkable diving save of a shot in the deepest corner of the court to save a point which visibly frustrated Anna, and cast some doubt as to whether they could win, indeed!  Tied at 30-30, Russia went ahead 31-30 on a block at the net, then Sherman finished the match with another kill.
"She's as good as they come,"  smiled Watkins afterwards.
"The adrenaline kicked in,"  admitted Kate afterwards.  "Sometime it happens where you think you have to get a kill down or you let your team down.  Even if you don't have confidence, you have have to fake it until you make it.  But I was pretty confident [tonight].  Their right side hitter was shorter so I knew I could take advantage of that."
The Raiders improved to 15-4 on the season, raising their Shelby County League record to 10-0, a game ahead of Fort Loramie (13-5, 9-1 in SCL).  And with the tourney draw coming this weekend, the question posed to both Watkins and Sherman was this:  "How does Russia's 15-4 record stack up with New Bremen (18-1) and Marion Local (17-2), ranked #1 and #2 in the state, and teams Russia will have to play through to get to Final Four and a hope-for Division IV title.
"I like where we're at,"  admits Watkins.  "Our losses came early in the year, but I like the way our draw is likely to come out on Sunday, and I'll take us against anyone right now."
They are experienced, with nine seniors on the roster;  and they are accustomed to heartbreak, having been beaten in the regional round three times during Kate Sherman's four years as a Raider.
"I'm tired of that,"  she smiles.  "I don't want to deny credit to any of the other teams.  Both New Bremen and Marion beat us, but we've had a hard schedule and that's to our benefit.  When you lose to New Bremen and Marion…I'd take that over a three-set win any night.
"I like our position right now,"  she continued.  "We can't ever be comfortable,  and we have to continue to grow and improve our game.  I know how it feels to lose in the regionals…three times.  It's motivation.  It's state or bust this year.  I'm not dropping out in regionals this year."
They tune for tougher times that they know are coming, and they welcome it.  Left on their schedule is a date with Botkins on Thursday;  then a rematch with Loramie next Tuesday that will determine a shared or an outright conference championship.
Tough times make you tougher, says Kate Sherman.  They seem to like playing with a lot on the line, and it's coming.
State, or bust!