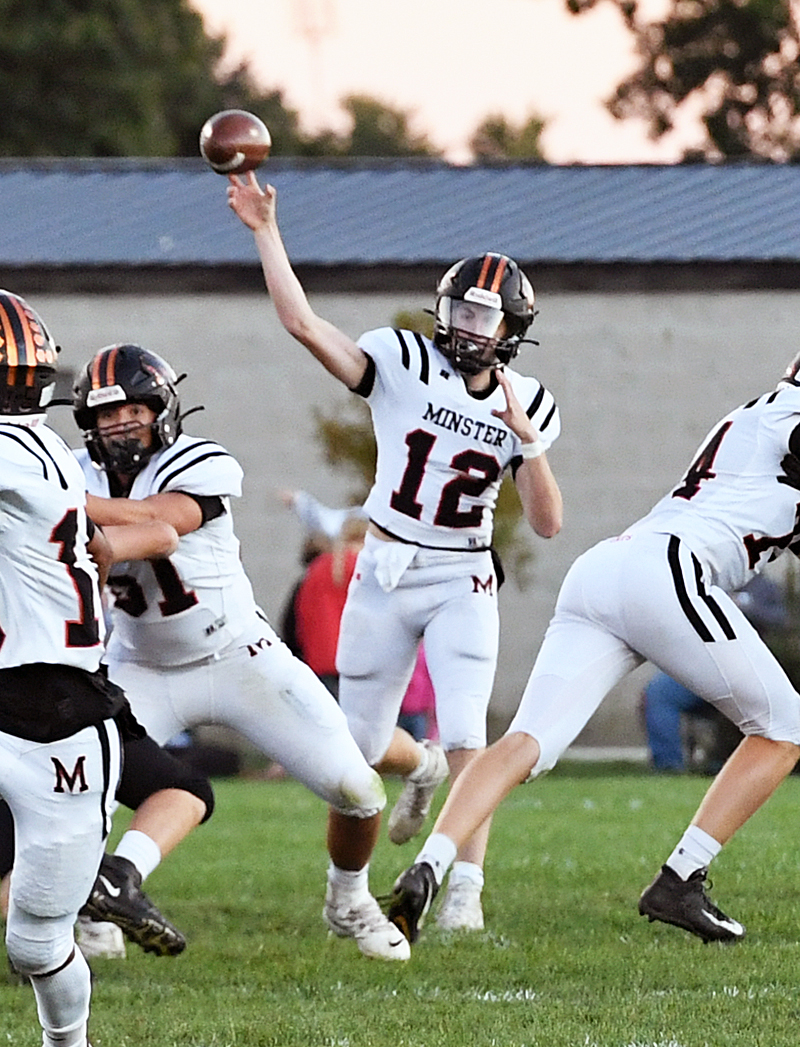 Minster sophomore Brogan Stephey finished hitting on 16 of 25 for 445 yards and five touchdowns…and ran for one of his own. (Press Pros Feature Photos by Julie McMaken Wright and Sonny Fulks)Minster's startling sophomore quarterback threw for 355 yards in the first half alone, then wiped out the school record for passing yards in a tidal wave win over Parkway.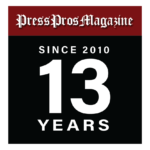 Rockford, OH – Brogan Stephey had already gotten the attention of MAC opponents in the first six weeks of the season, leading the conference in passing yards (1,261 yards), while averaging 210.17 per game.
Friday night he upped that ante while directing the suddenly surging Minster Wildcats to a 5-2 record (4-1 in MAC play), delivering a tsunami-like performance, and a school record 445 yards and five touchdowns in a 48-20 pasting of the Parkway Panthers;  and left little doubt that Minster will have something to say about how the final three weeks of the season will play out.  The Wildcats close the regular season with games versus New Bremen (6-1) and Versailles (5-2) in weeks nine and ten, while awaiting the outcome of unbeatens Marion and Coldwater who will play in the final week.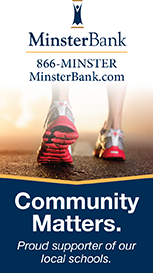 His 445 yards bested the previous record of 408 yards by Josh Nixon in the 2014 OHSAA Division VI title game with Kirtland, and before boarding the bus back to Auglaize County Friday night coach Seth Whiting managed a smile when he acknowledged the still-to-be-developed upside of his sophomore slinger.  "He'll beat that number (445).  All of those guys running around catching passes tonight will be coming back [next year]."
Minster, to Whiting's delight, started quickly, intercepting Parkway quarterback Fletcher Smith on the game's first play from scrimmage, setting up an eventual 9-yard run by Stephey for the game's first score with just 3:30 seconds elapsed.  In a week of talk about hurricanes and storm-like conditions, Stephey and crew were about to come ashore with full force.
At 4:15 of the first quarter he hit James Niemeyer with a 7 yard touchdown pass to up the score to 13-0.  Stephey, the team's kicker, missed the PAT.
At 2:20 of the quarter, he hit teammate Brady Wolf with a 17-yard touchdown pass to make it 20-0…on a play that resulted in the ejection of Parkway head coach Joe Henkle, who came out onto the field screaming about an apparent holding penalty that wasn't called by the officials, allowing Stephey and Wolf to hook up for the score.  That brought on another tidal wave – of yellow flags, of officials' hats thrown, – as well as the disdain of the Parkway crowd.  While the officials were trying to sort out the penalties, someone suggested, "Use the honor system.  Even the kids know that was holding."
Like sharks tasting blood, on their first possession of the second quarter Stephey hit Connor Schmiesing with a 72-yard rainbow down the sideline to make the score 27-0.
Then, two minutes later, he connected with Dylan Heitkamp on one play, an 80-yard bomb right down the middle of the Parkway secondary to push the score to 34-0, and still with nine minutes left before halftime.
Parkway finally got on the board with 5:55 left in the quarter when quarterback Fletcher Smith scored on a 9-yard run…34-7.
Apparently that irked Brogan Stephey.  Exactly one minute later he found Schmiesing again for a 38-yard touchdown, his fifth TD pass of the half, to push the lead back to 41-7.
Not done, Minster got the opening kick in the second half and promptly score on a 1-yard run by Justin Bergman after another bomb downfield to Charlie Schmiesing, a catch Schmiesing made as the ball appeared to graze the helmet of the Parkway defender.  Then, he had to fight off that defender's attempt to knock the ball loose – maintain possession – before he hit the ground.
Parkway never quit, played hard, and came back to score a pair of touchdowns in the fourth quarter on a 45-yard run by Eddie Nichols…and on a 90-yard touchdown pass from Smith to Caden Heindel to bring a close to the game's scoring….48-20!
For Stephey, it was one of those nights when everything he touched turned platinum.  He was decisive, and accurate, completing 16 of 25 passes for 445 yards and the five touchdowns, and scored one on the ground.
He spread those receptions around, as well…Heitkamp with four, Couse with three, Connor Schmiesing with two, Charlie Schmiesing with two, James Niemeyer with two, Brady Wolf with one, Devan Wuebker with one, and Justin Bergman with one.
"It was a special feeling,"  he said, in response to setting a new school record for yards passing in a game.  "But the offensive line, all the receivers…I couldn't have done it without them.  So a win's a win, we got a 'Dub'.
This has not come suddenly, as Stephey talked about the time spent running routes and timing things up with all those guys that ran around Friday catching footballs.
"For sure, we ran routes a lot, we worked hard all summer, on off-days and through camp.  Tonight it paid off.  It's fun…fun playing with those guys.  The wins are nice, people counted us out, but we've still got three more games.  We want to finish up strong, and win some games in the playoffs."
That looked imminently doable, the way they played Friday.  And as Whiting referred to earlier, this is a team that's built for both the immediate future as well as down the road.  Minster has just seven seniors, ten juniors, and 17 sophomores on their roster that have contributed to their now 5-2 record.
"The kids are doing a nice job executing,"  said Whiting to waiting reporters afterwards.  "There were things we weren't happy with tonight…our tackling could have been better…things that if we want to really compete we've got to clean that stuff up.
"I was happy, however, with how quick the kids came out, and how fast they played at the beginning.  That's been our 'm-o' this year, start slowly and have to fight back in the second half.  Tonight they did a nice job of coming out and controlling things from the jump."
In total, Minster finished with 482 yards – 445 through the air, and just 37 on the ground.
Parkway showed its own offensive ability, pushing back for 371 yards of offense, but much of that came on those two late touchdowns in the fourth quarter when Minster was subbing freely.  Running back Eddie Nichols was particularly impressive, running the ball 15 times for 148 yards and a touchdown.  Eddie Nichols, simply…can play!
To Brogan Stephey's point, there are three games left to play, and even more to play for.  Remarkable, considering this team went 1-9 last year, suffered through an array of injuries, and given their youth, could have lost a lot of zeal for the game.  Instead, they found a will to work, commit, and turn the program on a dime.
"The kids did an excellent job in the off-season,"  adds Whiting.  "The 1-9 last year came through inexperience and injuries – a lot of things contributed to that.  We were 1-9, but we weren't a 1-9 football team.  If you had seen us practice the last two weeks last year you would never have guessed we had only won one game.
"They come to practice every day, we coach 'em hard, they accept coaching, we're getting better every week, and our seven seniors are doing an excellent job for us…anything we ask.  We had kids make some really nice plays tonight, guys made catches, Justin Bergman with his long run there in the second half…you can't talk enough about the job the line and these kids are doing together.  It's fun to throw it like we did tonight, but you also have to run it to win games.  We've got to continue to get better at that."
They can, and odds are they will.  As he met his wife and left for the trip back to Minster, Seth Whiting reminded:  "A lot of those guys running around catching passes [for Brogan Stephey] tonight…they're coming back."
As is Brogan Stephey!