The Flyers learned a lot about themselves in nonleague play and Rick Chamberlin likes a lot of what he saw.
By Jeff Gilbert for Press Pros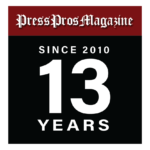 Dayton, OH – Rick Chamberlin is the type of person who watches a sunset and doesn't dwell on what happened – good, bad or acceptable – that day. A setting sun means it's almost tomorrow.
And he can't wait.
Bring that sunrise. Bring another day to practice and play football. The optimism he and his football team spoke brightly about before their first game – "Our goal is to win the PFL" – still exists.
The Flyers began Pioneer Football League play Saturday with a 27-14 victory over Drake with a single-minded goal: Take the momentum of the past month of sunsets and sunrises and line them up until the Flyers are Pioneer Football League champions for the first time since 2015.
Chamberlin stood on the porch of the Frericks Center on UD's campus Wednesday afternoon squinting against a bright sun in his face. His expectations, even after the natural ups and downs of two nonleague victories and one loss, are just as bright and he doesn't have to squint to see them.
"We made improvements in areas from game one through game three," Chamberlin said. "I was very happy on how we played a total game two Saturdays ago and we were able to play real stout defense against a hard offensive scheme. And then our offense got into a rhythm there that second half. That's what I've been waiting for. And that was good to see."
Two Saturdays ago, the Flyers defeated Division II Kentucky State 46-3, handling the Thorobreds triple-option offense and a handful of good athletes on defense. That followed a gutsy 22-20 victory at Robert Morris and a 49-16 loss to a fast and more talented Youngstown State team. Saturday's win was a good start on conference play.
"It's an evenly matched conference," linebacker and captain Ben Schmiesing said. "It's always getting more competitive. So it's definitely something you can't go into taking any game for granted. It's going to be competitive every single game."
The Flyers should be optimistic. They always win more than they lose, and they look like a complete enough team that can reasonably expect to win every Saturday. Why does Chamberlin think so? He could make a long list, but three things stand out.

Mental toughness
The Flyers haven't made a fast start on offense. They needed a 16-point burst late in the third quarter to take control against Robert Morris. They fell behind 21-0 at Youngstown but didn't quit. They led Kentucky State 10-3 at halftime before looking their best in the second half.
Despite those early-game figuring-it-out times, Chamberlin said he hasn't seen any oh-my-gosh, wide-eyed looks in his players.
"You never know that till you get into your season," he said. "But for three straight games I felt very confident in the poise and the mental toughness of our team."
Some key injuries could have caused panic. Senior offensive tackle David Tkatch was injured in the opener, but the offensive line has still performed well. Tkatch practiced this week and might be ready to play against Drake.
The biggest worry, however, came in the Youngstown State game when safety Matt Lenti and senior cornerback Elijah Smith were injured. That meant two players had step in with little to no game experience. But senior cornerback Michael Franks and redshirt freshman Cole Hildebrand have played well. Hildebrand forced a fumble to set up Dayton's first points against Youngstown. Smith was hurt on that play and Franks played the rest of the game.
Lenti remains out with a broken collarbone and might be back for the final two or three games. Smith will probably play Saturday, but Chamberlin said Franks has earned playing time as part of a three-man cornerback rotation.
Flying to the ball
In the two victories, the defense hasn't allowed big plays or been beaten down by repeated long drives. This year's team is looking like the kind of team that won't have to win mostly in shootout style.
"Something that I've personally been impressed with this defense is the effort we've shown every game just flying to the football," Schmiesing said. "Every single play, you see 11 red jerseys flying to the ball and it's a great thing to see on film. It's just guys hustling. They just want to get out there and compete for each other and just do their job."
Schmiesing, who played high school football at Piqua and was a preferred walk-on at Ohio State for three years, transferred to Dayton last year. He said good preparation has allowed for the defense to play aggressively. And Chamberlin agrees.
"We are running to the ball very well and tackling well – we really are," Chamberlin said. "That was something we had to get better at, compared to 2021."
Special teams
Chamberlin said this often-overlooked phase of the game has improved in every situation.
Sam Webster has made all seven of his field-goal attempts. Punter Drew Nieman and kickoff specialist Michael Denning are executing better situationally. And the coverage and return units made plays against Kentucky State.
"I thought we could be a very good special-teams team coming into the year," Chamberlin said. "First couple games I didn't think we really showed it. Third game I thought we did."
Honorable mention
The offense entered the Drake game coming off its best half and has produced yards and points with a good run-pass balance. Redshirt freshman Dante Casciola is the only new starter.
"It's all 11, it's not just Dante," Chamberlin said. "It's the line in sync with one another. And running backs, receivers being in the right spot. That's what I love about football is you need all pieces working together. If you have one person out of sync, it can hurt you."
All-American running back Jake Chisholm had yet to have a big game until Saturday, but Chamberlin says the reason is good defenses are game-planning to limit his production.
"The defenses we've been playing have been physical and running around, and that's fine," Chamberlin said. "If they want to zero in on him, then we will hurt you someplace else."
Casciola's passing yards climbed from 87 to 134 to 182 yards in the nonleague games. And his 142 rushing yards were one more than Chisholm's total. Chamberlin said Casciola's progress on the learning curve is on par with previous new starters.
"I could probably count on one hand where I would say, 'Ooh, that was a bad decision. He should not have thrown that, or he should have kept it,'" Chamberlin said. "That's a good thing."