Schmiesing, Chamberlin and company take the good with the bad with a smile in PFL opening win over Drake.
By Jeff Gilbert For Press Pros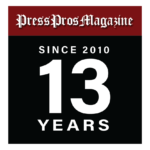 Dayton, OH – Ben Schmiesing might have ordered a piece of pie to go with his victory dinner Saturday night.
The Dayton Flyers won, but that doesn't mean he had to like the taste of everything that happened at sold-out Welcome Stadium. He needed something to sweeten the taste in his mouth.
"I don't know about the rest of the guys but giving up that one on the last drive kind of leaves a sour taste in the mouth," said Schmiesing, a senior linebacker from Piqua. "So the victory is not as sweet."
On an otherwise pretty sweet day for the Flyers, Drake completed a 43-yard pass to set up a late touchdown in Dayton's 27-14 victory in its Pioneer League Football opener.
The Flyers are 3-1, but understanding that one mistake can be costly will be a regular reminder in practice as they prepare for a road trip to Butler next Saturday. They will also be reminded of what happened last season. After a 63-43 home victory over Presbyterian, the Flyers went to Morehead State and lost 45-38. In 2019, the Flyers started 2-0 in PFL play then lost the next two.
"We've got to break that curse," running back Jake Chisholm said. "In the PFL anybody can beat you week to week. It doesn't matter what anyone's record is, so you got to prepare for each team the same."
Drake didn't come close to beating Dayton. The Bulldogs are 0-5 and lost their 10th straight or 11th straight of you count a forfeit last year. The NCAA doesn't count the forfeit, but the PFL does. Regardless, the Flyers are aware of some mistakes that could be costly against future opponents.
The Flyers were driving to take a 17-0 lead late in the first half. But redshirt freshman Dante Casciola, who has made many mistakes in his first season as the starter, made one when he tried to force a throw to Cade Beam in the back of the end zone.
Drake's Tony Graham II intercepted Casciola, and the Bulldogs put together their best drive and scored on Ian Corwin's 16-yard pass to Trey Radocha with 1:42 left in the half to trail 10-7.
"We made a terrible mistake with that interception just before halftime in the end zone and they capitalized on it, and that's what good teams will do," Flyers coach Rick Chamberlin said. "And, unfortunately, we were in a bad coverage error before that second touchdown. Just was execution that we just didn't have on a couple of plays."
The Flyers are on the to next game by now, but there was plenty to celebrate about the beautiful fall day.
The defense was locked in and pushing around Drake for the most part. They held the Bulldogs to 251 total yards and to 5-of-14 on third down. Schmiesing had 11 tackles, end Joe Durham had two sacks and three tackles for loss totaling 34 yards in losses and Elijah Smith made an interception.

"Big plays happen," linebacker Nathan Arthur said. "Everybody did a good job of responding and not letting it get in our heads."
The offense continues to evolve under Casciola. He completed 19 of 24 passes for 176 yards and a 21-yard touchdown pass to running back Ty Stylski for a 17-7 lead late in the third quarter. Casciola also ran for 33 yards on 12 carries.
"I thought Dante made some good choices and he made two bad ones, and the one cost us," Chamberlin said of the interception. "He should never have thrown that in that end zone. He runs the ball, he might score, but that's a learning experience for him."
Perhaps the most important part of the offense was the sweet feet of Jake Chisholm. The senior All-American had his best day this season. He rushed for 131 yards and two touchdowns on 24 carries and had team bests of five receptions and 38 yards.
"This is the best Jake has felt going into a game week," Chamberlin said. "That week off helped him because he takes some pounding but there. He was the old Jake out there making people miss and bouncing off tackles."
Chisholm put the Flyers up 7-0 in the first quarter, outdancing a defender to reach the front corner of the end zone for a nine-yard score. Late in the third quarter he broke three tackles on his way to a 17-yard touchdown run to put the Flyers up 24-7.
"It's crucial," Casciola said of Chisholm's effect on the game. "You can see the way he was running the football, and the offensive line did a great job all game creating holes. We can create that balance and keep the defense off balance, and they didn't know really what was coming."
After assessing a lot of good and little bit of bad, Schmiesing kept a positive outlook after mentioning that final, sour-taste drive the defense allowed: "But a PFL victory is still great no matter what."
Schmiesing also broke up two passes in the end zone. On the first one he had to go with a tight end and broke up a throw to the back corner on a play most linebackers don't make. On the other he got in the way of a crossing pattern on another play most linebackers don't make. The second one he thought he should have intercepted.

"I think that one's gonna hurt the rest of the night because I didn't get it," he said. "But that's all right."
And he smiled. Victory is sweet no matter what, and everyone in and near the stadium enjoyed the day.
The game was sellout because the stands on the visiting side are being renovated. When complete, Welcome's new capacity will be 10,000. So 4,600 was a sellout Saturday on a festive day. The parking lot around the stadium and UD Arena was full of tail-gating parties celebrating Family Day.
Maybe someone had a leftover piece of pie.