Fall readership definitely brings out the color in comments from new Press Pros readers, near and far – on empty seats at high school football games, equality in coverage, excitement for volleyball…and Hal McCoy!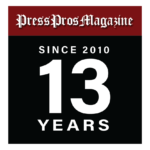 In one of the annual contradictions between human personality and cooler seasonal temperatures, emotions ran high in recent comments received over our September 19th commentary on why there's so many empty seats at high school football games.  Fall color evidently includes more than just the leaves on the trees:
"Life and the world is not as simple as it used to be, and there are greater concerns than football on Friday nights.  Tradition is fine, but there's another important tradition called human suffering and attention from those who can for those who don't have food to eat and a roof over their head.  The desperate really don't care if the stadiums are full.  Big picture, I look at the crowd at an Ohio State game and wonder if anyone understands there's a greater reality."  … Caro
(Ed. Note:  We're certainly willing to share your concern, but is it not possible to have both?  If you've missed it, there has always been human suffering and empty seats at football games.  It's nothing new.)
"Enjoyed the article, but if you don't have kids who play there really are other things to do that are more appealing.  The freedom is refreshing.  First-time writer."  … Jim Crickmore

"I take from the athletic director's comment that as prices continue to rise the price to see a football game is going to continue to rise, too.  I would remind him that there's a limit."  … Jack Riess
"I'm a new reader of the site and enjoyed the article about empty seats.  I wish to share that for many seniors it's not easy to go to a football game.  There's not enough senior or handicap parking (if any), seating is inconvenient, and you can't buy a ticket anymore at the gate.  You have to buy one on your phone, which is hard.  It's too 'techy' to go now, and that's a good reason to stay home." … Bill Hale
"There's competition for Friday nights now. The new reality is that every entertainment option is now marketed, but not high school sports.  If you want something beside parents and friends you've got to let the people know."  … Tom Yohey
Part of the landscape, we get the message about all sports not being covered equally.
"While I'm impressed with the way you cover football and volleyball, or sports you obviously favor, I'm disappointed that you do nothing on cross country, golf, and sports like tennis and swimming.  I'm sure I'm not alone."  … MJ Gustin
(Ed. Note:  The point you make is an issue of overall participation, and readership.  But you did arouse my curiosity.  After receiving your email I spent two consecutive Sundays reading the Columbus, Cincinnati and Cleveland newspapers online and didn't find a word in any of them about high school golf, cross country, tennis or swimming.  Apologies from Press Pros…and all those newspapers)
We couldn't do it without the area coaches and volleyball players, but we heard the following regarding coverage of that sport on Press Pros.
"I'm not only impressed with the quality of high school volleyball in your area (weekly polls), but you cover it well."  … Jim Jones

"Volleyball is very hard to shoot and you guys do a great job.  What's the trick?"  … Tim (Lima)
(Ed. Note:  Practice, and technology)
Apparently there's a festering demand for the return of hall of famer Hal McCoy to these Press Pros pages, and it isn't far away.
"What has happened to Hal McCoy on Press Pros.  And will he be coming back?"  … Rae

(Ed. Note:  Many know, but some don't…that Hal suffered a broken hip in late summer and has had to forego covering University of Dayton football for us presently.  He is, however, doing fine, chafing to get back in the saddle, and will be back in full bloom to write UD basketball for us come November.  In the meantime, in lieu of cards send cigars (Monte Cristo White Labels) anonymously to a bus stop near the Kroger store in Englewood.  He checks it daily.)