The Heisman Trophy candidate was asked some pointed questions about being intercepted and having, for him, a low completion percentage against Wisconsin. But he has been without Jaxon Smith-Njigba while having to break in some young receivers.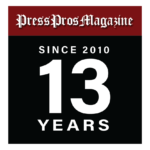 Columbus, OH – Ohio State quarterback CJ Stroud was pretty magnificent for a fourth straight Saturday when he took apart a Wisconsin defensive mentality that has helped that program become a player in major college football since the early 1990s.
The man threw for five touchdowns – again – and 281 yards in a 52-21 victory.
But Stroud was intercepted just before halftime and was almost picked off early in the third quarter. One throw was too high and got tight end Cade Stover flipped on his head after contact with a defender.
His 17 of 27 passing for 63 percent, incredibly, was his lowest completion rate in 13 games dating to 2021.
"I'm never going to play perfect,'' Stroud said that night. "So, try to get that out of your head right now. I'm never going to play perfect. So that interception, obviously I heard Coach (Ryan) Day say that it was my fault. I've got to make the throw. I think I can make that throw better.''
What Day really said was that he kind of set up his quarterback for failure on the interception by trying to score despite the drive having started at the Buckeyes' 30-yard line with 1 minute, 19 seconds left.
The scrutiny doesn't end with the media that follow the team. This is a national deal because Stroud is, No. 1, the quarterback for a blueblood powerhouse, and, No. 2, he's up there in the Heisman Trophy talk.
Day defended Stroud during his news conference Tuesday leading to the second Big Ten game against Rutgers at 3:30 p.m. Saturday at Ohio Stadium. Ohio State (4-0) is a 39-point favorite.
"I thought he played well. I thought he was efficient. I thought he made some really good throws,'' he said. "But like everybody there are things that you have to grow on and get better at it, and he knows that. People ask, what can he get better at? (And I say) everything. I say it at the beginning of the week, I said it last year and if he was here for another three years I'd say the same thing. He's not perfect. Nobody's perfect, and I don't expect him to play that way. I certainly don't ever want guys to think they have to be perfect. I want them to trust their eyes and to trust their instincts.''
And, Day pointed out, look at what the man did.
"I think he is being critical of himself. He's doing a great job,'' he said. "He has to answer some questions that are probably unfair to him. He threw for five touchdowns again, and beating a team the way we did and the way we did it, that's a heck of an outing. He was probably trying to explain a couple of bad passes.''
The team's numbers scream that the quarterback has been great. Last season, Ohio State was a mess in the red zone and spotty at best on third-and-short.
This season, the club is 20-for-20 in scoring range, including 18 touchdowns and 30-for-48 for 63 percent on third down.
"Third down in the red zone for a quarterback, that's where you make your money,'' Day said. "We worked hard on that and spent a lot of time on it during the preseason. So, we're going to have to continue to do that. It only takes one down a day and you are out of whack.''

Day and offensive coordinator Kevin Wilson have gone so far as to have H-back Mitch Rossi on the field in short yardage in an I-formation and split backfield.
"We're going to be diverse. We're going to continue to do things so teams can't gang up on (Stroud),'' Day said. "At the end of the day, it's execution. And hopefully the different looks give us an advantage.''
Take a look at what Stroud has faced in four games, including those against Notre Dame and Wisconsin that everyone in the nation had their eyes on. Yet he's tied for first nationally with 16 touchdown passes, No. 2 in passing efficiency and No. 3 in points responsible for with 96.
What about him being 12th in passing yardage with 1,222? That's sensational in that everyone in the top 16 has attempted far more passes.
Stroud lost slot receiver Jaxon Smith-Njigba in the first quarter against Notre Dame with a hamstring injury. Except for a half against Toledo, he has been without a man who caught 95 passes for 1,606 yards and nine scores a year ago.
He already had to recalibrate after wideouts Garrett Wilson and Chris Olave and tight end Jeremy Ruckert left for the NFL. That trio combined for 161 catches and 28 touchdowns.
In have come Marvin Harrison Jr., Emeka Egbuka, Cade Stover and a graduate in Xavier Johnson who no one knew anything about until that Notre Dame game.
Oh, and Julian Fleming has been bugged by injuries, too.
"Losing Jaxon really got us out of rhythm in that game for sure,'' Day said of Notre Dame
Still, Day said, Stroud was 9-for-10 in the fourth quarter when the outcome was in doubt.
"That's a whole different group than he had last year,'' Day said of the receivers. What we've done is build the offense around those guys, and that's a little bit of a different feel. I think CJ has embraced that and gotten some chemistry with those guys after time. Those guys have settled into some roles, which has been the blessing, the silver lining, for not having Jaxon in some of these games.''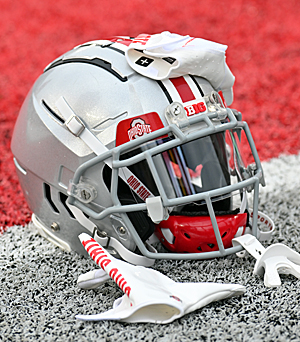 What about Smith-Njigba for this week?
There is no timetable. Of course, everyone is frustrated about this. But there are eight regular-season games remaining.
"I know he's frustrated, but we're not as far away as we think,'' Day said. "This will be behind us soon.''
THIS AND THAT
The Michigan State game in East Lansing will kick off at 4 p.m. and be broadcast by ABC. . . Rutgers will end a five-game homestand. The 1999 and 2003 teams also had five straight home games. . . This is the ninth straight season Ohio State will play Rutgers. This will be the 600th game at Ohio Stadium. . . The team's 26-game home winning streak, says Harold Shelton of the Big Ten Network, is the longest in Big Ten history. . . Day is 22-1 in home games, the loss coming against Oregon in 2021.