The unranked Badgers are a throwback team on offense in pounding the ball with tailback Braelon Allen, but are equally physical defensively under coordinator Jim Leonard.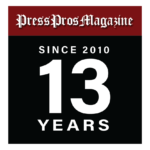 Columbus, OH – No football team owns the "Whiteout'' game quite like Penn State. The athletic department went so far as to patent the term of paying customers wearing white as a symbol of unity and intimidation.
That's okay with Ohio State. There are a lot of styles and colors to choose from.
The Buckeyes will stage "Dark Night'' in urging 105,000-plus spectators to wear black when they play Wisconsin at 7:30 p.m. Saturday at Ohio Stadium. ABC will televise.
The university doesn't have nights like these for Maryland, Illinois or Rutgers.
This is a biggie.
"If we're going to make a run at the Big Ten championship, we have to beat Wisconsin,'' head coach Ryan Day said.
Third-ranked Ohio State will be decked out in black uniforms for the fourth time and first time since it defeated Michigan State 21-10 in 2019.
This is the NIL era when it doesn't matter who throws money at players, and local retailer Pursuit will outfit all 18 offensive linemen in custom-made black suits.
Several players have reported on social media that LeBron James has gifted the entire team with Beats Studio3 wireless headphones. They have the red, white, gray and black helmet stripes on one side and Buckeye leaves decals on the other.
And, oh, yeah, about the game.
Ohio State is a 19-point favorite to extend its winning streak in the series to nine games.
If you wager, the smart money will be on the under with the over-under being 57 points. The Badgers' defense under coordinator Jim Leonard usually is aggressive and hits hard.
That's one reason Day has preached to his players about the importance of practicing well on Tuesday and Wednesday.
Practice makes perfect, but in the words of tight end Cade Stover it also toughens the players.
"Oh, it's a grind,'' he said. "Tuesday and Wednesday, you had better buckle up like it's a game. I run more yards Tuesday and Wednesday than in a game. It prepares you and puts your body to the test.''
Toughness and competitiveness have been stressed by Day and his staff since the weeks leading to the Rose Bowl against Utah last New Year's Day.
The Buckeyes were stung by criticism that they were soft after being smashed 42-27 by Michigan.
"I think toughness isn't something you can't do in one day,'' Stover said. "If you are going to be tough and be physical, you have to do it every day when you wake up. You have to be tough in any situation they put you into.''
The Badgers will line up in a 3-4 base defense and attempt to stuff every running lane from 5 yards to the left of the left offensive tackle to 5 yards to the right of the tight end.
The key for them will be to get quarterback CJ Stroud and his many ball movers off the field as quickly as possible.
Don't be surprised if Ohio State offensive coordinator Kevin Wilson and Day again show the ancient I-formation that Southern Cal popularized in the 1960s through the early 1980s with Heisman tailbacks Mike Garrett, OJ Simpson, Charles White and Marcus Allen.
Twice last week against Toledo the Buckeyes lined up in the I, which has the quarterback under center and a tailback lined up behind a fullback. The fullback is in a three-point stance. The second play resulted in a 1-yard touchdown for H-back Mitch Rossi.
Last season, the offensive line had difficulty in short yardage on third down and in the red zone.
Rossi is 6 feet 1, 250 pounds, and Wilson has said that he very much is an NFL prospect.
"When you're just 1 (yard) way, defenses do a great job of teeing off on you," Day said. "When you can change things up a little bit, it gives diversity to the offense. (Every coach) in that room has a background in that style of play and there's a place for it when you have those styles of guys in your room. Lining up under center, lining up and playing downhill is a little bit of a mindset for sure.''
Also look for more Miyan Williams at tailback in what is looking to be a 50-50 job share with TreVeyon Henderson. He ran for 84 yards and a score on 14 carries against Notre Dame, 46 yards on eight carries against Arkansas State and 77 on 10 tries against Toledo.
Williams made his case to play more by averaging 7 yards a carry in the fourth quarter against Notre Dame when the passing game was not its explosive self.
He does love the I-formation.
"It's just a lot of power,'' Williams said. "You run off the ball and get some push.''
If you zero in on center Luke Wypler and Stroud with your binoculars, notice Wypler turning his head to speak to his quarterback. He'll also be pointing out Wisconsin linemen to let teammates know the blocking scheme.
Stroud has said that "I'm the president'' and that "Luke is the vice president'' when the offense is checking down plays. The pair also are partners in an NIL deal.
"That's a huge compliment,'' Wypler said of Stroud making him second in command. "That just speaks to the volumes with the way we work. CJ has the final say in everything that we do. With him as president and me as vice president, that's a huge compliment coming from one of the best players in America that he trusts in me to make him safe and protected back there.''
Then he expounded on checkdowns.
"Communication is key in this game,'' Wypler said. "It's 90 percent of it. It has to be targeted right and blocking the right people for it to be successful. It's communication, point here, point there, ID here and ID there. For us, that's a huge part of it.''
On the flip side, Ohio State has the task of at least slowing down Wisconsin sophomore Braelon Allen. Last season, he ran for 1,268 yards and 12 touchdowns.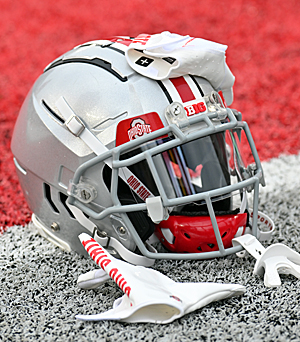 The Badgers are a throwback team in pounding of the football.
This season, Allen ran for 148 yards and two scores on 14 carries against Illinois State, 98 yards and no scores on 21 carries against Washington State and 86 yards and three touchdowns on 15 carries against New Mexico State.
He's 6 feet 2, 235 pounds and bigger than the typical tough-guy Badgers' tailback.
"In the big back category, he's as good as any that I have seen," Ohio State defensive coordinator Knowles said. "We have to make sure that we have great form when we tackle him and rally to the football and (box) him in. It's going to be a team effort because he is very talented."