Much anticipated between the state's #1 and #2 teams in Division IV volleyball, Marion Local proved its record is for real and its appetite for challenge is as great as ever…knocking off #1 New Bremen in four sets.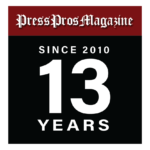 Maria Stein, Oh – No one had to ask Marion Local coach Anthony Chappel if he was surprised, or if his Marion Flyers had caught the state's #1-ranked New Bremen Cardinals by surprise following Tuesday night 3-1 win by Marion.
"I think we showed people over the weekend that we were capable of this,"  he said afterwards.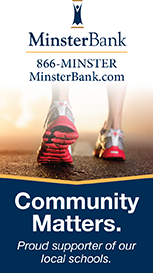 And how dare anyone not notice!
But they're going to notice now, after the Flyers punched the previously unbeaten Cardinals (13-1), 25-18, 20-25, 25-22…and for emphasis, simply overwhelmed New Bremen in the final ten points of the deciding set, 25-15.
"We wanted a great battle,"  said Chappel.  "And that's what we got, for sure.
"But you talk about momentum swings…this had every bit of the pendulum in it.  We had some highs and lows, and I'm glad our highs were big enough to offset the lows."
High and lows?  Decidedly, and for both teams.
Momentum swings?  Absolutely.  It's a prerequisite in the sport of volleyball.  The game giveth, and it taketh away.
Experience?  You bet, and you base whatever ambitions you have down the stretch, and then into the playoffs, on having players who aren't afraid of big moments and big responsibility.
Marion exhibited just that, winning the first set by taking advantage of innumerable hitting and serving errors by New Bremen, who whether by inexperience, or nerves, or just being late starters, seemed to sleepwalk through the opening set.
Bremen is a team that gets off the bus hitting aggressively, but Tuesday night they couldn't channel that aggressiveness, couldn't harness the rudiments of volleyball…that of serve/receive, pass in system, hitting on time, and instinct for where to be at just the right time.  The Cardinals, who rarely ever have a bad night, had a night worth both forgetting, and remembering for the sake of, "Here's what can happen."
"We had a lot of errors,"  Cardinals' coach Diana Kramer said. "And all of them happened at the wrong time, if there is a wrong time in volleyball…because it's a game of momentum.
"We were up big in the second set, and they clawed their way back.  We were up in the third set, and they didn't stop playing.  We were up in the fourth set, and our youthfulness kinda' showed a bit…and,"  she hesitated…"we just lost to a really good team."
Yes, there's little doubt at this point that Marion is a really good team.  And to Chappel's point, they had shown that previous to last weekend…they just reinforced it with wins over out-of-the-area teams like Notre Dame Academy (Toledo), Louisville Male, and Cincinnati Hill Christian Academy.  But in a highly-publicized game that nearly packed Marion's tiny gym, the Flyers' senior experience for playing big in big moments unquestionably forced New Bremen to rethink, and regroup, on the fly.
"We were scrambling at times,"  admitted Kramer, with a wisdom-like grin.
After dropping the first set, Bremen immediately jumped out to a 10-5 lead in the second, and stretched that lead to ten points – momentum smiling on them in the moment.  But no, Marion didn't stop playing, and went on an 8-1 run as the Cardinals fell victim of not just hitting errors, but errors that landed six feet behind the end line. The game taketh away, of course, and a couple of hitting errors by Marion happened at the wrong time, helping the Cardinals escape with the 25-20 win.
In the third set, Bremen again went out to the lead, but couldn't harness those errant shots.  Marion took advantage, going on a run of its own to erase a 7-4 deficit and turn that into a 12-9 lead.  It is a small gym with a low ceiling, and the ball was sent into the rafters several times, an omen, perhaps, of the home court advantage.  Maybe, or maybe not, but Marion used every mistake to its advantage, winning 25-22.
On most nights, Kramer and company turn to their big hitters as the equalizer in moments like this, and rarely have they disappointed…such as Olivia Heitkamp coming off a 29-kill performance last Thursday in Bremen's impressive win over Coldwater.  But Marion had done its homework, had studied some film, and was ready with a game plan for just such an eventuality.
"The assistant coaches got together on Wednesday night,"  said Chappel.  "We watched [film] of three different games, got all kinds of notes, all the great suggestions, pieced it all together, and came up with an Option 'A' to take out their great hitters.
"We knew that Heitkamp was going to keep coming and coming. We tried to limit her and hope all the rest of the pieces would fall in place.  Our defense was just all over the place.
"Heitkamp is their go-to hitter.  She's a great hitter,"  added Flyers' senior Lindsey Koenig.  "We just tried to set our block big, make her hit around it, our middle backs read her very well, and they picked it up great."
"I think in the fourth set they got a little frantic and nervous,"  added fellow senior Stella Huelsman.  "Like they were trying to over-hit.  But Lydia (Eifert) picked it up and we got into system.  It just worked for us."
And it really worked in the fourth, Marion seizing on New Bremen's frustration to storm through the final ten points…25-15.  Chappel was on his feet at the end, yelling, "Finish…finish!"
"We talk about it all the time…just do your job,"  said Chappel, doing his best to suppress a happy smile.  "And everybody did their job tonight.  The girls stuck to the game plan, even when we were down they stuck to it.  They showed a lot of heart.  We never stopped playing.  We came back at 'em when we were down."
And then he added…..
"It's unfortunate that they were missing [Mia] Schmitmeyer (out with an ACL injury).  I'm happy with the outcome, but I always want seniors to play.  It would have been nice to have her on the court tonight."
Win or lose, there is a camaraderie in volleyball that's unmistakable, commendable, and appealing in the face of the most frustrating of nights.  Anthony Chappel and Diana Kramer are Phi Beta Kappa when it comes to mutual respect and proper perspective.
"It's not the end of the world, and we'll learn from tonight,"  assured Kramer.  "This game was hyped up – #1 vs. #2 – and the communities love that.  These girls are competitors, they didn't want to lose tonight, but tonight we got beat by someone better than us.  It's simple as that.  Their coach had them in position to win, and it made me look like I need to go back and assess how I coach. I'll take the responsibility.
"They made plays.  We made some untimely errors, and they capitalized.  They grabbed the momentum at the right time.  We had it early, but they had it late.  And what matters is who has it at the end of the game…and who can finish."