Xavier Jones rattled off 200 yards and four TDs, kicker Jackson Kleather booted another 46-yard field goal and the Red Devils defense made it stand with a 45-7 victory against Stebbins.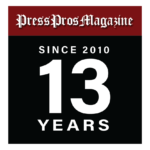 Tipp City, OH – With the cost of meat prices – and no NIL deals for high school players – steaks might not be the traditional go-to option for thanking offensive lineman for doing the dirty work in the trenches.
"Maybe McDonald's. They deserve something," Tippecanoe High School running back Xavier Jones said, grinning.
Jones and his Red Devils' teammates were certainly all smiles Friday night following Tipp's 45-7 victory against Stebbins and Adrian Norton, the Indians' strong armed, scrambling threat at quarterback. Tipp countered Norton's ability to keep plays alive with Jones, who sprinted for four touchdowns and 212 yards.
"I trust my O-Line pretty good. I trust my line," Jones said. "Every touchdown the first ones I go to (thank) is my offensive line."
Senior center Gordon Haas, senior guards Nathan Weaver and Eli Moore, senior tackle Luke Catrone and junior Jackson Smith provided running room for Jones and his nearly eight yards per carry average this season. They also kept senior quarterback Liam Poronsky upright … enabling Poronsky to find junior receiver Evan Liette for a 62-yard touchdown strike with 36 seconds left before halftime.
Tipp led 31-0 at that point. The only thing left to decide was would the Red Devils secure the shutout? Norton answered that with 2:42 left in the third quarter when he hit Rayvonn Harris-Belle for a 26-yard touchdown. The Indians nearly added another with 2:54 left in the game. Norton connected with Harris-Belle for a gain of nine yards on fourth down … one yard shy of a touchdown as the Red Devils defense dropped Harris-Belle immediately at the goal line.
Coach Matt Burgbacher wants a similar effort next week when Tipp travels to Xenia for that MVL showdown of unbeatens. Tipp enters 5-0 overall and 4-0 in the Miami Valley League's Miami Division. Xenia holds the same record in the MVL's Valley Division.
"Yeah the two teams are 5-0. But it's not a one-game season," Burgbacher said. "… I thought our kids did a very good job tonight staying focused with Stebbins. That Norton kid is a great quarterback. We haven't looked ahead."
It's a big clash. Xenia leads the Division II, Region 8 computer rankings. Tipp holds the same spot in the D-III, Region 12 rankings. Xenia's Doug Adams Stadium has ample seating. But if the Red Devils bring a few extra fans for next Friday's game … well, they know who to call.
Tipp's Haas gained social media fame this week by organizing an effort to bring in student seating for Park Stadium. Tipp's bleachers needed replaced after an inspection. Supply chain issues contributed to the home side seeing its seating capacity nearly cut in half. To compensate the student section was moved to a grass area behind the band.
Haas asked school administrators if he could arrange for bleachers to be rented. Haas organized a fundraising effort that as of Friday night generated nearly $10,000. He posted the online fundraising effort before going to a practice this week. Three hours later more than $4,000 had been raised.
"It's been pretty busy. Very eventful, that's for sure," Haas said, adding he was prepared to pay for the bleachers on his own.
"Maybe we'll just put them on my truck and I'll haul them down (to Xenia) for us."
The Red Devils made good use of them Friday. Tipp's student section was rocking when Jones put Tipp up 7-0 on Jones' first TD just 2:34 into the game. Liette's TD midway through the first quarter made it 14-0. Another Jones' TD … this one 12 yards … pushed the lead to 21-0 in the second quarter.
Stebbins, meanwhile, was going punt, turnover on downs and punt on its first three possessions. The fourth also ended on a turnover on downs when Tipp's Liette sacked Norton.
Six plays later, senior Jackson Kleather booted a 46-yard field goal with 4:03 left before the half. The kick was one-yard short of matching his career best, which he hit last week.
"One-hundred percent. I know I can make it," Kleather said of the confidence his coach and his team have in his foot. "I've got faith in a good snap from Jeremy (Walland) and a good hold from Braden (Burgbacher) and good blocking from my line. I've got faith in my team and in myself."
With his six extra points Friday he's now 24-for-24 this season. He's also averaging 43.5 yards punting.
"I know when it hits my foot whether it's going to be good or not," Kleather said of field goals. "That one was right down the middle and that's what I wanted."
"He's a great weapon," Burgbacher said. "Any time you get inside the 30 – it's not automatic because there's a lot that goes on between the snap, the hold and the blocking – but our unit has done a very good job this season.
"He'll get an opportunity at some point (to try for the school record). I was hoping there at the end of the first half when we got the ball back. Then all of a sudden Poronsky launches a bomb downfield and we scored. I'll take that."
Poronsky completed 8-of-10 passes for 121 yards and a touchdown. Liette had three of those catches for 92 yards and the TD. The Red Devils outgained the Indians 415-284.
Norton led Stebbins with 208 yards overall on 9-of-19 passing for 145 yards and 63 yards rushing on 12 carries.
"We just work hard in practice. We work together," Jones said of the reason for Tipp's 5-0 start despite losing 19 of 22 starters from last season. "Our coach always has a good game plan for us so we come into the week and just have to perfect the game plan."
Especially next week with Xenia.
"We just went into this season not knowing," Burgbacher said of the newcomers. "Every year is a challenge because it's a new team. When we got them down here for camp in early June we saw a lot of positives. Two-a-days started and they kept getting better. When you keep getting better great things can happen. These guys are making great things happen."