After a shaky start by both teams, Marion Local settled in first, rode a magnificent rushing performance by senior Darren Meier, and handed New Bremen its first loss of the season.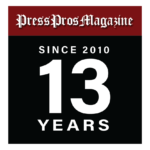 Maria Stein, OH – Neither Marion Local coach Tim Goodwin or New Bremen coach Chris Schmidt were particularly excited about how it started…the anticipated matchup between two of the three remaining unbeatens in the MAC.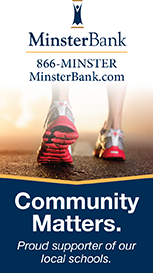 But a standing-room only crowd was excited to see #1-ranked Marion (Division VI) and #3-ranked New Bremen (Division VII) square off to separate reality from the press clippings. When it was over, some probably went home wondering…why all the hype, in a 38-16 Marion Local win (5-0) that saw Bremen (4-1) stumble for the first time this year?
How it started was Marion Local turning the ball over twice in its first two possessions – an interception of quarterback Tate Hess by the Cardinals' Aaron Thieman and a fumble by running back Drew Lause.
New Bremen was just as clumsy with the ball, struggling to find any kind of offensive rhythm, and surrendering good field position to Marion at the 30 yard line at the 1:04 mark of the first quarter.  Four plays later, on 4th and 2 yards to go, tailback Kyle Otte ran the ball up the sideline, broke a tackle and waltzed into the end zone from 22 yards out to give Marion a 7-0 lead.
Twelve seconds later, more misery for Bremen when quarterback David Homan was intercepted by linebacker Landon Arling, who made a one-hand stab of the ball intended for Thieman, and returned the ball inside the New Bremen one yard line.  A play later Darren Meier scored the first of his four touchdowns for the night, from one yard out, and Marion held a surprising (for the way it happened) 14-0 lead.
The start was uncharacteristic for New Bremen, which at 4-0 had played cleanly, efficiently, through wins over Lima Bath, Lehman, Parkway and last week's impressive 14-7 encounter over defending state champ, Versailles.  And it wasn't about to get better soon.
On its ensueing possession New Bremen fumbled again.  And again with good field position, Darren Meier ran it in from a yard out at 9:09 of the second quarter to hand Marion a 22-0 lead after Otte ran in the two-point conversion.
Finally, at 2:09 before the half, New Bremen drove the ball to Marion's 14 yard line, where the Flyer defense stiffened and forced a field goal attempt from 31 yards.  The kick cut the deficit to 22-3, but more importantly, it got the Cardinals off the schneid and onto the board.
Only, Marion took the kickoff, drove inside the New Bremen red zone and with :36 seconds left until halftime, answered with a 35 yard field goal by Carson Bills to extend the lead to 25-3 at the break.
"We were able to absorb those two turnovers at the start, play pretty good defense, and stay in the game,"  said Tim Goodwin.  "We could have gone down two scores, but we didn't."
As it happened, it was New Bremen who went down two scores, had to play through adversity, the first of any significance this season, and like a car with water in the gas tank, sputtered in its efforts to make the most of talented quarterback and playmaker,  David Homan.  Marion's defense bottled up Homan, kept him within arm's reach for most of the night, sacked him three times…and twice laid brutal hits on the Cardinals' senior as a reminder that Marion's 151-7 point advantage through its four previous wins was nothing less than a physical beatdown.
But Bremen took its first possession of the second half and used Homan – and a little trickery – to finally put six points on the board.  Stalled near their own 40 yard line on fourth and 2 yards to go, Bremen faked a punt and lobbed a pass over the line to Homan, who gathered it in and galloped to the Marion 11 yard line.  A couple of plays later Homan hooked up with Grant Dicke for a 9-yard touchdown pass to cut Marion's margin to 25-9.  The PAT attempt was blocked.
New Bremen turned physical, itself, thwarting Marion's attempt to move the ball in the third.  And likewise, Marion's defense tightened, Ryan Homan picking off a David Homan pass intended for Ben Sailer at the end of the quarter that would have given the Cardinals field position at the Marion 25 yard line.
In the meantime senior Darren Meier, a 5'10", 195-lb fireplug,  was racking up carries and yards, and tough yards into the fourth quarter, and midway through it made good on a 9-yard carry to score his third touchdown of the game, making the score 32-9.
"The coaches always say, 'Just keep running your feet,"  he said with a big smile, afterwards, but he was hardly done.
And neither was New Bremen, as Homan and company drove the ball down the field against a mixed Marion lineup with two minutes left, culminating in a touchdown connection between Homan and Ben Sailer to cut the margin again, to 32-16.
At 1:57 Marion was in possession near the 50, trying to work some clock, when Meier again found a crease in the middle of the line, cut through the Cardinal linebackers, and raced untouched 45 yards for his fourth score of the night, that ended all scoring…38-16.
"That felt good,"  he added, speaking of his four TDs.  "The start [of the game] wasn't good, but we knew the only way they were going to stop us was if we shot ourselves in the foot.  We just executed better."
Goodwin was appreciative of the effort, if not the early fortunes that saw Marion give New Bremen every opportunity to flip the script.
"We were able to do what we like to do, the things the game dictates sometimes,"  he said.  "We were able to pound the ball at times, and Simon Partington did a great job at fullback – gave us two physical kids there in the backfield.
"And give credit to Chris (Schmidt).  They've got a great player in Homan and he has a good plan with how to use him.  We've worked on this offense for a long time, and just when you think you have something that you like they would do something else.  He and his guys (coaches) do a good job using that kid."
Despite the mistakes, despite the score, Goodwin appreciated the effort and the fight from Bremen – a good test from which they can look at film and find things to build upon before the next big test.
"Yeah, and we had some kids who made plays,"  he added.  "Landon Arling made some big plays in the first half, and this was only his second game at inside linebacker.  I don't know how he played, in general, but we'll see on film.  He definitely made some big plays for us."
Chris Schmidt spent a long time with his huddled team, no doubt reminding them of the handicap and adversity of playing through a horrible first quarter.  But in the end, he, like Goodwin, could find things on which to build.
"We had the rough start, I think it's fair to say they handled that better than we did…and I felt like we missed some opportunities.  But give credit to Marion.  They make you uncomfortable.  They force you into some things.  We didn't play well enough tonight to beat 'em.  But I was pleased with the kids' response in the second half.
"We were in a place we haven't been.  We were down big, and we found out some things about ourselves. When you play them year in and year out you learn things from playing Marion, and if you don't you're missing out.  I think this team can still be a really good team, but we have to look at the film and learn from this."
And what Division VI will learn from this…is that Marion can again run the football with Drew Lause, Kyle Otte, and Friday they leaned on Darren Meier, who finished with 27 carries for 165 yards, and the four touchdowns.
That trio accounted for more than half of the Flyers total of 352 total yards, on a night when New Bremen made them hit reset after a faulty start.
But good teams play through mistakes, and no one questions that after 38-16.
Marion Local is again…a very good football team.