Dayton counts on Jake Chisholm to lead the offense, and he scored three touchdowns to pace the Flyers in their home opener.
By Jeff Gilbert for Press Pros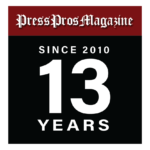 Dayton, OH – When Jake Chisholm scores touchdowns, the vibe says all is right with Dayton football. That's why Dayton's third play from scrimmage Saturday against Kentucky State killed the early good mood that accompanies the home opener.
Chisholm is an all-American running back, but he is a crucial part of the passing game. On the third play, he broke open 25 yards down the middle of the field. As freshman quarterback Dante Casciola released the pass, the anticipation was Chisholm catching the ball in stride and going the distance for a 58-yard touchdown.
Overthrown. Punt team.
"I didn't give him a chance to make a play, and when you got a guy like that you put the ball where he can get it," Casciola said.
Casciola got another chance early in the second half with the Flyers leading by seven points. He had already been sacked twice in the half by speedy senior end Jeremiah Owens. On third-and-13, the Thorobreds forced Casciola up in the pocket toward Owens. Casciola saw Chisholm deep down the left sideline.
Touchdown. Good vibes.
Casciola let the pass fly with Owens in his face, Chisholm adjusted to the throw and the defender didn't locate the ball and fell. Chisholm caught it at the 25, broke toward the middle of the field and got a double block from wide receivers Luke Brenner and Kyle Hazell to complete a 54-yard touchdown.
The Flyers suddenly led by two touchdowns and coasted to a 46-3 victory over the Division II Thorobreds on the new turf at Welcome Stadium.
"I just had to give him a chance," Casciola said. "That was a great, great play that put points on the board."
The Flyers (2-1) needed points then. They led 10-3 at the half on a Casciola-to-Chisholm 5-yard touchdown toss and a Sam Webster 31-yard field goal at the end of a 13-play drive. By the end of the third quarter the Flyers led 31-3 and the expected result against an 0-2 Division II team was in sight.
"Offensively we got in a better rhythm," Flyers head coach Rick Chamberlin said. "That's a good defense. That first half they were playing hard, they had athletes off the edge, it was disrupting a lot of our plays. Our offense made some adjustments on formations and particular plays that we were calling, and we got into a rhythm to wear them down."
The offense, which produced 348 total yards and converted 11 of 15 third downs, got another chance right away after a strange kickoff. KSU's Charles Gamble dropped the kickoff at the 1-yard line. By the time he picked it up in the end zone, he tried to outrun the Flyers to his left and was tackled a yard deep by Jacob Schachte for a safety and a 19-7 lead.
A few minutes later Chisholm scored his third touchdown, this a time a 10-yard run on a big cutback, for a 25-3 lead. Then H-back Cade Beam, a sophomore from Tippecanoe High School, scored on a 20-yard reception for a 31-3 lead entering the fourth quarter.
Casciola is the only non-returning starter on offense, and defenses against strong opponents at Robert Morris and Youngstown State tested his readiness. After three games, Casciola's confidence isn't shrinking.
"I definitely feel more comfortable going into every game each week from Robert Morris to Youngstown to Kentucky State," he said. "I'm just kind of getting in the routine of what it takes to be college quarterback."
Casciola had his best statistical day Saturday. He completed 11 of 18 passes for 182 yards and three touchdowns and rushed 13 times for 43 yards. As Chamberlin and his offensive staff evaluated who would be the best choice to be the starting quarterback, they kept coming back to Casciola's poise.
"He doesn't panic," Chamberlin said. "He doesn't throw a bad ball, just throw it or he doesn't run with the ball loose in his hands. He needs to make improvement in the passing game, and it will come. Things happen fast in college, and that's where he's trying to learn right now."
Casciola held the ball too long at times in the first two games and took too many sacks. Against Kentucky State he was a more willing runner and converted some important third downs.
"His ability to make plays with his legs, especially, has progressed quite a bit and his decision making's gotten a lot better," Chisholm said. "It's just repetition. Repetition is the mother of all learning, so the more reps he gets, the better he's going to get throughout the year."
Casciola knows he should slide more when he scrambles for yards to minimize the potential for injury. But he doesn't want to do anything to cost his team possession of the ball.
"I'm willing to do whatever it takes to get a win," he said. "If that's running the ball 25 times, throwing it five, throwing the ball 25, running it five, whatever it takes to put points on the board and get a win, that's really my mindset."
The Flyers' defense feels the same way. After being worn down by a bigger, stronger and faster Youngstown State offense in last week's 49-16 loss, the Flyers kept the Thorobreds' triple-option offense out of the end zone and limited them to 134 total yards.
"We were kind of hoping to keep them to zero the whole game," linebacker Ben Schmiesing said. "We talked about doing your job, keep your eyes where they're supposed to be, especially against a triple option team. It hits fast, and if you're not focused, that's when they can start breaking off long runs. We did a great job for 60 minutes today."
The secondary lost cornerback Elijah Smith and Matt Lenti to injury last week. Michael Franks, a senior, and Cole Hildebrand, a redshirt-freshman, filled in ably and started and played well Saturday. Franks made an interception at the goal line on a pass deflected by linebacker Nathan Arthur and returned it 70 yards to set up the Flyers' first touchdown.
Hildebrand made a team-high eight tackles and Franks made two tackles.
"Never a doubt in my mind that there would be any drop off," Schmiesing said. "Those guys come to practice every day and bust their butts."
Chamberlin said Smith will probably be healthy for the next game but Lenti and starting offensive tackle David Tkatch won't be recovered.
Dayton's next game is in two weeks at home against Drake in the Pioneer Football League opener. They know it will take all 22, plus backups and special teams to reach their goal of a 13th league title in the league's 30th season.
But they also know how important Chisholm's playmaking is to reach that goal. He's a two-time 1,000-yard rusher and a touchdown maker. He set his career touchdown high with five last season against Davidson. On Saturday, he scored at least three touchdowns for the fifth time.
"He's a complete back," Chamberlin said. "That's why he's the best back in the PFF."
This season he has three receiving touchdowns and one rushing. He has 141 rushing yards (33 on Saturday) and 80 receiving yards (59 on Saturday). Defenses game plan to stop his running. And that's OK with him.
"I love running routes out of the backfield," Chisholm said, "catching the ball and getting a long touchdown run after the catch."
And all the Flyers said: "Amen."