David Homan, and the New Bremen Cardinals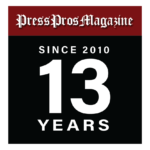 There's little question after last Friday's 14-7 win over defending Division V champion Versailles that the New Bremen Cardinals are a bit more than an outlier in area and state-wide Division VII football.  Senior quarterback David Homan, and an energetic, determined defense erased any doubt by outplaying, and outlasting the champion Tigers.
Homan, accounting for 150 of New Bremen's total of 271 total yards on offense, pretty much proved again that in Division VII…no one is more dynamic for his overall impact on the outcome of a football game, or more dependable, garnering this week's 'Who's Hot' recognition for his efforts on Press Pros.  It marks the second time in as many years that he's graced this page, and barring the unforeseen, it won't the last.
He's quick, elusive, and capable of creating so much defensive attention on offense that he simply outmaneuvers would-be tacklers;  and the ultimate enabler for teammates…able to dump the ball downfield to open receivers when the defenses pay too steep a price in their pursuit.
He's also modest, deferring personal accolades by calling attention to what's been missed through the first three weeks…that the Cardinals are more capable of playing behind Homan's lead than some may have thought.  Their defense held a strong Versailles running attack to 160 yards, principally from second half quarterback Michael Osborne, and all but eliminated the Tigers' ability to move the ball through the air, allowing just 41 yards passing.
"We have a  very good secondary,"  said Homan, asked to assess the now 4-0 New Bremen record.  "We gave a lot of good guys back there who are capable of covering MAC wide receivers."
Meaning, that New Bremen may have more team speed than anyone originally thought, and that in upcoming games with Marion Local (this week) and Coldwater, they won't have to rely simply on Homan's ability to create offensive havoc.
"We gave up some plays,"  said Cardinals coach Chris Schmidt.  "But I was proud of our kids because there in the fourth quarter when Versailles converted some third downs by an inch or so they just kept playing. We just told them to keep playing hard and hopefully that inch will go our way, and eventually it did.  They didn't drop their heads, or get discouraged. I'm super proud of them."
All of which means that the 2022 MAC football race just got a lot more interesting, with four legitimate contenders for league honors, as well as post-season speculation – Marion Local (4-0), Coldwater (4-o), New Bremen (4-0), and Versailles (3-1).  And if you still question, consider…that the Cardinals weren't our choice to win on last Friday's 'Picks' page.  We had Versailles winning by a score.  Obviously, Homan and company paid little, or no, attention, proving to be one score better, themselves.
With congratulations, we're pleased to recognize David Homan and the Cardinals as this week's 'Who's Hot' honorees on Press Pros.
Peace of mind is as easy as the relationship you have with your local bank, and the St. Henry bank is small enough to know you, and big enough to serve you.  The St. Henry Bank joins Press Pros Magazine in recognizing this week's "Who's Hot" honorees…David Homan and the New Bremen Cardinals.