Arkansas State was overwhelmed 45-12 with quarterback CJ Stroud throwing for 351 yards and four touchdowns, and receiver Marvin Harrison Jr. catching seven passes for 184 yards and three scores.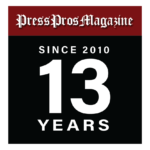 Columbus, OH – Let's be sober here and write that Ohio State played Arkansas State and not that other university in the state that is nicknamed the Razorbacks and is a member of the Southeastern Conference.
This team from the land of Wal-Mart and Bill Clinton came into Ohio Stadium on Saturday a 43 ½-point underdog. This team from the mid-major Sun Belt Conference won two ballgames in 2021 and turned over its roster to include 40 freshmen and sophomores this season under coach Butch Jones.
But for one half the Red Wolves effectively dinked-and-dunked behind the pitch-catch combo of quarterback James Blackman, a Florida State transfer, and 5-foot-6, 155-pound receiver Champ Flemings to make the Buckeyes antsy and frustrated.
In the end, No. 2-ranked Ohio State displayed its star power and will to win in knocking out a 45-12 victory before 100,067 spectators.
But, my, for the second straight game the most glaring problem was Ohio State committing nine penalties for 85 yards. Last week, the totals were seven flags for 75 yards.
Head coach Ryan Day was a little burned up in addition to having a sunburned face.
Penalties were a huge problem last season, too.
"Looking at the stat sheets, it's pretty clear that we gave them two (extended) possessions on penalties,'' Day said. "We've got to clean those things up. They had 76 plays and we had 54 plays. With the penalties – we had nine penalties – and we've got to get those things cleaned up. That's unacceptable. We've got to coach them better and put it on the field better. It's going to be a huge emphasis point this week, and it's something we've got to get done.''
Defensive linemen Zach Harrison and Jerron Cage were penalized for being offside.
Cornerback Denzel Burke was benched in the first half after being burned by Flemings for a 58-yard completion and getting penalized twice on one possession for interference. He did start the second half.
"We can't let the energy of the crowd get us overwhelmed,'' safety Josh Proctor said.
The special teams weren't all that special, either, with a hurdling penalty on Teradja Mitchell wiping out a punt return for a touchdown in excess of 90 yards by Egbuka.
Yet Day saw the defense keep the Wolves out of the end zone. In the second half, it was downright mean.
"It was kind of a bend-but-no-break style,'' Day said. "The way we came out in the second half was good. We came out with a three-and-out, which was good. I felt we got a little more of that in the second half, but we didn't quite finish it the way we would have liked to have seen, quite honestly. We have to keep building and keep growing. But anytime the defense holds them without giving up a touchdown, that's a good day for the Buckeyes.''
Proctor knows how Burke feels in that he did not play the rest of the Notre Dame game after missing a tackle on the first play of the game that resulted in a 54-yard completion.
He said better tackling is a key against a team that wants to dominate the ball. The Wolves ran 76 plays for only 276 yards and had the football 37 minutes, 44 seconds.
Get ready to see a lot of that type offense from opponents moving forward. Notre Dame tried to hog the ball.
"We just have to make sure we tackle and get them on the ground,'' Proctor said. "We have to make sure we lock in and do what we have to do to get off the field. We just need to get better and get on the film.''
For the second game, the defense came up with zero turnovers. Coordinator Jim Knowles' aim is to create enough mayhem to take away the ball.
"I'd say turnovers, to be able to disrupt the ball,'' linebacker Steele Chambers said about improvement. "That would be big for us. I guess so. I think that is a little surprising. We have to work (for them) during practice. I think we can make that happen.''
The sky is not falling, he said.
"We're still learning things and still making adjustments,'' Chambers said. "There is a lot that we can fix on our defense.''
No one could gripe about the offense.
Despite not having wideouts Jaxon Smith-Njigba with a hamstring issue and Julian Fleming with an undisclosed injury, quarterback CJ Stroud and his mates were sharp after a few coughs and wheezes in the first half.
Stroud was 16-for-24 for 351 yards and four scores. True sophomore Marvin Harrison Jr. caught seven balls for 184 yards, including touchdowns of 42, 42 and 30 yards. Emeka Egbuka, another true sophomore, caught four passes for 118 yards, including a 51-yard touchdown.
Tailback TreVeyon Henderson ran for 87 yards and two touchdowns on 10 carries. One carry went for 41 yards.
What Arkansas State did was crowd the line of scrimmage in order to stop the run.
That, though, left the middle and boundaries open.
"We knew what we were going to get. It was a little different,'' Stroud said. "Arkansas State had more press man-to-man coverage (than Notre Dame last week), so we just tried to go one-one-one outside and I felt it worked.''
The day belonged to Harrison. His third score was a thing of beauty when he used his 6-foot-4 body to sky above two defenders in the end zone in coming down with a 30-yard catch.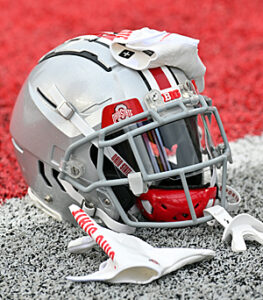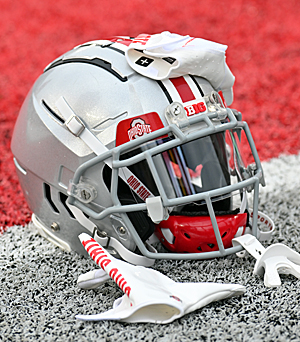 "Every day in practice he just shows how great of an athlete he is and how hard he works,'' Stroud said. "He's one of the best route-runners I've ever played with, and today was his day to do it.''
He can run with just about anyone, but it's his patterns that someday might turn him into an All-American.
"I think you have to be a complete receiver,'' Harrison said. "You have to do the short routes and the intermediate routes.''
What can improve?
"I know I have to get my catching up a little bit,'' he said.