Senior running back Mason Hackett pushed Newark Catholic to a decisive win with strong running and a big special teams play.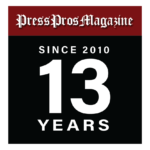 FT LORAMIE, OH – If any doubt remained as to the result of Friday night's game between Fort Loramie and Newark Catholic as Loramie punted down 20 with 3:30 left in the third quarter, it got erased by the end of the special teams play.
Newark Catholic senior running back Mason Hackett fielded the ball at the Redskins' 48-yard-line, made one defender miss and outran the Redskins' punt coverage team up the right sideline to put the contest out of reach at 27-0 Green Wave with 3:14 to play.
"I just caught the ball and I looked up, and everybody that came back to block for me, they did a great job," Hackett said. "It opened up some good holes. I just saw my hole, and I just cut and went up and I just ran."
It was a cruise from there as Newark held on for a 27-9 win on the road against Fort Loramie Friday.
Hackett finished with 20 carries for 155 yards and a touchdown in addition to his punt return score. Loramie senior quarterback Caleb Maurer finished 23-for-35 with 219 yards passing in the losing effort.
"(The win) was big," Newark head coach Ryan Aiello said. "We've got a tremendous amount of respect for Fort Loramie, the coaching staff, the atmosphere, the setup is absolutely incredible. It's gotta rank as one of the top in high school. So for our kids to be able to come into this type of environment, to be able to execute the way they did against an incredible opponent, I just couldn't be more proud of our kids and our leadership."
Hackett proved a load from the first drive Friday.
Newark handed him the rock five times for 33 yards as he shrugged off arm tackles and moved the chains, culminating in an 11-yard scoring dash up the left side. The Green Wave led 7-0 four minutes into the action.
"The O-line did a great job, they got good pushes," Hackett said. "They were physical all night, they dominated. I wouldn't be able to get all those yards without them up front blocking. They opened up big, massive holes, and it makes my job easy."
The Green Wave's second drive started 72 yards from the goal line but needed just two plays to score. Hackett gained 26 on a jolt up the middle, then Newark junior quarterback David Carr found a wide open Kyle Langenbrunner up the right sideline for a 46-yard touchdown catch-and-run.
Hackett took another handoff up the middle, made a frenetic jump-cut out to the right and looped out for a 46-yard run on Newark's next possession, setting the stage for a four-yard Carr scoring toss to Owen Helms. Helms held on through a bone-clattering hit to make it 20-0 Green Wave with 4:55 remaining until halftime.
Eleven carries for 121 yards and one touchdown comprised Hackett's statline at halftime.
"Very talented young man," Aiello said. "Tremendous vision, very explosive, physical running back. He did a great job with the opportunities that he had, in addition to the other 10 guys doing their job and making sure that they were executing."
Fort Loramie gave itself chances to keep pace early but mistakes mounted.
On its first possession, Maurer bombed a 50/50 ball up the left sideline to senior wide receiver Ethan Keiser, and Keiser hauled it in for a 41-yard gain. Maurer later converted a fourth-and-11 with an incredible scramble.
The Redskins worked themselves all the way to the 1-yard-line but couldn't punch the ball in. They went for it on fourth-and-goal but came up short.
Loramie got back inside Newark's 30-yard-line on its next drive, only to fumble a snap and take a 15-yard penalty after the play, stalling out its progress.
A surefire 65-yard touchdown pass on a busted coverage near halftime fell out of a receiver's hands.
The Redskins still worked down to the Green Wave 14-yard-line that drive, but Newark senior defensive back Anthony Dry intercepted a pass in the endzone to hold his team's advantage at 20-0. Langenbrunner added an interception after Loramie got the ball to start the second half. He'd tack on another before the game ended.
"It's impossible to stop that type of an offense," Aiello said. "They just have so many incredible threats, they run a great offensive scheme, it's impossible to stop them. We had to do that 'bend, don't break.' One thing that we really harped on with our kids is just understanding the importance of the next play. As long as we have another down to play, anything can happen."
A snap over the head of Carr for a safety and a two-yard touchdown plunge from Loramie junior running back Will Holland with garbage time dwindling gave the Redskins their lone points of the night.
Newark's season continues at Licking Heights Sept. 16. Loramie takes on Dunbar at home the same day.