Troy Lane forced a fumble deep in Pickerington Central territory in the waning seconds and the Tigers held on to beat rival Pickerington North 14-7 in a somewhat ugly, but nonetheless exciting showdown.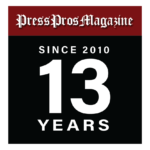 Pickerington, OH – The Battle of Pickerington rarely resembles a beauty contest. This fierce crosstown rivalry is all about blood and guts and unbridled emotion, the latter sometimes putting a crimp in the flow of the game.
A combined 19 penalties for close to 200 yards notwithstanding, defense ultimately stole the night as host Pickerington Central put the clamps on Pickerington North and escaped Tiger Stadium with a 14-7 win before a jam-packed crowd that filled parking lots nearly 90 minutes before kickoff.
After hard-fought back-to-back defeats to perennial powers Cincinnati Elder (17-7) and Huber Heights Wayne (10-9), Central was considered by many the underdog to North, which had dominated its three opponents by a composite score of 113-13, including an impressive win at 2021 state semifinalist Upper Arlington a week ago. Some social media posts this week even went so far to suggest that the Tigers were rebuilding this season.
"A lot of people had written us off, but that's just one more thing we can thrive on," senior defensive lineman Kobi Gorman said. "We knew it was going to be a slugfest and we thought we could make enough plays to find a way to win."
In the 2021 regular-season meeting, a strip sack, forced fumble and 45-yard TD return by North's Malik Ray with 1:49 remaining forced overtime, where the Panthers prevailed 13-10.  It marked Central's only regular-season defeat. The Tigers avenged the loss in the playoffs, however.
Friday's game also was decided by a spectacular defensive play in the waning seconds.
With North facing second-and-10 at the Central 15 and driving for a potential tying score, quarterback Landon O'Connell scrambled toward the sideline. Tigers defensive back Troy Lane ran down O'Connell from behind, hammered the ball loose and teammate Zavion Mattox recovered with 15.5 seconds left.
It should be mentioned that Lane led Central to the Division I state track championship last June, setting a state record in the 100 meters (10.25 seconds) while also winning the 200 and anchoring the victorious 4×100 relay. Lane was not an impact player on the football team as a junior, but surely is now.
"I knew I could tackle him before he got out of bounds, but when I got right on him, I figured I might as well go for the ball, too," Lane said. "It's one of those instinctive things than just happened. It was a great way to end the game, and fitting, too, given the way our defense played tonight."
Central limited North to just 158 total yards. Six of the Panthers' nine first downs came in the final eight minutes, when North finally began wearing down Central with its massive offensive line.
Counting five sacks of O'Connell, the Tigers held North to a meager 53 yards on 34 carries. The Panthers were 0-of-13 on third down plays.
"Our game plan was simple," Gorman said. "Just put pressure on them all night, rely on man coverage and force them into mistakes. Our mantra as a unit is just to make a play and we did that all night long. We thought we matched up well with them. Despite all the doubts about it, inside our locker room we knew what it was all about."
Central had not dropped three straight games since 2005, just two years after the Pickerington school system split to form North. The Tigers avoided going 1-3 for the first time since 1988. The original school now holds a 15-4 lead in the rivalry, which includes four playoff meetings.
"We ask a lot of our kids and tonight was just another example of how they respond," Central coach Jay Sharrett said. "It's probably not fair to schedule Elder and Wayne back-to-back right before our big rivalry game. All I can say right now is it feels pretty darned good to be 2-2. Don't ever count this team out. It's a long, hard, mean season and our guys are built for it."
Gorman and Lane each had two sacks and all-purpose dynamo Rasheem Biles, who many consider the top defensive player in central Ohio, added a sack and three tackles for loss.  Linebacker RJ Keuchler also was a disruptive force.
Before both defenses dug in, there was a flurry of big offensive plays.
Facing third-and-8 on its opening series, Central quarterback Braden Mantooth connected with Kasey Middendorf on a 28-yard TD play. Middendorf, who made a circus leaping catch, injured his shoulder on the play and was unable to return.
On the very next play, O'Connell hit Chris Louis Jr. in stride on a 75-yard pass play to tie the score at 7-all.
Early in the second quarter, Lane struck again. He took a beautifully designed jet sweep 68 yards untouched to the end zone. North was blitzing on the edge and the play worked perfectly.
"We worked on that play a lot this week hoping for just the right time to use it," Sharrett said. "I mean, Troy never broke stride. He showed you why he's one of the fastest sprinters in the nation."
Backed up by penalties and mental miscues, neither team could muster much of a threat after halftime.
North drove from its own 24 to the Central 9 on its penultimate series midway through the fourth quarter, but on fourth-and-7 at the 10, Preston Bowman slipped after catching a short pass from O'Connell.
"We didn't finish drives in the Red Zone; in fact, we didn't play a good football game, period," North coach Nate Hillerich said. "It was just the kind of game we expected it to be between two of the top teams in central Ohio. That's just the way these games are. Central's got one of the best defenses in the state, and we had a hard time penetrating them and establishing a running game."