Some said it was bigger than any Michigan game they can remember for the number of people – celebrities – seen to commemorate the 100th anniversary of Ohio Stadium.  We took note, ourselves, with our own brand of pictorial evidence.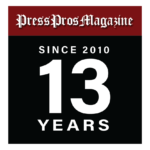 Three hours before kickoff Saturday you could tell…Ohio State vs. Notre Dame was a big, BIG, deal!
Traffic on 315 was heavier…just plain heavy.  The exit to Lane Avenue was blocked at 3:30, forcing media parking to go farther north to Ackerman Road and double back.  No one seemed to know why.
I'm accustomed to getting to Tuttle Garage for media parking two hours before kickoff and parking on the ground floor.  Not this time.  The first three floors were already socked full.  I got one of the final open spots on the fourth.
Tail-gating seemed heavier – drinking more intense.  A lot more people milling around, taking pictures, just being part of the scene.
Once inside it was even crazier on the stadium floor.  There's always a lot of people with credentials that read 'Football Guest' prior to kickoff – recruits getting a birds-eye view of the Horseshoe and what the Ohio State atmosphere is like on game day.  But Saturday, by 5:30, it was so chaotic in the south end zone that even the media people credentialed to work the game were pushed out of the way and to the sanctity of their own hovel under the south stands.
"I've never seen so many people on the field just trying to figure out what, and who, to see,"  said a photographer from Columbus.  "I can't even do my work."
Ohio State vs. Notre Dame was reason enough for the excess humanity.  But Saturday also marked the 100th anniversary of the grand old girl on the banks of Olentangy River – Ohio Stadium, built in 1922 – where marching band members were once tossed in the river after practice for mistakes made on the field during the previous week's halftime show.  Now, God forbid, university culture is too sophisticated for something that reckless…and fun!
The best of the proud culture of Buckeye sports was on hand to celebrate the attention, and the legacy.
Bengals quarterback Joe Burrow, who transferred from Ohio State to LSU and won a national title there, pressed the flesh with the likes of former running back and now Dallas Cowboy, Ezekiel Elliott.  Burrow was cooler than cool, sporting his ever-present shades, indicative of his success…'Cartier'!
Elliott?  Was a little furry.  Could have used a trim.
Washington Redskins (now Commanders) receiver Terry McLaurin was there.
Chicago Bears quarterback Justin Fields quietly made an appearance, and posed for what seemed a thousand IPhones.
Basketballer Jae'Sean Tate was there, the penultimate basketball personality.  That distinction belonged to LeBron, decked out in scarlet and gray garb, who stalked the pregame sidelines with son Bronny, about whom there is much speculation as to whether or not he'll eventually become  Buckeye basketball recruit for coach Chris Holtmann.
New baseball coach Bill Mosiello was less conspicuous with his presence, hosting an entourage of recruits of his own from as near as Cincinnati…from as far as California.  But he was there.  A personal observation…the first time I've ever seen the baseball coach in the center of recruiting profile with basketball and football.
They pulled out all the stops, of course.  The Ohio State marching band made its auspicious ramp entrance for the pre-game show, followed by the ultimate encore…Script Ohio…as the stadium roared its approval.
And at one point during the game former coach Jim Tressel was center stage, celebrating with members of the 2002 National Championship team, thrust upon their shoulders to the delight of 105,000 onlookers who looked beyond the circumstances of his resignation as coach over an investigation into improper benefits given to his players in May of 2011.  At the time it, too, was a big, BIG deal.  Saturday night it was merely a footnote in history.
Universities love to promote their brand, forged in large part by the people and achievements for which they're known.  Athletic director Gene Smith was center stage, shaking hands, posing for photos, and making anyone in red and gray feel like Fortune 500s.
It was a grand night to celebrate all that is Ohio State University – past, present, and the always hoped-for future.
Something, as someone remarked, that's so good it can never be diminished.  And on this night…not unlike the opponent on the other side of the field.  Notre Dame, with its own proud legacy, was the perfect backdrop.
Woody Hayes refused to schedule Notre Dame during his time as head coach, because he said Ohio Catholics had two favorite schools – Notre Dame and Ohio State.  He didn't want them to have to root for one over the other.
He also said that you win with people, and published a book by that title.
Saturday night was the proof about which he wrote.
Changes Seen, Did We See Enough, And Did You Believe What You Saw…?
Quickly here, but the radio was abuzz afterwords Saturday night about just how good a win it was…just how good Notre Dame was…the defensive changes for the Buckeyes….and what they showed on offense when the game was on the line in the second half.
My take?  I thought Notre Dame, and first-year coach Marcus Freeman, were VERY good.  Better, I thought, than I believed going in – this from a team that's had a nasty habit of disappointing performances in headline games over the years under Brian Kelly.  The Irish were big, they were physical, and scheme-wise, they did a good job of negating the deep pass game…because that's what 105,000 people were expecting to see.
Second, I thought there was a tangible difference with the Ohio State defense – more physical against that big Notre Dame front, and I sensed that they played with more instinct and less thinking about what to do next – confident.  Defensive tackle Mike Hall (#51) certainly emerged from nowhere to make an impact, and Tommy Eichenberg seemed to have made the next advancement as a go-to linebacker.
But it was the offense that I went to see.  And what I didn't see in terms of vertical passing game…I saw in the fourth quarter when with their backs to the wall they turned to the power run game against a tiring defense and rammed it down Notre Dame's throat – Miyan Williams and TreVeyon Henderson to put the game away.  This, while CJ Stroud showed that he was as good (and patient) as we knew he would be – didn't show panic in trying to force the ball downfield against seven defenders.
And, they got a huge break when it was shared that Jaxon Smith-Injigba was only dinged and will be back to play this week against Arkansas State.  Otherwise, they came out healthy as a horse.