This was head coach Rick Chamberlin's 100th victory with the Flyers. Getting No. 100 didn't look promising at halftime. The Flyers settled for Sam Webster field goals of 36 and 38 yards. But Chamberlin said the mood remained optimistic.
BY Jeff Gilbert for Press Pros Magazine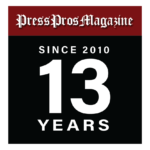 CORAPOLIS, Pa. – Most of Saturday's season opener at Robert Morris left the Dayton Flyers feeling empty and frustrated.
Settling for field goals. No room for Jake Chisholm to run. Everything seemed to be in slow motion.
Then 3 minutes and 27 seconds of big-play, 16-point bliss late in the third quarter brightened the Flyers' day beneath the overcast skies of Joe Walton Stadium. Still, the Flyers had one more play to make after Robert Morris scored and went for two and the tie.
The Flyers covered the receivers, forced the quarterback to scramble left and throw back across the middle. The pass sailed high, Dayton killed enough clock, won a targeting review and escaped with a 22-20 nonconference victory over the Colonials.
"It just shows you the type of guys we have on this team," said linebacker Ben Schmiesing, whose interception was part of the third-quarter momentum shift. "And I'm extremely proud of the defense. I just told them in the locker room I didn't see any one of them hanging their heads while we were down. Nobody stopped fighting."
The Flyers climbed the steps of the stadium to their locker room as their fans cheered them. When they got there no one had the code for the keypad to get inside. Someone finally came running from across the field and shouted the number. Important business waited on the other side of that door.
This was head coach Rick Chamberlin's 100th victory with the Flyers. Defensive coordinator Tee Overman said a few words in honor of Chamberlin and presented him with the game ball.
"I was crying," said Chamberlin while holding the ball. "What's so special is these kids. They are just such passionate individuals, so quality that you enjoy being around them.
"It's recognition of all the assistant coaches that have been through here with me, and all these players. I'm just the name on the top of the program."
Chamberlin, who is 100-45 in his 14th season, coaches the linebackers, and Schmiesing was overjoyed for his coach's milestone victory.
"He loves this team more than he loves anything," Schmiesing said. "And you can see it in the way he talks to us and the way he coaches us. You can see it in his emotions in the locker room. It meant a lot to him, and it meant a lot to the team. There are a lot of guys in there who were just filled with joy to be able to get it for him."
Getting No. 100 didn't look promising at halftime. The Flyers settled for Sam Webster field goals of 36 and 38 yards. But Chamberlin said the mood remained optimistic.
The Flyers faced a fourth-and-goal at the two early in the second half and Chamberlin went for it. But quarterback Dante Casciola's pass was batted down.
"I felt like instead of kicking a field goal, let's get this touchdown and the momentum, and it didn't happen," Chamberlin said.
The next drive stalled at the 10 and Webster kicked a 42-yarder to cut the deficit to 14-9 with 4:37 left in the third. That was the beginning of the 16-point run that changed the game.
The Flyers forced a punt and Casciola went under center for the first time. With the defense keyed on Chisholm going left, Casciola handed off to slot receiver Luke Brenner going right. Brenner took the jet sweep and went 63 yards for a touchdown an 15-14 lead with 3:31 left in the third.
"Brenner is one of the fastest guys in the team, so when we can get him the ball in space, he can make plays like that," Casciola said. "And obviously we've got 29 (Chisholm) in the backfield, and when he's going the other way, and Brenner is going the opposite way, the defense has no idea what's going on. And then great blocking on the outside and in the interior. It's a special play."
Another special play was moments away when Schmiesing made his first career interception. He returned it 29 yards to the two. On fourth-and-goal from the one, Casciola sneaked in for the touchdown and a 22-14 lead with 1:10 left in the third.
"I'm not even sure who he was throwing it to," Schmiesing said. "I just kind of dropped in coverage and got a birthday present right in my lap. Man, I really wanted to score with it, but I'm just glad I could set up the offense."
But the Colonials, who scored on drives of 62 and 67 yards in the second quarter to lead 14-6 at halftime, had one more big play to make. On third-and-7, backup Jake Simmons hit Anthony Purge on a 24-yard completion to the Dayton one. Purge scored two plays later with 5:14 left.
RMU had to go for two. Simmons wanted to throw right, but his receivers were covered. He fled to the left and threw back across the middle under pressure. The ball sailed high over a receiver in the back of the end zone and Dayton's lead was preserved.
RMU got one more chance, and when a flag flew on fourth down the Colonials thought they would be in the red zone. Demonte Martin dropped a pass that would have been a first down and was hit hard by Dayton safety Cole Hildebrand. Targeting was the call, but it was overturned on replay. The Flyers took possession and ran out the clock.
Schmiesing, who played high school ball at Piqua, is in his second season as a grad student at Dayton after three years as a walk-on at Ohio State. He's grateful to be contributing to victories on Saturdays.
"The atmosphere this team has is just so tightly knit, and it's just awesome to be able to go out there with guys you can truly say you love every single day," he said.
Chamberlin's 100th victory was Casciola's first as starting quarterback, and Chamberlin said he was impressed with Casciola's poise.
Casciola, a redshirt freshman from North Carolina, completed 10 of 19 passes for 87 yards and an interception. And he led the team with 96 rushing yards on 13 carries. Those yards were needed against a defense set to contain Chisholm, who was held to 75 yards on 22 carries.
"It was a special," Casciola said. "I've worked my whole life for this, and to be able to go out there with this team and just get a W felt great."
As great as that 3:27 stretch in the third quarter and as great as handing the coach the game ball.