This is one immense non-conference game for a season opener with the nation watching, and the major questions about the Buckeyes are whether their defense and offensive line have improved enough to win games like these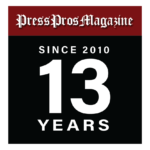 Columbus, OH – For its pre-game extravaganza, the ESPN Game Day cameras might shoot some video of Ohio State football players filing into Ohio Stadium and heading to their locker room.
This is not any season opener. It's No. 2-ranked Ohio State versus No. 5 Notre Dame at 7:30 p.m. Saturday, making this a mega-important game for the College Football Playoff rankings and for respect on a national level.
ESPN will want viewers to see the Buckeyes walk in with determined expressions. But they also will see a fashion show.
Heisman Trophy hopeful quarterback CJ Stroud certainly will walk in decked out in attention-grabbing threads along the lines of, say, former Late Night Show band leader Jon Batiste.
Stroud also put his NIL loot to good use by handing out $500 gift cards from Express to each and every teammate so they, too, can look sharp.
"I just wanted to do something for the team," Stroud said. "So, I got everybody $500 gift cards to go to Express, get y'all own suits, man, make sure you're looking fly. Really, get some suits, man. Look fly, man. Make sure we all look like a team."
Now, in this day and age of athletes making money off endorsements and such, that's some leadership from your captain.
The Buckeyes are a staggering 17 ½-point favorite to win for the fifth straight time in this series. The last two meetings came in the Fiesta Bowl in 2005 (34-20) and 2015 (44-28).
Head coach Ryan Day emphasized toughness and discipline during spring practices and the preseason. His opponent in Game 1 dictates that.
"It's going to be a battle for both sides of the ball,'' he said. "It's going to be a battle on the perimeter. We have to be the tougher team. We know it's going to be that way. That's the way they have always played at Notre Dame and that's going to continue to be the way they play.''
This is the first time the teams will meet in Ohio Stadium since 1995, and what a great occasion with this being the Horseshoe's 100th anniversary season.
You had better believe the Buckeyes want to show that an 11-2 record in 2021, with losses to Oregon and Michigan, was an aberration.
"We're definitely going to let the country know who we are,'' running back TreVeyon Henderson said.
Center Luke Wypler said, "I'm still sick to my stomach about that year.''
There will be extra weight on Wypler's shoulders because last season the offensive line was terrible inside the red zone and on third down and undisciplined with false starts coming well into the schedule.
Also, Wypler will be going up against a former St. Joseph's Regional High School teammate in Howard Cross, a defensive tackle. They have come a long way from Montvale, New Jersey.
"I love the feeling of pressure,'' Wypler said. "I think a lot of guys in the locker room thrive on that, and that's what motivates us every day.''
What about the tweet from Irish defensive tackle Jayson Ademilola about his line?
"We feel like we're the strongest, most badass mother (blankers) in the country,'' Ademilola said.
Wypler had a dead pan expression when asked about Ademilola's comment.
"I saw it, but for us it's what we have to focus on and what we have to do,'' he said.
Ah, but the sort-of reunion with Cross did bring a smile from Wypler.
"I can't wait . . . Howie. Howie and I go way back,'' he said. "I'm pumped. I have a few things up my sleeve.''
Notre Dame people have been saying a lot of things for a while about Ohio State and this game.
Last December, first-year Irish head coach Marcus Freeman, who was a linebacker for Ohio State from 2004 to 2008, got Buckeye Nation in a bluster when he took a huge haymaker of a cheap shot at his alma mater.
The words came when he was hired as coach after Brian Kelly dashed to LSU and its $100 million-plus contract over 10 years.
Freeman is from Huber Heights Wayne High School north of Dayton, and his final choice of colleges came down to Ohio State and Notre Dame.
He could have followed Kelly to LSU, but chose to become head coach for the Irish.
"I can't tell you exactly what it was that told us to come to Notre Dame, but there was something,'' Freeman said about he and his wife, Joanna. "We all know there's something different about Notre Dame. We all know it's something special.''
Then he slapped Ohio State on the cheek, saying, "And I just thank god that I didn't make the wrong decision twice.''
Freeman wasn't done with Buckeyes.
In a story that was published by CBSSports.com in June, Freeman appeared to imply that players at Cincinnati, where he was defensive coordinator, and Ohio State have it much cushier academically than at Notre Dame.
"If you don't go to class (at places like that), okay, take some online classes, show up for your appointments,'' he said. "At Notre Dame, you're forced every day to go to class."
One wonders whether Freeman thinks his master's degree in sports management is legitimate.
But what about the football game?
The Irish offense comes in as one large question mark.
Quarterback Tyler Buchner will start for the first time. He threw 35 passes in back-up and mop-up work last season.
His best offensive lineman, left guard and captain Jarrett Patterson, is questionable. Last week, he was seen in a walking boot from a foot injury.
There are only six scholarship receivers on the roster, and four are freshmen and sophomores. Top returning receiver Avery Davis blew out a knee last month.
Notre Dame will go against a defense under first-year coordinator Jim Knowles that also has questions.
Apparently, Knowles has had his players fouling up, confusing and confounding the offense during practices and scrimmages.
"It's stressful – very stressful,'' Henderson said about facing the defense. "I've never seen that stuff before. It has been very stressful. It's stressful. You will see.''
There are questions about the offensive line. In 2021, former position coach Greg Studrawa gambled by starting five tackles and lost his job because of the weekly up-and-down performances.
This line under Justin Frye will start players true to their positions, Paris Johnson at left tackle. Donovan Jackson and Matthew Jones at the guards, Wypler at center and Dawand Jones at right tackle.
"Over times I've seen a lot of disrespect for my offensive linemen,'' Henderson said. "They are going to be ready. They've been working their tails off all season. I know they are ready. I'm confident in them. We're all confident in them. Short yardage, they are going to get the job done for sure.''
Wypler said short yardage and third down have been points of emphasis.
"(We say) this is our money down right now,'' he said. "I would say there has been more emphasis. It wasn't just a short yardage period like it was last year. It's short yards, period, now. We know the emphasis that we have to put on and the focus that we have to put on to win those situations this year.''