The Dayton Flyers open their 2022 season Saturday afternoon in Pittsburgh against Robert Morris.  Jeff Gilbert shares some preview insights on opening day and beyond.
By Jeff Gilbert for Press Pros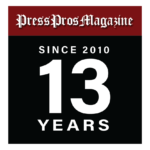 Dayton, OH – From the head coach to the players, no one associated with University of Dayton football team is shy about the goal for this season.
"We go into each year saying by time we get to that last game of the season, we want to be in a position to win the conference," head coach Rick Chamberlin said. "And that's why guys come here. But they know it's not easy. The PFL is the toughest it has ever been."
Since the Pioneer Football League formed as an FCS conference in 1993, Dayton and San Diego have each won or shared 12 league titles. While San Diego has been in on nine of those since 2011, the Flyers last won the league in 2015.
"I want to win a championship this year," said all-American running back Jake Chisholm. "I think it's our time. We've had a lot of positive energy. It's definitely a realistic thing."
The Flyers are coming off a 6-4 season and a 5-3 conference finish. They open at noon Saturday at Robert Morris in a nonconference game. Chamberlin starts his 14th season, and his next victory will be No. 100. The Flyers are 19-3 all-time against RMU.
Offense
The beginning of every season begins with the knowns and the unknowns. The offense is full of knowns with 10 returning starters. But the unknown until a week ago was the quarterback.  The new guy is redshirt freshman Dante Casciola from North Carolina. He will take his first collegiate snap Saturday. Calling the plays for the first time at UD will be new offensive coordinator Josh Hendershot, formerly the offensive line coach.
"There's always high expectations for myself," Casciola said. "But being the quarterback of this offense, I really care about one thing, and that's not turning the football over. If I can do that, we're going to win some football games."
Casciola beat out seniors Cole Dow and Ryan VanSchelven.
"What it came down to was who could be the most consistent, who could be the one making the right decisions, making the right throws and leading the offense," Chamberlin said. "And Dante ended up being the best at that. What I also liked about Dante was his demeanor, his leadership amongst the crew."
Casciola's learning curve will be aided by the experience around him and the presence of a go-to running game. Jake Chisholm is back after 1,000-yard, 30-reception season that earned him third-team all-American honors.
"If you're scouting the Dayton Flyers, you're going to look at one person first," receiver Sam Bubonics said of Chisholm. "I know we have good receivers, and we're capable of making plays. But first of all, we want to get the ball to Jake. So they're going to try to focus on him first and it sets it up for the receivers and the tight ends."
Bubonics, Chisholm, Joey Swanson and Kyle Hazell led a deep and productive group of receivers last year.
The offensive line is led by redshirt sophomore Brian Stevens, a guard who earned first-team all-league honors last year as a first-time starter. He is a tri-captain along with Chisholm and linebacker Ben Schmiesing from Piqua.
"Having everybody back on offense outside of quarterback is something special," Stevens said. "Having the whole line back, we're going to try and do everything possible to chase perfection."
Defense
Competition for jobs on defense sparked intensity in preseason camp. Chamberlin said was encouraged by what he saw from a unit that surrendered 440 yards and 30.1 points per game last season.  Schmeising and Cole Arthur are playmaking linebackers that Chamberlin expects to have big seasons.
"Coach Hendershot, he just shakes his head when we talk about our defense because he just mentioned Schmeising and Arthur and said, 'You can't block those guys.' They get to the ball so well," Chamberlin said. "It's Ben's second year in our program, he has all the talent and now he understands things. Nate Arthur, a senior, has always had the ability, but now he is really locked in as a disciplined linebacker."
Schmeising, a graduate student, transferred to Dayton last year after three seasons as a walk-on at Ohio State. He said he's developed the edge a Division I linebacker needs to be a playmaker.
"There's something inside of you where you have to think it doesn't matter how I'm feeling today, it doesn't matter what the weather is, it doesn't matter how sore I am, I'm just going to lay everything I have on the field," he said. "And if I'm making the plays, that's great. If I'm putting other people in position to make the plays, that's still great for me. And I think it just comes down to knowing that if I do my job, we're going to succeed as a defense."

Payton watch list
Chisholm is on the preseason watch list for the Walter Payton Award for the FCS offensive player of the year. Adam Trautman and Jack Cook made the list the past two seasons. Chisholm is one of 10 Payton finalists returning to the list this season.
"Anytime I'm on any sort of list I'm very honored for it," he said. "But you can't be on that or any of those lists without the guys around you, especially the offensive line. They've really developed a lot since last season. If they can give me a good shot at getting on those lists at the end of the year and we're having a good season, then I'll be very appreciative."