In their final tuneup before league play next week, New Bremen took advantage of Lehman's mistakes and misfortunes to post a shutout win by halftime.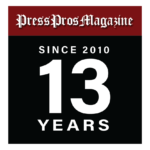 Sidney, OH – In a weekend of compelling high school football games around the area, this one wasn't.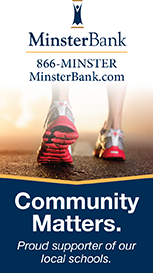 Visiting New Bremen (2-0) took advantage of every fumble, penalty, and missed assignment to put up 41 points in the first half, alone, then sat their starters in the second half while the JVs played out a 41-0 shutout win over Lehman Catholic Saturday night at 30-And-O Field in Sidney.
"Nobody got hurt, and for all intents and purposes we took care of business,"  said New Bremen coach Chris Schmidt.  "You're never sure of what you get when you play on a Saturday night…you're kind of out of your routine. You don't want it to get sloppy, and we got a big break there at the beginning with an easy score.  Sometimes when that happens you think it's going to be that easy all night.
"But for the most part we kept our intensity going and continued to play."
The big break he spoke of was the epitome of a football team's worst nightmare.  Lehman got the opening kickoff, went three-and-out, and forced to punt from their own ten yard line the snap was low and went past punter Nate Sollman.  By the time Sollman tracked it down and fell on it the ball was a foot from the goal line, and possession belonged to New Bremen.  At the 2:00 point of the first quarter, and on their first play from scrimmage, quarterback David Homan put his foot into the end zone and the Cardinals led, 7-0.
From that point on it was a succession of Lehman punts, or turnovers, all resulting in Homan, one of the Midwest Athletic Conference's most dynamic players on both sides of the ball, directing New Bremen to seven scores in seven first half possessions.
On their second possession Hunter Schaefer scored on  32-yard touchdown run at 5:32 of the first to go up 14-0.
At 2:15 in the quarter Homan hooked up with a wide open Aaron Thieman on a post pattern from 32 yards to increase to the deficit to 21-0.
On Lehman's first possession of the second quarter quarterback Donovan O'Leary got caught on a blitz near his own goal line by Bremen's Hayden Zeller.  The ball popped out, fell into the end zone, and Cardinal  lineman Evan Eyink fell on it for the score, and a 28-0 lead.
Moments later, after another change of possession and Sollman's fourth punt of the half, New Bremen made the most of a short field when David Homan scored on a two-yard run at 6:56 for the fifth touchdown of the half to make the score 34-0.
Why 34?  Because Hunter Schaefer clanked the extra point try off the upright, the only thing to go wrong for New Bremen all night.
And they weren't done.
Granted one more possession before halftime Schaefer scored again from point blank range, his second touchdown of the half, to generate the running clock in the second half…41-0.  Homan and Schaefer, two of the Cardinals' counted-on leaders, had accounted for four of the six touchdowns.
"We got off to the bad start, obviously," said Lehman coach Chris Kash afterwards.  "And tonight was an entirely different scenario from playing Lima Perry last week, where it was scoreless at halftime.  We missed some scoring opportunities in that game and the kids knew it.  They knew they could score.  Tonight I told them in the locker room that's it's easy when you know you can win, or that you're going to win. But when you're down [like we were tonight] you've got to keep playing and show some fight."
With a running clock in the second half, Schmidt played his JVs against mostly Lehman starters and it seemed to go quickly.  Both teams moved the ball, but penalties and mistakes negated any chance of scoring by either team.  The good news…Donovan O'Leary, who got dinged in the first half, came back out to play in the second half and appeared to be fine.
"It was good to come out of here with a victory,"  said David Homan, afterwards.  "Playing on Saturday night kinda' set us back a bit, but we're getting ready for league play…Parkway first, then Versailles and Marion, so we've got a tough schedule in front of us.  We try to prepare like we're playing a MAC school every week."
Homan was one of the conference statistical leaders for the 8-4 Cardinals last year, rushing for 1,072 yards, second only to St. Henry's Owen Lefeld's 1,492 yards…and threw for another 1,531 yards, second only to Coldwater's Reece Dellinger, who had 1,734 yards.  He was second in league scoring with 126 points, and for the fact of impact, no player in the league was more important to his team than what Homan was to the Cardinals.
"I wouldn't want to play in any other league,"  he adds.  "Every week, every team is tough.  Everyone is shooting for Coldwater, Marion, Versailles, us, and you have to prepare for that.  Everyone comes to compete, and everyone knows how it is. And it's neat to know that other parts of the state are paying attention to the MAC. It's a matter of pride."
If the best part about Saturday's win was no one getting hurt, the second best part is the annual grind that starts next week in Auglaize, Darke, Mercer and Allen counties with the beginning of conference play.  David Homan smiles ear to ear at the mention of the challenge, and Chris Schmidt, who's been an integral part of New Bremen's rise to success in all sports, is cautiously optimistic.
"Obviously we've got some things we still need to work on and make better, and there's breaks and flows to every game,"  he said.  "You just do the best you can to put yourself in a position to take advantage of that.  So it's a good start for us to go 2-0 in non-conference play, and now we've got to get ready to play Parkway."
Lehman will prepare for their Week 3 game with Waynesfield-Goshen, knowing that everything bad that can happen…happened Saturday night when they played New Bremen.
It can't get any tougher than that.