The Buckeyes' second-year receiver is expected to join Smith-Njigba, Fleming and Egbuka in making sure the team moves on from Olave and Wilson without a drop-off in production.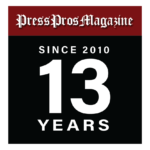 Columbus, OH – The watch lists of who's-up-for-which-award – the Heisman, Doak Walker, Rimington, Davey O'Brien, you name them – have been released to the public in all their glory and Ohio State football players are represented well.
Receiver Jaxon Smith-Njigba has been nominated for the Fred Belitnikoff Award, defensive backs Denzel Burke and Ronnie Hickman the Jim Thorpe, running back TreVeyon Henderon the Doak Walker, and Noah Ruggles the Lou Groza.
Yes, of course, quarterback CJ Stroud indeed is a Heisman Trophy favorite.
Okay, enough of that. Press Pros is not an old-school telephone book.
Ah, but we just have to mention the list The Athletic published called The Freak List for workout warriors.
Sophomore receiver Marvin Harrison Jr., who kept catching touchdown passes in the Rose Bowl with future NFL first-rounders Chris Olave and Garrett Wilson having opted out, is No. 2 on the list after Michigan defensive tackle Mazi Smith.
"Is there an application process? What is that?'' receiver coach Brian Hartline said.
No, seriously, a reporter asked Hartline, what did Harrison, a 6-foot-4, 206-pound specimen of a man, do to get on the list?
"What does he do? We're just trying to play football,'' Hartline said, having fun with all of this. "It's not a bathing suit contest. It's not a runway walk. We're just trying to play football and execute really high. That being said, I'll tell Marv that's good and all. But I've seen a lot of freaks not be able to play football very good. Let's not be that guy. That doesn't get us any touchdowns.''
Hartline already knows that Harrison sure can play some football. If he didn't catch six passes for 71 yards, including three for touchdowns of 25, 8 and 5 yards, Ohio State wouldn't have been able to outscore Utah 48-45 in the Rose Bowl.
Harrison came to campus billed as a taller, faster chip off the old block. His father made it to the Pro Football Hall of Fame after catching 1,107 passes for 14,580 yards and 128 touchdowns with Peyton Manning throwing the ball. He was on a Super Bowl champion.
A reporter jokingly asked Harrison Jr. if he got on The Freak List for lifting 600 pounds.
"Uh, I don't quite know,'' he said of his personal best in the bench press. "We have everybody do a one-rep max-out. But I'd say I've done 315 a couple of times – more than a couple of times. We put a lot of work in this summer to try and get stronger. That was one of my goals.''
How did he feel being on the list?
"It was an honor. A lot of work went into that,'' Harrison said. "Especially for me, it's easy to say genetics. But I had to put a lot of work in.''
The other Ohio State player on the 100-man list was defensive tackle Tyleik Williams at No. 66.
Harrison jumped off the topic by pointing out that workouts "won't get you too far.''
By now, the media, coaches and players are talked out asking and answering questions about what is going to happen this season. The opener against Notre Dame is Saturday at Ohio Stadium.
Smith-Njigba was asked whether he has thought about becoming the second Division I player to surpass 2,000 yards receiving in a season. In 1999, Trevor Insley of Nevada totaled 2,066 yards.
"I wasn't aware of that,'' Smith-Njigba said. "I mean, I'd be lying if I said I wasn't thinking about (2,000 yards or more). I think about everything, honestly. I don't let it control me.''
As a true sophomore, he was outrageously good with 95 receptions for 1,606 yards and nine touchdowns.
All that happened playing the slot and being the so-called No. 3 option after Olave and Wilson.
Smith-Njigba forced the nation to pay more attention after catching 15 passes for 347 yards and three scores in the Rose Bowl.
"I'm very, very confident just like I was very confident coming in when a lot of people didn't know me,'' he said. "(Now), I'm getting the same questions Chris and Garrett got. I like to say we load to reload here in Zone Six.''
But, he said, the goal isn't 2,000 yards or any other personal statistic.
The Buckeyes were impressive offensively in 2021, but they were bounced by Oregon and Michigan and left out of the Big Ten championship game and College Football Playoff.
All those yards didn't mean anything.
"Just focus on our team goals, really,'' Smith-Njigba said. "I want to win. I want to go 15-and-0. That's where my mindset really is. Then when we get to the natty (national championship game) all the individual goals hopefully will follow after that. Our three goals are to beat That Team Up North, win the Big Ten and win the natty. I'm just going to play my tail off for 15 games.''
The handy-dandy question about pressure was hurled at Smith-Njigba, and he answered it superbly.
"There's always pressure,'' he said. "Coach Hartline says pressure is a great opportunity to have. It's a blessing. It's better than no pressure at all. It's what I dream for. It's what we dream for, to win the natty. We haven't done that at Ohio State since 2014. There's pressure, but we love it.''
There has been pressure on receiver Julian Fleming ever since 247Sports made him the No. 1-ranked player in the Class of 2020 out of Southern Columbia High School in Catawissa, Pa.
Injuries went a long way in limiting him to 15 games and 20 receptions for 187 yards and one touchdown.
Fleming, though, said a lot of his lack of production resulted from immaturity.
"It was time to grow up and take things a lot more seriously,'' he said. "It was definitely a process and took me a little bit of time, and now I'm locked in and committed to Ohio State football.''
The added commitment paid off with, what else, an award. He was voted an Iron Buckeye for his work in the offseason.
Yes, Fleming said, injuries have cost him. But there was more to it than that.
"I've had a couple of bumps and bruises along the way that held me back, but there was a lot of outside stuff that affected me in different ways,'' he said. "It was good to finally cut out the outside noise and all the outside drama that takes place in college football and just get locked in. We have a saying that once you cross the red line that all the outside stuff is gone and it's all about Ohio State.''
Maybe the new Fleming showed through during a scrimmage when he kept playing after a shoulder popped out of place. He popped the shoulder back into the socket and went on to catch two touchdown passes.
"Uh, yeah, that's right,'' he said. "It definitely boosted my confidence a lot.''
This season, Fleming said, "I've got to work through bumps and bruises.''
When did this change in attitude occur?
"I would say right after the season,'' he said. "Definitely right after the season. I had to focus a lot on me and a lot of the stuff that I've been through and realize that I have to continue to build on that and not dwell on it. I'm constantly building, building, building and now I'm starting to become the football player that I'm really, really driving to become.''