Big plays from Cooper Brown, Peyton Mayfield and Michael Elam pushed Milton Union to a two-score win over Valley View Friday.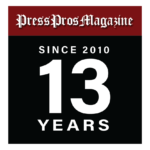 FARMERSVILLE, OH – All day, Michael Elam had been trapped in a phone booth.
Following a productive first drive, Milton Union's senior feature back had been held to 27 yards on 15 carries.
It took a fourth-and-9 pass play to get him rumbling again. A wheel route to be precise.
Catching the ball in traffic up the left sideline, Elam bowled over and spun away from two defenders and dashed all the way to the house for a 33-yard score that proved to be a dagger in Valley View's heart.
"We ran [that play] early in the game, we didn't throw it to him," Milton head coach Bret Pearce said. "But my defensive coordinator saw he was open, Tim Antiodes looked over at me and said 'Run Michael on that wheel, they didn't guard him last time.' And it worked."
That set the score at 24-7, leading to a 24-14 final tally as the Bulldogs toppled the Spartans Friday on the road due to opportunistic defense and a handful of key passing plays.
Elam added two rushing touchdowns and senior wide receiver Cooper Brown helped the passing game, accounting for 64 of Milton's 71 receiving yards. Sophomore defensive back Payton Mayfield picked off two throws of his own and added several tackles on the outside.
Valley junior quarterback Caden Henson threw for 237 yards and two touchdowns in the losing effort.
"Just a special [win]," Pearce said. "This is one of our toughest opponents year-in and year-out. It's hard to win down here in Germantown, our kids came out here and executed very well tonight."
The Bulldogs' defense, living up to their rugged nickname for most of Friday's proceedings, allowed a 46-yard completion from Henson the drive following Elam's jaunt. 
They responded by forcing a turnover on downs to all but secure victory. Elam and company got the ground game going to bleed more than eight minutes off the clock the following drive.
"Coach A, our defensive coordinator, spends countless hours watching film," Brown said. "He gets us where we need to be, he calls the plays and we condition a lot, we get it done."
Methodical is the typical methodology of Milton's offense.
Running out of an I-formation, Wing-T or singleback with 12 personnel, the Bulldogs pounded the rock downhill and mixed in play action.
Third-and-17 up just 3-0 called for something a little more explosive though. Enter Brown.
Milton quarterback Nate Morter tossed a fade ball up the left sideline that both Brown and the cornerback defending him had an equal shot at. Brown made a perfect high-point of the football to haul in a 22-yard reception and set up Elam for a one-yard touchdown two plays later. The Bulldogs led 10-0 mere seconds into the second quarter.
"During every single practice at our individual defense, we always high point," Brown said. "When my quarterback gives me those balls, I just got to go get them.
"It felt amazing. Those balls were perfect. I just got my hands on them."
The next time Brown high-pointed a ball he made fans see double by doing it over two defenders, this time on third-and-19 for a 33-yard gain. 
He went down on that play and had to go to the sideline to get taped up, but that same drive arrived at fourth-and-14 and Brown returned to the field to draw a crucial pass interference call. Another one-yard plunge by Elam made it 17-7 Milton entering halftime.
"He's really been growing as a football player. As a leader, he's one of our best leaders," Pearce said. "He was voted a team captain this year, and he really was the difference tonight."
Valley didn't help itself.
Milton's Connor Gibson ended Valley View's first series with an interception to set up the Bulldogs' first score.
A fumbled snap established the Bulldogs' second touchdown drive. Then after the Spartans drove more than 60 yards in a two-minute drill before intermission, Mayfield intercepted a pass at the 1-yard-line to maintain his team's two-score lead.
Valley converted a fourth-and-10 with a fake punt early in the third period, only to toss Mayfield his second pick of the night.
"He's been a real revelation to us," Pearce said. "He's a sophomore, only his second start. We have seven returners on our defense from last year, he is not one of those seven. So the four kids that we had for the first time up-town, we're relying on them to grow. He had an interception last week against National Trail and he had two more tonight. So I think he's showing what we need to see."
The Spartans were also the far-heavier penalized team.
"Our players were prepared and executed the game plan, and so they were in the right spot to take advantage of miscues," Pearce said. "I don't think the turnovers were necessarily Valley View's fault, I think our kids were in the right spot."
Henson did most of the work on the Spartans' first-half scoring drive, connecting on a gorgeous 55-yard bomb to Micah Valenti while rolling to his right and later finding Troy Hypes on an out route. Hypes outran the Bulldogs' defense for a 26-yard scoring reception. 
A 10-yard toss to senior wideout Reiley Phillips with 1:43 left in the game set the final score.
Milton Union returns to the field Sep. 1 for a Thursday-night home clash with Oakwood.