They got a little bit of everything they like to do – aggressive serving, hitting, defense – but mostly New Bremen's athleticism loomed large in a straight-set win Thursday over Convoy Crestview.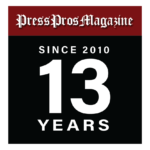 New Bremen, OH – There's a lot of things that New Bremen coach Diana Kramer will tell you about her volleyball teams.
They love to hit.
They stress serving aggressively.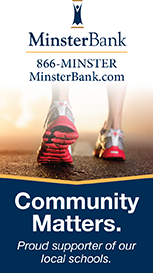 Defend as if the season depends upon it, because it usually does.
Live with a few mistakes if you have to, but always attack the opponent – force errors.
So they did a little of all the above Thursday evening in a straight-set win over Convoy Crestview (1-1) – winning 25-18, 25-20, and 25-16.  Crestview was in each of the three games, but New Bremen was never seriously threatened because of one obvious advantage.
It wasn't height.  Their tallest player is junior Olivia Heitkamp, who's probably 5'10" inches tall.
And it wasn't experience.  There's only three seniors – libero Abi Powers, Rhianna Paul, Mia Schmitmeyer, and Megan Reinhart.
The difference was their overall athleticism.  The 2022 edition of Kramer's Cardinals swarmed around the court, quicker and stronger, and by the third set their physical presence visibly wore down the visiting Knights from the Northwest Conference.
"We're 'crazy' athletic,"  says Kramer.  "That would be one of the words I'd use to describe us.
"We're not very tall.  If you take Olivia Heitkamp out of the equation we might average 5'6″, 5'7″.   But if you would see them lift in the weight room twice a week you'd see why they're so athletic.  They've bought into working hard in the gym and in the weight room, and that's our advantage.  We're quick defensively, our attackers like Melina Schrader just get up quick, they're explosive, and they're really smart.  I was pretty happy with how we played tonight, and we're going to keep getting better."
Crestview, a team with just one senior on its roster, is talented, and played New Bremen close in the first set…until the Cardinals finally got some separation at 12-10.  Rhianna Paul, one of those 5'7″ over-achievers, was aggressive at the net, accumulating kills that would add up to a dozen by match's end.  On the back end Abi Powers anchored the defense and the ability to get to balls before they struck the court allowed them to stretch that lead out to an eventual 7-point win.
Likewise, in game 2, where Bremen took a slim lead, only to see Crestview fight back to tie it at 13-13.
But Olivia Heitkamp made her presence felt, hitting from everywhere on the court, while players like Ava Trentman got enough blocks at the net to frustrate – Trentman also contributing some easy points on quick sets that she dumped at the feet of the Knights' defenders.  Bremen again pulled ahead to a 25-20 win…never really threatened after 13-13.
By the third set Bremen began to play with more instinct, while the fact of a short bench began to wear on Crestview.  Heitkamp made her mark offensively, warming up to a game-high 15 kills, and what mistakes there were…were negligible towards the outcome.  They were aggressive mistakes, generally, and if you have to have them, Diana Kramer says be aggressive in the process.
"When you have athletic kids in the gym you can test them, and raise the bar even higher,"  said Kramer, afterwards.  "Because it's there, and you know it's there, and they're on the verge of breaking through.
"Obviously this was just the second match of the season, and there's going to be times when we're running into each other.  We're trying to figure out where we're going offensively and defensively.  But we've faced so much adversity, and there's so many different lineups – people playing different positions – it's going to happen, and I understand that as a coach."
No one has benefited more in the off-season than Paul, who for her size jumps in the manner of the now-graduated Kaylee Freund, who at 5'8″ played so much bigger than her size over the last two years.  Paul says the weight room has made the difference.
"It's helped me a lot,"  smiled Paul, talking about her commitment to lifting and conditioning.  "We've all put in a ton of work in the weight room, because it's important."
What's helped her the most?
"Probably my legs,"  she adds.  "I do a lot of squats, which helps my ability to jump, and that's important because I'm pretty short.  This is what will make us different from other teams – our athleticism – because of the time we've spent in getting stronger and quicker, not just time on the court."
And while they're trying to figure some things out, Kramer is pretty pleased so far.  The Cardinals haven't lost a set in two matches, with shutout wins over a very good Russia team last weekend, and Tuesday's win over Crestview.
"I thought we played really good defense tonight,"  she concluded.  "And offensively, Olivia is a threat anywhere she plays (15 kills, 15 digs).  Rhianna had a good night (12 kills).  Melina had a good night (35 assists, 5 aces and 9 digs).  Megan (Reinhart) played well.  So it's a work in progress, and I'm proud of where we are at this point.  There were times tonight when it wasn't so pretty, but there were also some moments of greatness."
And this footnote…in Kramer's short tenure as coach they've never been that big, and still she's managed to win two Division IV state titles and finished runner-up twice.  And the best player in the history of New Bremen volleyball, Paige Jones, is now sitting on the bench as an assistant coach after an outstanding Big Ten career at Michigan.  And don't be surprised if by season's end Olivia Heitkamp doesn't look and play a lot like her, along with some others.
And that business about the weight room making a difference?
Everyone lifts to get stronger – more athletic – where Paige Jones has been.
Everyone!