Down two sets to none, and playing to match, Ft. Loramie stormed back to take the last three sets to pull a big comeback win over host Minster in volleyball.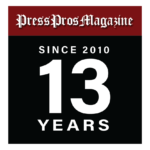 Minster, OH – John Rodgers has coached the sport for a long time…has seen just about everything, good and bad.
Still, when your team comes back from two sets down on the road, wins the last three, and goes from being the hunted to being the hunter, well…it's enough to make even 'J-Rod' smile.
"I guess, yes,"  Rodgers shrugged, shaking his head in admiration.  "There was a whole lot of learning going on tonight.  But, I coach because I love it.  And to see the smiles on their faces after a win like this is worth everything we've done and all we've put into it."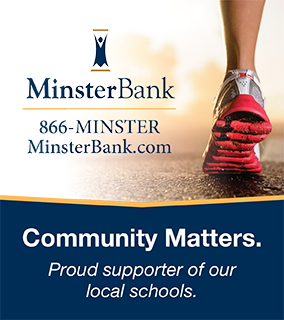 Officially, Loramie won in five sets, 26-28, 24-26, 25-16, 25-16, and 15-11, appearing to wear down a plucky Minster group over the course of the last two and a half sets.
The first was back and forth, with Loramie at one point ahead by a margin of 17-11.  But Minster made a run, as often happens in volleyball, eventually took a 22-21 lead, and then outlasted Loramie over the final 11 points win 28-26.
The second set was much the same.  Minster was athletic, energetic, and in the words of coach Cami Garman, "excited" to have Loramie on their heels and "out of system".  In volleyball vernacular, 'out of system' simply means…scrambling!  Loramie left some balls above net, in harm's way, and Minster's hitters did what you should do with errant plays – thunderous kills and added frustration to the Redskins' efforts.  In a timeout Rodgers exhorted them to play with some confidence, as they had practiced.  But it was Minster who was playing with mounting confidence, as they squeezed by again to take the second game, 26-24.
Seldom does Ft. Loramie get swept in volleyball.  But Minster was on the threshold of doing it and jumped out to 14-10 lead in the third set.  And then….
"I think we took too much for granted,"  said Garman later.  "We let our foot off the gas.  We became more tentative."
Fort Loramie took advantage, going on a 9-0 run to turn a 14-10 deficit into a 19-14 lead.  In a span of nine points the team being hunted in the first two sets, suddenly became the hunter in the final three. It was never the same after that nine-point run.
"We weren't serving aggressively, and we turned that around,"  said Rodgers.  "Simply, we began to trust each other, and trust what they do everyday in practice.  And it paid off.
Loramie swept through to a 25-16 win, and went out for the fourth looking as though they'd had a heavy weight removed from their shoulders.
They were clearly the aggressor in the fourth set, as Minster began taking the blows, instead of delivering them as they had in the first two sets.  Loramie's Skyler Albers had a succession of sharp serves with which Minster struggled, their receive of serve and passing began to break down.  With each passing point Loramie began to "trust" more and more.  Avery Brandewie and Summer Hoying began to find the range with the  same shots they'd sent off the court in the first two games.  Eventually, they took the fourth with the identical score of 25-16.
Tied 2-2, Minster came out with renewed energy.  The two teams traded slim leads early.  But at 6-4 Loramie went on a four-point run that forced Minster to call time and regroup.  The Wildcats made one final run, cut the deficit to a couple of points, but Loramie pushed the lead back to four, and took the match with a 15-11 win.
"I really didn't have to tell them a whole lot [after the second set],"  said Rodgers, when asked.  "We made a couple of small changes, and they knew what was on the line.  Just because they're young doesn't mean this group is inexperienced.  They understood those changes were going to be important.  They had to trust and do it."
Loramie improved to 3-1 for the young season, having won two of three matches in Coldwater over the weekend.
Minster dropped to 1-1, following a weekend win over Graham…ironically a match in which they came back from an early two-set deficit.  Cami Garman could smile, despite seeing such a big opportunity slip away.
"You can't get complacent against a program like Loramie,"  she said outside her locker room.  "They're too good.  But we're working hard, we've got more girls playing club volleyball in the off-season than we've had in a long time…over half of our players.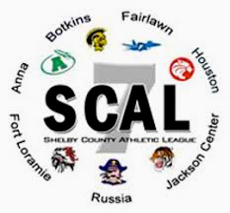 "And when you have players willing to do absolutely anything for the team, that ups the level for everyone else.  When you have players willing to fight tooth and nail, the others are going to work that much harder not to let them down."
Yes, John Rodger has coached for a long time, seen a lot, and enough to know that sometimes you really don't know what you've got until you have it.  Such was the case Tuesday, when his team was pushed to the brink of defeat before they finally played like they practiced.
Before the 'hunted'…became the 'hunter'.