Strength and conditioning coach Mickey Marotti finally got CJ Stroud to devote more time in the weight room, and the result is a 220-pounder playing quarterback for the Buckeyes.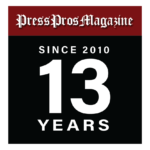 Columbus, OH – The breaking news after preseason practice No. 13 was Ohio State quarterback CJ Stroud saying that, heck, yes, Big Ten players should get a wedge of that big apple pie in the sky called the conference's brand-new broadcasting deal with Fox, NBC, CBS, Paramount+ and Peacock.
CBS and NBC alone will shell out $350 million each per season for seven years.
The news media scooped up his words and ran with it as if going for a pick-six on a turnover.
If you haven't read about this deal that begins in 2023, all you need to know is that the payout is for $8 billion-plus and makes every conference except the SEC looking as if they negotiated Wal-Mart prices.
And, make no mistake, the gap between the Big Ten and SEC deals is a bunch.
"I'll probably have to think about that a little more,'' Stroud said. "But just off rip, I would say yes (athletes should get their fair share). I think coaches as well, too. I mean, I feel like this game is definitely amazing, especially in a college atmosphere because it still does have amateurism to it. I mean, they're paying for our school. So, I mean, that's definitely a plus. But at the same time, I mean, I'm not 100 percent sure what our tuition is, but I'm sure it's not the worth of how much we're actually worth. So, me personally, my mom has always taught me to know my worth."
This comes from a player who is tooling around in a $200,000 Mercedes-Benz G Wagon. His other option was a $150,000 Bentley.
Stroud, a redshirt sophomore, reportedly is making another $550,000 in cash to attach his name to products.
It's important to remember that he is speaking for his teammates and all the other athletes in the nation.
So, what else is he going to say? No, I'm all set. I've got mine.
Money was not the most important nugget coming out of the 15 1/2-minute conference.
There is a lot more meat on Stroud's frame now that he consistently has found his way to strength and conditioning coach Mickey Marotti's body-building chamber.
Stroud especially is thicker from the waist down and reports that he is up to 220 pounds from 215.
It doesn't seem to be that much, but the man has become, well, a bigger man.
"I've always taken the weight room serious once I got to school,'' Stroud said. "I didn't take it serious in high school. It was definitely something that I had to adapt to. Me and Coach Mick – I wouldn't say we didn't get along – but I didn't like to lift. I've seen the progress that I made and definitely fell in love with it. I've got my body weight just right. I think I'm up to 220 now. I feel the best that I've ever felt in my life. I've PR'd in bench and squat. I forget the miles per hour, but I PR'd in that and now I'm the fastest I've been. I've definitely seen the growth.''
Three cheers also go to team dietician Kaila Olson for getting Stroud to eat better.
In 2020, quarterback Justin Fields said he felt a whole lot better primarily eating a vegan regimen, and he became a monster.
We don't know what Stroud is eating, but quarterback coach Corey Dennis said the difference in his play is noticeable.
"I think all the quarterbacks have put on 20-plus pounds since they've gotten here,'' Dennis said. "CJ is healthier.''
The eyebrow-raiser was Stroud saying that he has never been faster.
So, Coach Dennis, who is your fastest quarterback?
He bailed out on that question.
"Uh, I mean. . . Justin Fields,'' he said. "It's funny, Devin (Brown), CJ and the (other quarterbacks) are always arguing about who's faster. But all jokes aside, he moving great, he's healthy, he's strong and he's fast.''
The media has asked head coach Ryan Day many times about Stroud running more to give defenses something else to worry about.
Dennis said Stroud can be a factor downfield. But, no, don't look for him to get even five or six carries a game. Day and Dennis aren't nuts.
"CJ has always been able to run,'' Dennis said. "It's not as if he hasn't been able to run. His first touchdown (as a college player) was a long run against Michigan State (for 48 yards in 2020). He's definitely athletic, he's definitely talented. He can move around a little bit. If the call is for him to run, he can do that.''
Stroud credits Marotti for toughening him and getting him to think more positively about himself.
"It pays testament to who we are as a team and how Coach Mick has trained us to be tough,'' he said. "He has definitely done that in my life, not just in football outside of football. With regard to character, Coach Mick brings it out of us. We pushed ourselves in the offseason with accountability with things and that sort. I definitely feel like I was at the front of that.''
Topping what Stroud did in 2021 will be difficult. He set 17 team records, 13 of them passing, and was a finalist for the Heisman Trophy and Davey O'Brien Awards.
Some of his games were downright mind-blowing, especially the 48-45 Rose Bowl victory over Utah in which he completed 37 of 46 passes for 573 yards and six touchdowns.
Even in losses to Oregon and Michigan, Stroud was stout. He went for 35-for-54 for 484 yards and three scores against the former and 34-for-49 for 394 yards and two touchdowns against the latter.
What is he doing better in camp?
"This year, I think I'm managing the game better and taking what the defense is giving me,'' Stroud said. "If it's not there, I just go through my reads and progressions and go through a checkdown, and, if I need be, on my feet for the checkdown.''
The media asked Stroud what the Buckeyes must do better. They did struggle to run the ball in short-yardage situations, were bogged down by penalties at the worst time and stumbled way too much in the red zone.
Yet Ohio State was No. 1 nationally in yards per game at 561.5 and scoring at 45.7.
Stroud was No. 2 in passing efficiency at 186.6 and No. 3 in passing offense at 380.9.
For the season, he was 317-for-441 passing for 71.9 percent. He threw for 4,435 yards and 44 touchdowns. He was intercepted just six times.
All that came from a player who was following Fields after playing in mop-up time as a true freshman.
"I just want us to be us,'' Stroud said. "I have nothing to prove to anybody. We don't have nothing to prove to anybody. At the end of the day, it's about Ohio State and not anybody else. That's just how I feel. I don't think any of those games we look back at – kudos to those teams, they beat us fair and square – but I feel like we beat ourselves at the same time. If Ohio State shows up Ohio State, I definitely think we're tough to beat.''
Dennis said that Stroud has evolved like Fields in that he not only is asking "what'' when a play is selected but "why.''
"The one thing you appreciate about CJ, no matter what kind of year he had last year, is that he's always trying to get better,'' he said. "He's always trying to work on his craft, trying to enhance it and trying to get better.''
The quarterback should be the leader of the offense in this era of high-volume throwing.
Now, Stroud is one of six captains.
"By God's grace I've always felt like I'm a natural born leader,'' he said. "I've been blessed with that ability. I feel like I can relate to a lot of people in different situations, and that's what I'll keep doing. I am being myself and understanding my role and responsibility at Ohio State is to be captain. I've been vocal since I've been a child. I never had an issue speaking my piece or holding other people accountable, including myself.''