Boasting its prowess up front and a stellar defense, Big Walnut complemented the play of All-Ohio running back Nate Severs and rolled to a 35-7 opening night win over perennial power Hartley in a new home stadium.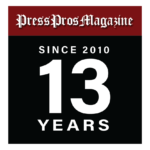 Sunbury, OH – It was a night of firsts at Big Walnut High School Friday.
A brand spanking new school and state-of-the-art stadium provided a few predictable glitches, such as overflow parking resulting in late-arriving fans parking a quarter-mile away, numerous microphone checks and some clock malfunctions. All par for the course in any stadium on opening night.
But the red-clad football team was in vintage 2021 form, clicking on all cylinders in a 35-7 pounding of perennial state powerhouse Hartley.
After a 12-1 season ended with a Division II regional semifinal defeat to eventual state runner-up Massillon Washington last November, the return of 15 starters – including a handful of All-Ohio honorees and major college recruits – offered promise of even more for Big Walnut in 2022.
To manhandle a storied Hartley program boasting four state championships, two runner-ups and 10 final four appearances understandably left the coaches and players strutting their collective feathers.
"It's awesome to win any first game, especially in a new stadium, but to beat one of the winningest programs in Ohio really tells us we're on the right track to have the success we expect here," senior receiver/defensive back Nicky Pentello said. "The important thing is we were physical on both sides of the ball and we executed very well."
Junior linebacker Garrett Stover, who owns offers from the likes of Ohio State, felt like the Golden Eagles sent out a message.
"We were beating them off the ball, and that's kind of the key to our success," he said. "When we can do that, we're usually going to be successful at what we do. We knew this game would be a battle and we answered with a strong performance."
The opening two series may have dictated the tone of the game.
Hartley drove deep into Big Walnut territory, but quarterback Peyton Underwood was intercepted by Pentello on a slip screen over the middle.
It took seven plays for the Golden Eagles to capitalize as quarterback Jake Nier hit Nate Snead on a fade pass for a 22-yard touchdown.
Just three plays into Hartley's next series, Underwood was picked off by Teddy Dancer on a bomb into triple coverage. Regarded as one the Hawks' best passers in recent years, Underwood tossed only three interceptions in all of 2021.
This time, it took Big Walnut six plays to cover 78 yards, with Nate Severs scampering in from 22 yards on a third-and-9 play to make it 14-0.
"Nate's the best running back in the state of Ohio," Golden Eagles coach Rob Page said. "He's a self-starter, a self-motivator and he plays and practices 100 percent all the time."
Severs, who gained 2,313 yards, scored 38 touchdowns and made first-team All-Ohio in his breakout sophomore season, finished with 150 yards on 21 carries with four TDs despite sitting out the final two series during a running clock situation.
Page cleverly mixed up his plays early, using Nier on option reads and keepers and going to the air to keep the Hawks from focusing on Severs.
"It's great to see us be in a situation where we can dictate to defenses that we have more than No. 7 (Severs)," Page said. "He isn't our only weapon. "I'm really happy with how we were able to execute against a great Hartley defense tonight."
Severs also scored on TD runs of 7, 1 and 3 yards before Page called off the dogs.
But even more impressive was the defense of Big Walnut. Stover made big play after big play. Ethan Clawson had two tackles for loss and a fumble recovery. Tyon Fountain had two stops on fourth down. And Page raved about the play of seniors Grant Coulson and Wes Skinner.
"Our defensive front is the key to what we do," said Pentello, who spent his first two seasons at DeSales before transferring. His father, Rocky, was long-time head coach at Westerville South. "The front is where it all starts. When they're getting the push and pressuring the quarterback and ball carriers, it just opens up everything for the backers to make plays."
It was only the third meeting all-time between the schools and first since 1984. Hartley won both previous games. This is the first of a four-game series extending through 2025.
Senior running back DeAunte Hubbard was a bright spot for the Hawks, rushing for 125 yards on 26 carries and scoring the lone TD to thwart the shutout with 2:16 remaining. His TD was set up by a 44-yard run.
The defeat wasn't necessarily an eye-opener to Hartley coach Brad Burchfield. The Hawks play a brutal schedule and prefer to open against state powerhouses. Hartley has lost six of its past seven openers.
The sloppiness, especially early, was a bit disappointing. In addition to the turnovers, Hartley committed a costly roughing-the-kicker call on a missed field goal that Big Walnut converted into its third touchdown midway through the second quarter.
"I don't really feel that awful about the performance," Burchfield said. "We'll correct the things that need to be corrected. We had some untimely mistakes that they cashed in. I've always felt that It's OK to lose an opener. You get to see what you can do and what you can't do and build on that. I guarantee you that we're going to get a lot better."
Burchfield, whose team moved down to Division IV from Division III this fall, predicted big things for Big Walnut.
The Eagles splashed onto the scene in 2021 after going 5-5 in 2020 following a string of losing seasons. Big Walnut's glory years came in 2007, when it won the state title, and 2008, when it made the state semifinals.
"They're very physical and a well coached team," he said. "They got us misaligned a few times and took advantage of us. I think they're going to have a lot of success this year in their division. They may not have a closer game than this in a while."