An Ohioan from Urbana, Graham Fach, put on a dazzling show in the finals to capture the 14th Annual PBA Coldwater Classic, winning in dramatic fashion over Australia's Sam Cooley.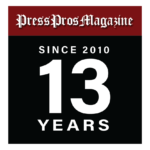 Coldwater, OH – Afterwards, Urbana's Graham Fach admitted that he didn't have much margin for error as he defeated Australia's Sam Cooley Sunday,  234-219, to win the 14th Annual Coldwater PBA Classic, sponsored by Bowlerstore.com, in Versailles.
"I knew Sam was going to put up a big game, especially coming off his win over EJ (Tackett), and it wasn't going to be easy to beat him after he put up 250 like that in this building."
Fach's win was his 11th PBA regional title, and culminated a memorable step ladder finish between the four finalists.
After a day of grueling elimination bowling, in which Troy, Ohio's Kyle Bigelow made the round of sixteen, it came down to four of the weekend's most consistent bowlers.
In semi-final match one #3 seed EJ Tackett, and 11-time national title holder, defeated #4 Justin Knowles, 213-211.
In semi-final match two #2 seed Sam Cooley saw Tackett throw five straight strikes, then literally hunted him down, throwing eight straight strikes of his own to win, 255-223.
That set up the final in which Cooley appeared to be the inevitable winner, coolly stringing strikes to keep the pressure on Fach going into the tenth frame.
But on his first ball in the tenth Cooley suffered a light hit, left a four-pin spare, and that opened the door for Fach, who with precision-like accuracy closed him out to win, 234-219.
"I really didn't think it was that bad a ball,"  said Cooley, forcing a smile.  "I didn't quite catch it at the bottom of the release, but I didn't think it was that bad."
But it is a game of inches, or milli-inches, and Fach responded to claim the title and a first prize check of $10,000.
"I knew I was going to have to throw a lot of strikes,"  said Fach.  "And this building is historically tough.  It's right up there with the US Open in terms of challenge.  You have to stay focused, and you have to shoot a lot of spares.  If you can do that you give yourself a chance."
Fach is a left-hander, and over the course of the two days Pla-Mor Lanes seemed to favor the left-handed bowlers.
"There are more righthanders than lefthanders out here,"  said Fach.  "And there were quite a few lefthanders that made the cut, but there were also a lot of lefthanders who missed it, too.  I just think me and Knowles had the best luck among the lefthanders."
EJ Tackett had won the Coldwater tournament in 2014, and ironically, Fach and Sam Cooley faced off just three days ago in the final match of Minster's Kremer Roofing regional tournament.
"It's always fun to watch EJ bowl because he's so clutch and professional.  So if there's a chance to win you can count on him winning,"  said Fach.  "And Sam had bowled well this week, so I knew he'd be tough."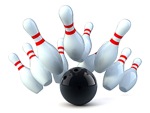 In fourteen years it's grown to be a popular event, attracting eighty different sponsors this week, and appreciative crowds who delighted in watching the precision of the world's best.
"I have to thank the sponsors and all the people who make this event so much fun,"  said host and Pla-Mor proprietor Rick Hartings.
Not to mention Graham Fach, Sam Cooley, EJ Tackett, and Justin Knowles.  They put on quite a show!