Troy, Ohio's Kyle Bigelow was the 'X' factor during the early qualifying rounds of the 14th Annual bowlerstore.com PBA event in Coldwater.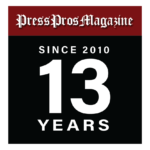 Coldwater, OH – A familiar name to Miami County bowlers turned heads on day one of the 14th annual Coldwater PBA tournament, sponsored by bowlerstore.com.
Troy, Ohio's Kyle Bigelow, of Troy Bowl in the Miami County seat, turned in an average of 208.63 through eight games of qualifying in the morning flight to finish in 6th place, five spots behind leader Shawn Maldonado (211.88) of Houston, Texas. Maldonado finished in third place in this week's Minster regional (Kremer Roofing Classic) at Community Lanes.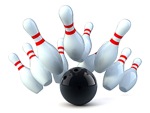 In a house that's historically tough to score in – punishing good shots while rewarding some 'sketchy' hits – Bigelow seemed right at home after years of bowling in a similar environment in Troy.
"I've been coming to Coldwater for ten years, and this is the best I've bowled at Pla-Mor," said Bigelow, an eleven-year member of the PBA tour.
"I threw the ball well, had a couple of good games, and just tried to stay even from there. But anytime you bowl in Coldwater it's always hard. It doesn't matter what pattern they put on the lanes, it's always hard."
While it's been a couple of years since he bowled on the PBA's national tour, Bigelow seldom misses the regional tour events in Ohio, Indiana, Michigan and Kentucky.
"I still bowl the regionals," he says. "That's my mainstay."
Other area bowlers weren't so fortunate.
Versailles' Michael Davidson started out like a house afire, rolling a 237 in his opening game. But precipitously he began to lose ground as Pla-Mor Lanes began to fight back. By the end of his eight qualifying games he had slipped to a 188 average, and in 16th place. Given that another sixty bowlers were yet to qualify, Davidson was by no means sitting comfortably.
Other area bowlers were not so fortunate. Greenville's Joshua Hawes finished 28th, with an average of 163. Versailles' Max Voisard claimed the 31st spot, averaging just 147.88 on the tough Pla-Mor surfaces.
What makes it so hard?
"Well it's not the oil pattern," said Bigelow. "In my opinion it's the building, itself. In bowling we call it topography (the consistency of the lane surface). It's frustrating, especially if it's your first time here. Guys on tour call it 'being Coldwatered'.
"You can throw a good shot here and get a 4-10. You can throw a thin hit and it'll swish things around for a strike. I think every lane here is different like that. My wife believes that the place was built on an Indian burial ground. It's always hard."
Hard, but Bigelow is undaunted and vows to come back to Sunday's title round with fresh optimism and with an attitude of anything is possible.
"Oh yeah, today's done and you come back with a new mindset tomorrow. Just make the cut and anything's possible."