Versailles' Michael Davidson came out hot in Wednesday's qualifying round, grabbing third position out of 23 bowlers who will compete for Thursday's 2nd Annual Kremer Roofing title at Minster's Community Lanes.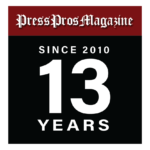 Minster, OH – Michael Davidson had the look of a guy who had just proved he could do a hundred pushups without stopping.
One of two hometown bowlers (along with Matt Kuba) participating in this week's Kremer Roofing PBA regional tournament at Community Lanes Thursday, Davidson came out firing on the tough Community surface to average 214.13 in the qualifying round, and finish third among 23 bowlers who will compete in Thursday's finals for the $4,000 first place prize.  He bowled in the 10:30 am shift, rolled a high game of 246, and finished 113 pins ahead of the cut line, 41 ahead of fourth place finisher, veteran Tom Smallwood, of Saginaw Michigan.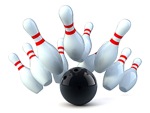 "I bowled pretty good,"  he said with a hard-to-conceal smile, later in the afternoon, during the second of two qualifying rounds.
"It helped get me off to a good start for the Coldwater tournament this weekend.  This event (the Kremer) is extremely hard, and Coldwater is extremely hard…notoriously hard.  A nine spare here is good.  So to get into the grind mindset to go into Coldwater, and to have the local support is absolutely awesome.
"To be able to bowl in your home house, and a house where I basically grew up in, being the local boy is nice.  You want to perform in front of everyone that you know, and everyone who's been supportive during this journey "
Davidson and Kuba are both from Versailles, where when they're not on tour they're part of the Bowlerstore.com staff on Kley Road.  Ironically, Kuba placed 11th after qualifying with a 207.88 average, making for that rare circumstance where to professionals from one small town will compete in Thursday's champion round with the best professional bowlers in the world.
Davidson, who's 26, has proven in his third year that he more than belongs amongst the best, having risen precipitously among the ranks since his rookie campaign in 2019.
"I got my feet wet that first year,"  he smiled Wednesday.  "Every day is a learning experience.  The way bowlers on tour play the lanes is so much different from what I experienced in high school and college.  These guys are so much better than anyone else, and you come out thinking you know a lot and get a reality check, real quick.  I improved on my second year, made a couple of cuts.  And I was bowling really good during 2020 before Covid hit…I think we bowled four events.  So I took the next nine months off, took everything I was learning, and practiced for those nine months.  You learn different ball reaction, more skill with my hands to try to make the ball hook early, or late…just the little tricks that help you score.
"Then in 2021 I was 24th in points, made my first TV show, and finished 7th at the US Open.  But it's about constantly learning.  If you go through an event and don't learn something you're doing something wrong."
His average has steadily improved, as has his earnings.  On the latest PBA stats page it lists his 2021 earnings at just north of $24,000…while he learns.
"It's a tough way to make a living,"  he laughs.  "Thankfully, I can work full time at Bowlerstore when I'm not on tour.  That gives me some cushion.  But it's mostly about motivation, because if you bowl well you're going to make money.  It's not as good as the PGA, because we don't have that kind of sponsorship.  But if you bowl good for a week you know you can make a hundred thousand dollars.  It's not as good as the other professional sports, but for a week's worth it's pretty good money."
Observing all of this is one proud set of parents, of course.  Dad Doug and Mom Lorie own and operate Community Lanes, and Doug Davidson, himself, is a former touring pro.  He's not surprised at Michael's ability to compete and rise amongst the ranks.
"Not at all,"  he says confidently.  "He works hard at it and he competes.  He's learning the game out here.  I'm not surprised at all."
There was a good and supportive crowd, friends from Versailles and a couple of local sponsors.  Someone asked if it would be too much to yell 'Tigerball', in deference to the competitive legacy of other Versailles athletes.
Better thinking prevailed, however, as Matt Kuba finished his afternoon qualifying round to place 11th.  Davidson watched, appreciatively, no doubt mindful of the mental toughness necessary to carry overnight and into Thursday's competition for cash.
"So much of this game is mental,"  he said.  "If you're not into that right mindset against the best bowlers in the world…you just can't compete with them."
Part of learning the game.  He's in the mix.