He's the heavy 'hitter' among the Buckeyes' stable of running backs, and he's been that way since the days of Pee Wee football in Cincinnati.  Andy Anders profiles Ohio State's Miyan Williams.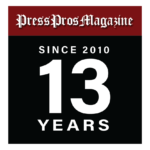 Redshirt senior safety Nolan Turner, at the time one of  No. 2 Clemson's leaders on the defensive side, found himself somersaulting backward on Jan. 1, 2021.
His attempt to tackle Ohio State running back Miyan Williams, then a true freshman, looked like a fly attempting to tackle a brick wall.
"It felt unreal," Williams, now a redshirt sophomore, said Friday. "I trucked him or whatever, I looked up and was like, 'I just did that? That's crazy.'"
Ohio State sophomore TreVeyon Henderson is touted as one of the nation's best running backs entering 2022 and a near-certainty to be the team's bellcow back. Sophomore Evan Pryor showed in the spring game that his speed can be a game-changer.
But fans should certainly stop short of short-selling the squad's shoulder-lowering, hard-cutting, rap-loving battering ram behind him in Williams.
"Miyan is a dog," Henderson said. "Miyan will split somebody's face, he'll juke you, he can do it all. He can do it all. And I definitely believe he's going to shock a lot of people."
Prior to that play against Clemson, Williams was a three-star recruit according to the major services and largely forgotten by Buckeye fans, playing behind then-senior Trey Sermon and then-redshirt sophomore Master Teague.
An injury to Teague teed up an opportunity for Williams to flash as Sermon's spell back, and as soon as got on the field he juked Clemson defensive end Regan Upshaw out of his shoes before bouncing outside and plowing over Turner for a 15-yard gain.  That play set up a strong 2021 season for Williams, even if it was overshadowed by Henderson's breakout as a freshman.
It was in fact Williams that averaged more yards per carry, however, gaining 504 yards on the season at a 7.2 per-attempt clip. His first run of the season was a 71-yard touchdown jaunt at Minnesota.
The evolution of his physical style dates all the way back to his first days of pee wee football.
Williams toted a lot of fury with him on and off the field. He doesn't know why, he said, but his mom put him into the sport so he'd have an outlet for his rage. As a 9 and 10-year-old he was known for trucking into every defender he possibly could.
"Me just running through people, it started when I was younger," Williams said. "I used to have, like, anger problems. I used to get the ball and just go to hit somebody."
Learning to control that anger is what allowed him to flourish as a running back, though, he said. Then some of his other talents started emerging.
"My little league coaches helped me, telling me I can't lash out every time something doesn't go my way," Williams said. "I have to just calm down, everything's going to be alright. Just next play."
"Wiggle" can be an overused term when describing ball-carriers, particularly in a spread offense like the Buckeyes', but Williams embodies that word when he gets any sort of space with the football.
He has an ability to dip his frame one way and jump-cut back the opposite direction, and can do it with such quickness and in such succession that it can create small gaps for chunk runs.
The Cincinnati native slimmed down and added muscle back this off-season, too. He might possess a lot of short-yardage power, but he and the team feel he is far from just a short-yardage back.
"Miyan's certainly not underappreciated by anybody in our building, certainly not by me," running backs coach Tony Alford said. "I most certainly appreciate everything he's given to the program. Does he need to improve in certain areas? Sure, but so does C.J. Stroud, who's a Heisman candidate.
"He's done all the things thus far that we've asked him to do."
Starting his freshman year, Williams started dipping his toes in another hobby, too — rapping.
He'll hop on songs with his cousins and friends under the alias "Manny Pablo."
"We always used to play around, freestyling," Williams said. "Then they started making music, then they got me in there. Back home everybody I hang around makes music."
Entering his third season with the Buckeyes, Williams doesn't consider himself an "angry" runner anymore. Even if it appears that way to outside viewers based on the defenders he's running over.
"I've got to make the defense feel me," Williams said. "But it's not like I'm angry, because if I'm angry, my head would just be everywhere. I just try to have fun with it."
If Williams is having fun out of Ohio State's backfield this season, it can only mean good things in tandem with Henderson.