Columnist Greg Hoard, and Press Pros nostalgic, writes this tribute to baseball legend, Dodger play-by-play man, Vin Scully…a first-hand account of one man's 'greatness'.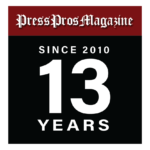 Cincinnati, OH — First pitch was drawing near. The Dodgers were in town and the press dining room at Riverfront Stadium was busy.
Vin Scully had sat down with a couple of friends: Jim Russo, Baltimore's "Super Scout"; and Bobby Wine, the Phillies advance man and former shortstop. The conversation was lively and light. Wine had a way of lifting a room, brightening the spirits of anybody and everybody he encountered.
"Vin, I figure you'll get to finish your dinner about the third inning," Wine said, smiling.
Scully, the Dodgers legendary announcer, smiled as he wiped his face with a napkin and stood to greet still another who stopped by his table to offer their regards.
Everyone, it seemed, from the Reds front office made a trail to his table: Joe Bowen, Scouting Director; Chief Bender, head of player development; Ray "Snacks" Shore, Reds advance man; and Joe Nuxhall, radio man and living legend.
When Reds announcer Marty Brennaman stopped by his respect and admiration were as obvious as his well-coiffed hairdo and his toreador trousers.
"Marty," Wine chided, always with a smile, "maybe someday you'll be as good as Vin. You think?"
"Bobby, please," Scully intervened.
"Not in a million years, my friend," Brennaman said. "Not in a million years."
IT WAS 1980. It was my first year as a member of the sports staff with the Cincinnati Post. Like countless others I had grown up hearing Scully on the radio and television and marveled at his skill: how his stories—like artifacts from other times—seemed relevant to what was taking place on the field; how his words seemed to float gracefully in, around and about the game; and how he never seemed to intrude on the play. He never came across as a star. He simply called the game.
"Look who it is," I said, nudging Earl Lawson, the Hall of Fame writer and my mentor.
"Sure, it's Vin Scully," Earl said. "Want to meet him?"
"Do you think it would be okay? I mean he's being bothered enough."
In moments I was being introduced to Scully. "Have you met Jim Russo and Bobby Wine," he said, shaking hands. "Join us. Have a seat. So you're new to the job, Earl says. Are you finding your way?"
"Uh-oh," Wine said, smiling, "another rookie. Look out."
At first, Scully ask me more questions than I ask him. Where was I from? Where did I go to school? Where had I worked before Cincinnati? Had I played ball?
Somewhere in the midst of this Russo and Wine had excused themselves to prepare for the game, but not once did Scully look at his watch.
Finally, I ask him if I could interview him for a story. "Of course," he said. "Come with me down to the booth. We've still got a little time before the game and we can pick it up tomorrow if you need more time."
We talked until minutes before first pitch and not once did he seem hurried or in need for me to get on with it. The next day, getaway day for the Dodgers, we met again in the dining room and later in the broadcast booth.
My story ran on the front page of the sports section the day after the Dodgers left town and when I ran into Brennaman, he stopped me.
"Son," he said, "that was a fine story you did on Scully. Damn fine job."
That was praise enough. I was 28, still trying to find my way and place and still stumbling here and there.

A FEW WEEKS  later, however, I came into the office to find a letter lying in the center of my desk. At first I was taken aback: "Who the hell is writing me and whoever it is, how did they find me?"
The letter was on Los Angeles Dodger stationary and beneath the return address was the name: "Scully."
"Oh, crap," I thought. "What's wrong? What did I screw up? I was so careful."
I was scared to open the letter but eager to learn its contents. The last letter that had caused me such mixed emotions was from my tax man.
It was a short note. "Dear Greg," it began. "Just a note to thank you for the very kind article you wrote about me in the Cincinnati Post…"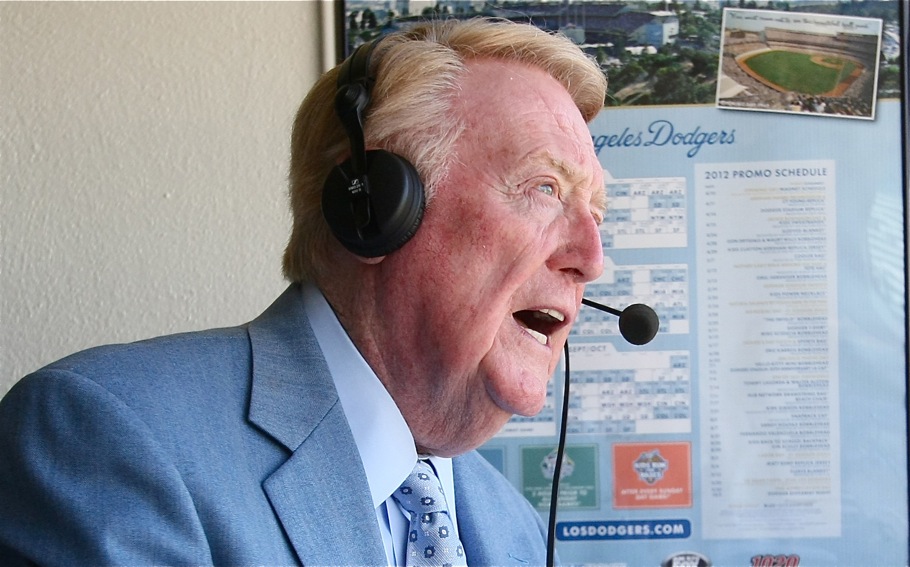 Friends in Cincinnati, he said, had seen the article and sent it along to him. "I read the article and was impressed and gratified…"
He closed saying, "Please stay in touch and thank you, once again."
I sat in my chair limp, feeling almost exhausted, the letter dangling loosely from my hand like a spent handgun.
"What the hell is wrong?" my editor said.
"Look at this," I said. "Vin Scully, Vin Scully took the time to write me a letter. Vin Scully. Can you believe it?"
As the years passed, whether I was in Los Angeles or at the playoffs, World Series—any where Scully might be—I made a point of trying to see him and say hello. To my surprise, he remembered me and always had a kind word. Time did not muddle his memory.
When I learned of his passing, I immediately thought of the brilliance of his work. Always, the game came first. Never, did he portray himself as a star.
He worked for the Dodgers, but he wasn't a houseman. He didn't sell the team. He didn't engage in hyperbole or apologetics. He simply told us—in an inimitable style—what was happening on the field. A line drive was a line drive, not a "seed" or a "rocket" or a "rifle shot".
But when the occasion arose, he was nothing short of inimitable, unforgettable. Since Scully's death, his call of Kirk Gibson's game-winning home run, Game One of the 1988 World Series against Oakland has been told and retold. It does not grow old.
Gibson suffered from a swollen knee and a bothersome hamstring. Such was injury that he was not included in the pregame introductions. But down 4-3, bottom of the ninth and a man on first, Gibson was called on to pinch-hit. Facing Dennis Eckersley, one of the best closers in the game, Gibson hardly able to stand and swing, worked the count full fouling off a fistful of fastballs down and away.
Finally, Eck got one close enough Gibson could reach it. He seemed to flip the bat at the ball rather than swing. Scully's call was magic. It was masterful.
"High fly ball into right field," Scully said. "She's gone. In a year that has been so improbable, the impossible has happened."
At that point, he sat back and let the sounds of celebration from the stands and the sights from the field carry the moment. He didn't say a word for over a minute. Then and now, hearing it again, you wondered if he was going to say another word. Finally, he resumes and there is laughter in his voice.
"And now," Scully said, as the replay unfolded, "the only question was could he get around the bases unassisted."
He was a man whose love and respect for the game and its people was only matched by his love and respect for the right words in the right moment. Most impressive, it seemed to come to him so naturally.
When I heard of his passing, I thought of how many he entertained over the years and how many he must have helped along the way, as he had helped me. Once again, I thanked him and I'm sure I wasn't alone.