Six-foot-seven small forward Devin Royal, who powered Pickerington Central to the Division I state championship in March, committed to Ohio State, adding to the Buckeyes' strong 2023 class.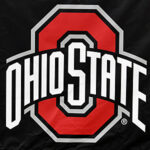 Pickerington, OH – It really wasn't a mystery in the Stephen King realm, but a packed Pickerington Central classroom of coaches, teammates, friends and media waited anxiously for senior basketball standout Devin Royal to announce his college choice among three finalists. The 6-foot-7, 210-pound four-star prospect had earlier committed to make his decision live on ESPN Instagram, but an internet connection problem delayed the festivities.
Finally, Royal delivered the sentence everyone was anticipating: "I have committed to The Ohio State University," eliciting a loud applause. Royal removed a warm-up top to reveal an Ohio State t-shirt, and family members surrounding him did the same. While an original list of nine was whittled down to OSU, Michigan State and Alabama, it would have been a shock had Royal not chosen the Buckeyes.
"I had built some great relationships there for a while," said Royal, singling out assistant Jake Diebler as being his chief contact. "I was always an OSU football fan, so me being here certainly had an effect (on the decision). It's a pretty powerful fan and alumni base. I have always gone down there for things. The campus is great. It means a lot of my family can come to my home games now."
Royal's star had risen throughout his high school career, but most notably between his sophomore and junior campaigns. He averaged 19.1 points, 8.1 rebounds, 1.6 assists, 1.1 steals and 0.4 blocks per game, shooting 61 percent from the field last season. He turned his game up another notch during the postseason, when he powered Central (26-2) to the Division I state championship.
Ranked as the No. 73 senior nationally by 247sports.com, Royal is considered the No. 2 player in Ohio, just behind 6-2 shooting guard George Washington III of Dayton Chaminade Julienne, an All-Ohio Red teammate who already has committed to OSU. Another of their AAU teammates, 6-6 swingman Dailyn Swain of Africentric, will announce his final five schools on Friday. He already owns an offer from the Buckeyes. Yet another four-star senior, 6-9, 240-pound center Austin Parks of St. Marys Memorial, also has committed to OSU.
Royal played in OSU's Scarlet and Gray team camp over the summer and made an official visit July 3. His original group of semifinalists, so to speak, included Michigan, Marquette, Penn State, Clemson, Miami (Fla.) and Mississippi.
"I've known for about a month, but I promised Devin and his family to keep things quiet," Pickerington Central coach Eric Krueger said. "I think his recruitment really changed from the time he made his official visit there. From his excitement, I could tell everything kind of flipped for him and things were going that way then. I'm excited for him. Of course, I would have been happy anyplace he would have chosen, but staying in Columbus where we all can support him is especially nice. He has already formed a communication line and bond of sorts with a lot of athletes there … guys he can work out with."
During his visit to OSU, Royal ran into his Pickerington Central classmate and basketball teammate Alex "Sonny" Styles, a five-star Buckeye football recruit at strong safety.
Krueger has been blessed with a slew of major college and NBA players during his nine seasons as head coach and 13 overall. Among them are Caris LeVert, Jae'Sean Tate, Jalen Tate, Sterling Manley, Jeremiah Francis and Conner Kern.
"I think I first met Devin at a Pickerington Central-Pickerington North football game when he was a fifth-grader and I knew he was coming up," Krueger said. "He was playing center then, but his game has really developed as he's gotten older. He's got an old-school game that has continued to drive him during his transformation. He's put in a lot of work with his coaches and trainers and his development is proof of that. I personally think he's the best player in Ohio. He's got a good chance at Mr. Basketball as a senior and we think he can lead us to another run at the state championship. There's a lot of excitement surrounding him and our program right now."
Long-armed and broad-shouldered, Royal can play on the wing or in the post. He is considered a team-first type of player not overly concerned with statistics or hyping himself.
"I guess you could say I'm a three-level scorer, but the bottom line is I do whatever it takes to win," Royal said. "I just try to do my thing and impact my team the way they need me to. I've always been that way."
Royal comes from athletic royalty, so to speak. His father, Daryl, was a record-breaking running back at Groveport and played collegiately at Cincinnati. He rushed for over 1,300 yards in his final two seasons with the Bearcats.
"A lot of time, travel and conversation went into this recruiting process," Daryl Royal said. "It was stressful for us. I can't even begin to imagine how stressful it was for Devin."
To his credit, Devin's laid-back nature likely aided him in the year-long ordeal.
"The most important factors to me are the relationships formed and the coaches that gave me the most love," he said. "There was a lot on my shoulders, but that weight has been lifted now and I can down to business of helping get my team back to the state championship."