Times have changed…prices have changed…if you haven't been to a minor league baseball game recently.  Let me share a couple of grins with you from how it used to be.  And some info…on Buckeye baseball, and changes to the Press Pros site.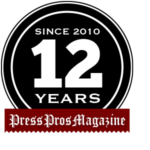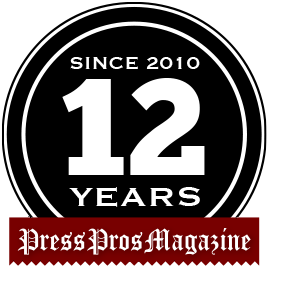 I went to a Columbus Clippers game the other day, over the 4th of July weekend.
Spent time with my daughter and some friends, had great seats, saw a great game, and overall I enjoyed the ballpark atmosphere at Huntington Park in downtown Columbus.
As a bonus, and surprise…I got to see former Buckeye Tanner Tully pitch for the Clippers, now seven years since I last saw him pitch the Buckeyes to the 2016 Big Ten Tournament championship in Omaha.
When it was my time to buy at the concession stand I got another surprise.  Now I'm not naive, but when it's your turn don't bother digging in your wallet for cash.  Everything is 'cashless' at Huntington Park, and the lines are long and slow because not everyone's chip card reads quickly and efficiently.  And how many people carry hundred dollar bills with them, anyway?  And that's what it's going to take if you're buying for more than three or four.
You expect to pay $10.50 for a beer at Great American Ballpark, or any other major league park.  You don't expect to pay that at a minor league game.  I wasn't the only one who noticed.  The guy standing in line with me said, "I just paid $10.50 for a whole twelve-pack of PBRs."
For the sake of comparison to how it used to be…..
When I was a rookie umpire in the Florida State League in 1976 I ate my first Skyline Cheese Coney in Fort Lauderdale, Florida in April of that year.  I was working with Steve Rippley, a future National League umpire for 20 years, and after the games we'd go to Skyline and pay 50 cents for cheese coneys because you only had $10 a day for meal money – breakfast, lunch and dinner.  A cheese coney at Skyline now costs $2.50.
We'd get ten a ten-pack of those things for $5.00, then wash 'em down with a six pack of Pearl beer for $2.09.  You do the math…and compare that to 46 years later.  Seriously, you had to really want to umpire minor league baseball to live on $10 a day for meal money…and another $10 a day for a shared hotel room.  My first year I made $650 a month, and that included per diem!  Rippley got extra money for mileage because we used his car to get from city to city.  It wasn't until I got to Triple-A that you could afford to eat better food.
And in the off-season I worked in a steel mill in Ashland, Kentucky to make enough money to pay my road expenses for the following year.  The good ol' days, as we remember them now!
As for the cost of game tickets, you never really know how much they are because on the Clippers' ticket site they're listed as "according to demand", even for a minor league game.   "I paid $40 dollars for my seats,"  said my friend in the concession line.  "And they're a lot more if you sit behind home plate."
In 1976 you could see a Tampa Tarpons game, with future Reds great Mario Soto pitching, for $2.00
Something to think about in this day of NIL (name, image, and likeness) and people's concern over entitled athletes in college…and what some fear will soon-to-be in high school.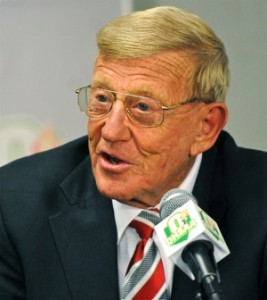 I saw a quote from Lou Holtz yesterday on Facebook.  Holtz is a funny man, was an excellent football coach (now retired), and a former national champion when he coached at Notre Dame.  He's also legendary for his perspectives on culture then, and now.
Said Holtz:  "People ask me what the difference is between athletes today and 40 years ago, and it's simple.  Today everybody wants to talk about their rights and privileges, and 40 years ago we talked about our obligations and responsibilities.  To me, that describes society as a whole."
And who can argue?
There have been a number of Ohio State baseball readers contact us for information concerning any announcement of assistant coaches, roster moves, transfers, and so on…following the hired of Bill Mosiello as head coach on June 21.
Buckeye fan Evan Reifschneider wrote over the weekend, and said, "He  (Mosiello) said he would hit the ground running.  That's great, but why the radio silence on Press Pros?"
Simply put, there hasn't been much radio come out of the sports information department, and if you go to the www.ohiostatebuckeyes.com website and click on the baseball page there's obviously been some roster moves…because at present there is no baseball roster.
As for coaches, we can share with you that Andrew See, who pitched for the OU Bobcats back in the early 2000s, has been hired as the pitching coach after spending the last seven seasons at Clemson.
And Damon Lessler, recently the hitting coach at Charleston Southern University, has been hired to take that position with the Buckeyes.
It was also announced Wednesday that Gregg Wallis would be joining the staff as an assistant coach and recruiting coordinator after spending the past nine seasons at Grand Canyon State University, in Arizona.  However, Wallis then appeared to be a late scratch as he took a head coaching position at another school, and former Texas assistant Sean Allen is rumored to be headed to Columbus to join Mosiello's staff.
When the air waves clear we'll know more, and then you'll know more.  In the interim, the rumors – and Twitter – have been interesting.
Some explanation as to the new Press Pros site.  While it's live, it's by no means complete – there's still a lot of back end work being done – and some familiar features from the original site are being added daily.  We did it this way to get the new operating system in place as soon as possible, making the site more efficient.
For instance, by this weekend you'll be able to see the 'First Person' video with Russia baseball coach Kevin Phlipot by clicking on the First Person tab at the top of the home page.  If you want to see Bruce Hooley's Lowdown video, you'll click on that tab.  Soon, these will be presented as a proprietary feature on the home page, but for the present just click on the tab and you'll be directed to those interviews.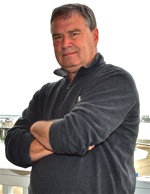 There are also inquiries about past articles, and that's another challenge being met…as there's about three thousand of them.  For now, you can click on the MAC tab, or the SCL tab, or the OSU or Dayton tab at the top of the home page, and you'll find what you're looking for in those individual archives.
This inconvenience will be mitigated by the beginning of the fall sports season…and it would not have been a good idea to have waited and try to do it all at once, given the heavy inventory of upcoming articles and features.  We appreciate your patience in the meantime.
Besides, who doesn't enjoy a daily surprise?