The new baseball coach spent 36 seasons working for some of the finest teams and organizations in the sport, and he thinks he has what it takes to get the Buckeyes back on top and to sustain.
Columbus, OH – Bill Mosiello gave reporters a heads-up in the opening minutes of the news conference that unveiled him as Ohio State's brand-new baseball coach by saying emotion and maybe some tears would flow freely from him.
Just 5 minutes, 17 seconds into things, he got so choked up that the feelings poured out of him like sweat off a laborer's back talking about wife, Janelle, sons Shane, Gehrig and Helton, some coaching comrades and his life in the game that he loves.
"I have about a zero chance of keeping myself together during this,'' Mosiello said.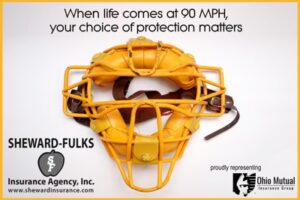 The Sheward-Fulks agency, in Jackson, Ohio, proudly supports the Buckeyes.The man has a gravelly, booming voice like a drill sergeant barking at raw recruits at Camp Lejeune. Combine that with rugged good looks and a trim build and he draws instant attention.
He wore a light gray suit, white shirt and, of course, a scarlet tie.
But one can tell that he has quite the heart.
"The most important thing in my life is my family and my wife, Janelle,'' Mosiello said. "She has been with me for 28 years through the tough times and the good times.''
Then he looked at her sitting to his left in the front row of the interview room in the Covelli Center and said, "I couldn't have done it without you, Janelle.''
Mosiello (it's pronounced Mo-zee-ello) guesstimates that his jobs have necessitated the family to move into 12 homes in nine states. Janelle went through nursing school while raising the active boys.
Now, it's another new address.
The athletic department wants someone to jump start a team that, associate athletic director Shaun Richard said, was called "a sleeping giant'' by many of those who interviewed for the job.
Richard said the university wants a baseball coach "who has the drive and passion to return Ohio State baseball to greatness.'' He said more than 30 people had a hand in interviewing Mosiello.
The Buckeyes were historically bad in 2022 with a 21-30 record. They failed to qualify for the Big Ten tournament. They also under-performed in 2021 with a 22-20 record.
The team hasn't won a regular-season conference championship since 2009.
Mosiello, 57, comes to campus with a resume that's a who's-who of college baseball. In 1991 and 1992, he was an assistant with George Horton under the great Augie Garrido at Cal State-Fullerton.
He has had stops at his hometown Cerritos College in Orange County California, Tennessee, Auburn, Southern California, Arizona State, Oklahoma and Mississippi. He coached three seasons in the California Angels minor league system and four years in the New York Yankees system.
The job that got him this dream shot at Ohio State was a nine-year tenure at Texas Christian, where the team went to the College World Series from 2014 to 2017 and made three other appearances in the NCAA tournament.
He was associate head coach, coached third base and was in charge of offense.
Why take a job where, after playing four weeks in the south to start the season, cold, drippy, blowy weather often is a plague the next two months?
The Buckeyes had five games wiped out by the elements last season.
"The brand here is really, really special, and you guys know that,'' Mosiello said.
Eighty high school coaches from Ohio already have contacted him. He has chatted with former Buckeyes first baseman Nick Swisher.
Swisher paid for the installation of the artificial turf and amenities. Thus, the place is called Bill Davis Stadium at Nick Swisher Field.
Way back in 1999, Mosiello knew what Ohio State was capable of in baseball. He was on his way from Norman, Oklahoma, to New England to coach in the wooden bat Cape Cod League and stopped to watch Game 1 of the Buckeyes' super regional against Cal State-Fullerton.
"My Cal State-Fullerton boys were playing in a regional,'' he said. "That first night, someone hit a game-winning home run Friday night (for Ohio State). All of a sudden, Fullerton won the next two days (to make the College World Series). I left saying, 'What a special place Columbus is.' This place should sustain winning. How can they not win every year? They have great players and great coaching. There were great fans that day. I said, 'Man, this is a sustainable program.'''
Bob Todd, whose No. 18 has been retired, led Ohio State to 13 NCAA tournaments in 23 seasons. He won seven Big Ten regular-season and eight conference tournament championships. Twice, he came within one victory of reaching the CWS.
"Throughout the years, I've kept my eye on Ohio State,'' Mosiello said. "They've had enough good teams. The history has shown (success). They've won here. It hasn't been like they've had some 20-year drought, or they have never won anything.''
Yes, sir, one of his goals is to get the Buckeyes to Omaha. That was Todd's dream.
"I say to myself, could you imagine being an Ohio kid and having a legacy of being the first team to get to the World Series for however long it has been?'' Mosiello said.
Ohio State last made the CWS from 1965, 1966 and 1967.
A naysayer might look at players returning from last season and think Mosiello is taking this cockeyed optimist thing a bit too far by saying the team can win right away.
There are stars in left fielder Trey Lipsey and center fielder Kade Kern, a multi-position player in Marcus Ernst, a good right fielder in Mitchell Okuley and some decent arms on the pitching staff.
But, yikes, the team couldn't field, hit with any consistency or pitch a lick.
"It might be a little scary to say it and I shouldn't be up here talking about Big Ten championships, but that's what I'm here for,'' Mosiello said. "I didn't wait 36 years to have this dream opportunity and say, 'Yeah, give me a few years to get this thing going and let me get my own guys in here.' I want to win today's press conference and try to win tomorrow and the next day and the next day. We'll just start stacking good days together. I've got big dreams.''
Predecessor Greg Beals did win Big Ten tournament championships in 2016 and 2019 and made the NCAA tournament in 2018.
But, as Beals said, "I didn't win enough.'' He was fired with one season left on his contract.
Mosiello knows that Indiana in 2013 and Michigan in 2019 reached the College World Series. Until the Hoosiers broke through, the Big Ten hadn't had a team in Omaha since Michigan in 1984.
What intrigues him about Ohio State is that no team or teams in the last 20-plus years has put together a run of success when it comes to finishing atop the Big Ten and making it to the NCAA tournament. He is the head coach of a team that plays in a superb stadium and whose track record in the conference is rivaled by only Michigan and Minnesota.
"I've got big dreams,'' he said. "I believe I have a style and system that is sustainable. If (Ohio State) likes easy, they would have gotten a guy who likes easy. I like it hard.''
It's not going to be all about Bill Mosiello.
"This game always will go back to the players,'' he said. "I've been able to coach some amazing, amazing kids.''
Mosiello will have to do a quick study on the state, but he has watched the Buckeyes from afar. He says he loved the Archie Griffin football teams that played in three straight Rose Bowls.
As for the state in general, he was an unabashed Cincinnati Reds fan. He wears uniform No. 14 because of Pete Rose. He worships his style of play. He rattled off the names of the stars of the Big Red Machine years and realized he omitted Johnny Bench.
"Johnny Bench, born December 7, 1947, Binger, Oklahoma,'' Mosiello said.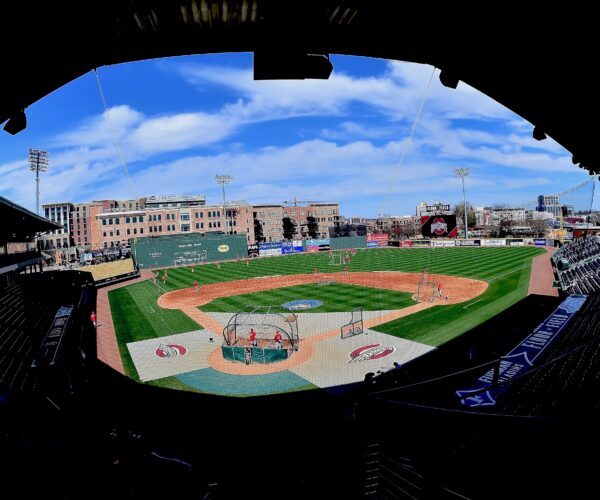 Dan Mosiello, though, raised his son playing baseball "The Dodger Way.'' He even bought him a copy of Branch Rickey's book.
Mother Lynn would pick him up at school and drive him to the batting cages.
Any doubts that Bill Mosiello is a baseball man?
Here's more: Two of his sons are named after his former ballplayers, Shane Mack of the Minnesota Twins and Todd Helton of the Colorado Rockies.
Gehrig Mosiello is named after, well, you know that one.