The sixth-year senior came back from elbow problems to pitch 5 1/3 innings in Game 2 of a doubleheader. The Buckeyes came from four runs behind to win 8-7, split the doubleheader, and win two of three in the weekend series with Michigan State.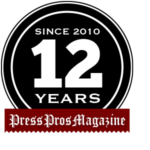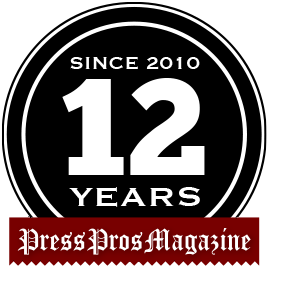 Columbus, OH – Those not knowing Griffan Smith's rotten luck story had to think that he was merely cannon fodder when he relieved in the fourth inning of the second game of a doubleheader.
Who was this mysterious Ohio State left-hander who had pitched in three games all season in throwing 17, 14 and 16 pitches?
Michigan State led by four runs at the time and the Buckeyes were running out of fresh arms.
They lost the first game 10-8 after blowing not one but two six-run leads on Sunday afternoon at Bill Davis Stadium.
But Smith, a 23-year-old from Cincinnati, kept sending Spartans back to the dugout in defeat with a fastball that was mostly letter high on the outside corner of the plate.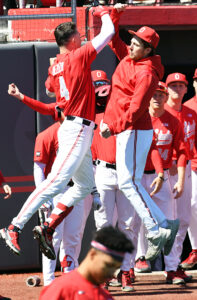 In a story dripping with the emotion of the human element, Smith pitched 5 1/3 innings of five-hit, four-strikeout ball as Ohio State picked itself off the artificial turf to win 8-7 for the senior captain.
The Buckeyes (11-17, 2-5) not only avoided a sweep, but won their first Big Ten series of the season two games to one.
Elbow problems limited Smith to 10 appearances over 18 2/3 innings last season. On this day, he threw 79 pitches. Forty-eight went for strikes.
"I just kept going one inning at a time,'' Smith said. "I just kept telling Coach (Greg Beals), 'Give me the ball, give me the ball, give me the ball.' I felt good out there. It was good to win for the guys. I don't think I expected to go more than three innings, but I felt good and my arm wasn't getting tired. I told them to give me the ball, I'm good to go. They trusted me.''
Beals thought Smith would give him one inning and maybe two. He and pitching coach Dan DeLucia have been bringing him along gently.
"The story is Griffan Smith, not only what Griffan Smith did on the mound, but for what he did for our ballclub,'' he said. "We fed off of that. We weren't anywhere close to thinking he was going to do that. We had no thought of that. There have been so many times when Griffan hasn't been available to go. When he comes in and says I'm good, I'm good, I'm good, it's hard to take the ball out of his hand, especially when he had command of the game.''
Things were tense until the last out.
With two out and Michigan State having scored two runs in the top of the ninth inning, second baseman Tyler Pettorini gloved a ground ball hit by Casey Mayes and alertly threw home to catcher Archer Brookman to nab Bryan Broecker by 10 to 12 feet.
Pettorini had already made four errors on the day and third base coach Jake Boss gambled on his arm and lost by sending the runner.
Now, back to Griffan Smith.
This should have been his second season of professional baseball. He was that good.
No Buckeye baseball fan will forget what he did in pitching on two days' rest twice during Ohio State's improbable run to the 2019 Big Ten tournament championship as the seventh seed.
No. 1 starter Garrett Burhenn sat out the tournament with a concussion after behind struck on the side of the head by a batted ball in the dugout during the last game of the regular season at Purdue.
Seth Lonsway and Smith twice took the ball on short rest, and twice they came through big-time.
Smith beat Maryland in the second round of the tournament, but his best work was coming.
In the championship game before 17,503 fans at TD Ameritrade Park in Omaha, he beat Nebraska 3-1 for the title by giving up two hits and striking out six in 5 1/3 innings.
Then Smith underwent elbow surgery during the off-season and everything unraveled. He was limited to four starts in 2020 with the season shortened to 14 games by COVID-19. Last season, he got into 10 games covering 18 2/3 innings.
First baseman Zach Dezenzo, who started at shortstop on that 2019 title team, was excited for Smith.
"I'm very, very proud the way he came out,'' he said. "He looked normal. He looked like normal Griff out there, and that's what everybody wants. With all the stuff he has gone through on the field and off the field – everything – this makes me really happy to see that. I'm glad to have him back.''
The burning question is why Smith chose to come back last season and again this season. He graduated with a degree in logistics and is pursuing a second undergraduate degree in business.
"That right there – that game right there,'' Smith said of his return. "Moments like that. Winning with your guys…I'm at a loss for words. I love competing and I love winning. It's the best feeling in the world winning with your guys.''
Smith said that he would ice the arm and go from there.
Can he eventually start for this team?
"I'm in a good position now. I'm ready to go,'' he said. "Whatever the role they put me in. Whatever position they put me in to help our team win I'm happy to do.''
Brookman made sure Smith got the baseball from the last out.
The Buckeyes chipped at the lead by scoring a run in the second inning on a sacrifice fly by Pettorini, two in the sixth on a sacrifice fly by designated hitter Blayne Robinson and a single by Brookman and one in the seventh on a double by left fielder Trey Lipsey.
They finally caught Michigan State and made the pass in the eighth with four runs.
Right fielder Mitchell Okuley plated the tying run with a single to left on a 2-and-1 count.
Two batters later, Dezenzo hit a towering opposite-field fly ball to right that right fielder Jack Frank couldn't catch after a dive. It fell for a two-run triple.
"That last one was huge,'' Dezenzo said. "I don't know what the heck happened (to the ball) up in the air if the wind caught it or whatever. It was pure luck. I haven't had many of those drop-in base hits. I was hitting the ball hard all day.''
The comeback win was vital for the Buckeyes' mental health after the fiasco in the first game.
"We had to respond when you are faced with a pretty unfortunate event at the (end of the first) game,'' Dezenzo said. "We let that one get away from us. But our goal was to win the series, and we took the series.''