The junior-to-be enters his second season as the starting quarterback thinking his knowledge of the offense and defenses will open another chapter.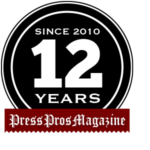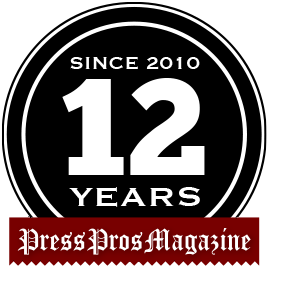 Columbus, OH – People raved about the on-time, pinpoint throws quarterback CJ Stroud made to Chris Olave and Garrett Wilson during Ohio State's Pro Day in front of a bevy of NFL coaches and scouts.
Neither receiver had to break stride. Really, they put their arms out and the football was right there like a bag of hamburgers being handed out at a fast-food drive through.
Buckeyes coach Ryan Day, who stood about 15 yards in the middle of the field from Stroud, wasn't impressed.
"You are throwing to air,'' Day said.
He also doesn't put much weight seeing Stroud go bonkers during seven-on-seven play.
"Seven-on-seven is not football,'' Day said. "What you saw up close and in person (of Stroud during games) is real football. When people say, does he have it – I'm talking about the quarterback – that's hard (to accomplish). It's understanding what's going on, being able to understand things, showing poise and progressions – all that you learn – is part of playing the position. That's hard to teach.''
It's what Stroud does on Saturdays, when linebackers and safeties are blitzing, linemen are twisting, cornerbacks are pressing receivers and just about everyone is stunting, is why he succeeded Justin Fields and became a Heisman Trophy contender.
Day said what Stroud does is "like standing on (route) 315 north somewhere with cars buzzing by you.''
There are many quarterbacks with big arms. But how many can slow down their bodies and train their brains to process even faster when those vehicles are getting closer and closer?
Does Stroud, a junior-to-be, see the field well?
"Yes,'' Day said. "Absolutely.''
Stroud is the clear No. 1 in the quarterback room and has been using spring practice for one purpose.
"That's all I have focused on is getting better so that we can win,'' he said.
For all the great moments in 2021, Ohio State fell way short with a loss to Oregon that made it an uphill fight to get back into the College Football Playoff rankings and a loss to Michigan that kept it out of the Big Ten championship game and the playoffs.
Stroud did his part to win by ranking second nationally in completion percentage (71.9) and passing efficiency (186.56) and fifth in yards passing per game (443.5).
Despite missing the Akron game to rest a sore right shoulder, he threw for 4,435 yards and 44 touchdowns and was intercepted six times in 441 attempts.
He hit up Oregon for 484 yards passing.
He was sacked four times against Michigan, but still threw for 394 yards and two touchdowns.
Yet Stroud has to be better, right?
"Honestly, things change,'' he said. "Of course, you get more reps and that allows you to see (defenses) better. I think that's something I'm doing better – seeing coverages and seeing blitzes. Maybe one thing that took you 30 seconds to pick up maybe takes you 10.''
And that, he said, helps Day devote more time to other parts of the offense.
"The more things I can think about, he doesn't have to think about because there is more that he can think about,'' Stroud said.
The ability to decipher things with people trying to punish him started in high school at Rancho Cucamonga in California when, he said, a not-so-good offensive line forced him to see things faster.
When he's in the pistol or shotgun formation, the first thing Stroud does is see whether there are one or two safeties. He calls it "looking at the roof.''
Then he looks at the defensive line to see if there are three or four rushers and where they are aligned.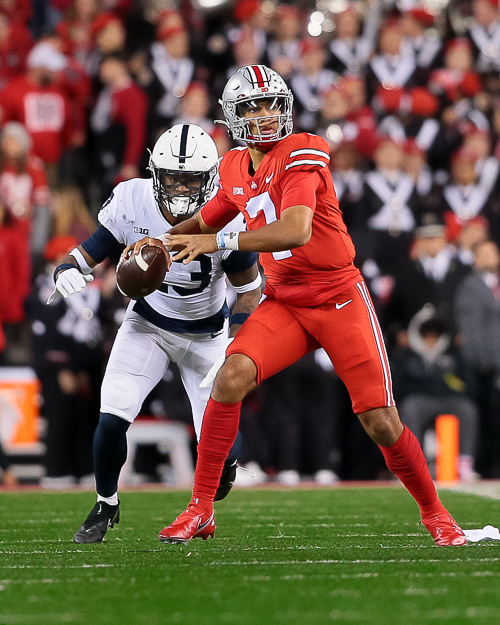 His eyes go back to the safeties.
All this is happening with the play clock ticking, ticking and ticking.
The ability to view and react, he said, begins on the practice field.
"You have to build that confidence on the practice field through preparation and watching film,'' Stroud said. "A couple teams I know I could get away with things sometimes. I don't think I can (all the time). It's just being smart with the ball. I've got to take care of the football so we can win the game. That's something I built as a kid.''
The playbook is getting thicker and that's because Stroud is able to think along with Day.
Before, he'd get a play and be able to execute it because of practice. Now, he knows why the play was called and can bail out of it into something else if the defense is lined up to beat it.
"I definitely feel like he's putting more on my plate,'' Stroud said. "It feels good to know somebody who played the game and played the game the right way. Honestly, he doesn't want me to do anything that's crazy.  It might look crazy on TV, but he wants me to stay routine. Stay consistent. Take the boring stuff.''
The media was taken aback when Stroud said the 30-yard touchdown pass to Jaxon Smith-Njigba with 4 minutes, 22 seconds left that basically won the Rose Bowl against Utah was the first time the route was run in a game.
Stroud and Smith-Njigba worked on the throw on their own as true freshmen.
What was astounding was the window with which the football had to fall was maybe 2 feet. The over-the-shoulder catch was made a little more than a step from the sideline 5 yards deep in the end zone.
And Smith-Njigba was running almost full bore.
The cornerback had excellent coverage, but still had no chance.
"That's the thing I like about football,'' Stroud said. "You can put in the work and go see it. You put it on the field. I love meeting. I love talking about this stuff. I love the verbiage. I love challenging myself. That's what I love about the game.''
Backup quarterback Kyle McCord said it's Stroud's mind as well as his arm makes him what he is.
"It's just the way he sees the field,'' he said. "He can pick up on whether it's leverage or safety inside or outside. Just little things like that he picks up really well. He sees the whole picture.''
PLAYER COUNT DOWN TO 88
Safety Bryson Shaw started 11 games after Josh Proctor was lost during Game 2 with a broken leg, but he has opted to enter the transfer portal. He absorbed a lot of criticism for some blown tackles and coverages. With Proctor back, Ronnie Harmon moving to safety from bullet and Tanner McAlister transferring from Oklahoma State, Shaw had to see his chances of playing dim.
Cornerback Lejond Cavazos, once a highly sought four-star recruit, also will transfer.
Ohio State must be down to 85 players on scholarship for next season. There are 88 on scholarship at the moment.