Having been through so much already, a special team of special athletes, with a special coach, seeks one more win to script a fitting finish to a story that captures the full spectrum of emotions.
Dayton, OH – It's a quality that's as intangible as it is invaluable, and it can't be manufactured as much as it's earned.
Experience is that elusive X factor, something every player and team covets and strives to acquire until it arrives in a fashion that's never worth the benefit.
New Knoxville's state title-game bound girls basketball team has such experience…the good kind in 19-year coach Tim Hegemier, who's retiring after his team seeks the Division IV championship at 5:15 p.m. Saturday.
The Rangers also have it, the experience of five seniors who've played the sport together since elementary school, built a rapport and a trust and a love for each other that seems to happen most often in a small community like the one they represent.
Those same girls, and all but one of the backups on their bench, also have the big-game experience that delivers teams from pressure-cookers like the fourth quarter of a 39-28 semi-final victory over Cincinnati Country Day.
When the hatchets came out on defense and the officials sucked silently on their whistles so as not to "impact the game," – which is exactly what happens when obvious contact is ignored – the Rangers never panicked and plowed through the adversity to rise to 27-2.
The backbone they gained last November, winning the Division IV state volleyball championship, allows the Rangers to sneer at stuff that unnerves less battle-tested teams.
But kevlar as New Knoxville appears, its emotions remain raw over the story behind the T-shirts every player wears as they warm up or watch from the bench.
"Live Like Ryan," the message reads on the back, which shows how much the tragic death of Ryan Lageman, the husband of volleyball coach Meg Lageman, still resonates.
That lesson in life-is-bigger-than-sports, some-things-matter-more-than-winning, didn't ask politely to wash over the Rangers or arrive progressively as they grew from girls into young ladies.
It hit them, and their community, right in the face without permission or sensitivity just before the volleyball regionals.
A trucker ran a stop sign and ended Ryan Lageman's life at age 25.
Carsyn Henschen, the top weapon on the Rangers state volleyball champions, couldn't speak long  about the pain she still feels.
"Ryan was a big fan of us girls," said Henschen, who had 10 points, eight rebounds, four assists, three steals and two blocks in the semifinal win. "He came to everything he could. Um…"
"Let me help you," teammate Ellie Gabel gently offered as her teammate hesitated to compose herself. "We no longer play to win a state championship. We play to bring joy to our community and to our team. There's more to the game. That's what we play for."
It's a team impossible not to root for, a town impossible not to root for, watching how New Knoxville and its surrounding area turned out to encourage the Rangers on Friday.
"We have, what, 900 people in the community," Hegemier said. "There's probably 12-hundred to 14-hundred out there (in UD Arena)."
It's best not to question Hegemier on New Knoxville nuances, seeing as how he operated a dairy farm for 30 years before giving that up, "when the last cow left."
More like, when his kids moved on to college – the ones he'd coached for years in youth basketball.
"I had people knocking on my door right away, wondering if I would coach," he said.
You bet, they did.

The miles between New Knoxville and Fort Loramie aren't so vast that awareness of the two state championships Hegemier's brother, Dan, won with the Redskins eluded the recognition of Ranger fans.
Maybe, they figured, basketball brilliance runs in the blood.
When Hegemier's second New Knoxville girls team reached the state finals in 2007, the hire looked pretty prescient, and now the Rangers have the chance to send him out with the Hollywood ending of a state championship in his final game.
Before the season began, the futures market would have bet on Fort Loramie or Tri-Village to take the D-IV title, with Russia on the fringes of that conversation.
But when New Knoxville lost to Loramie in mid-season by five points, Hegemier realized something.
"I thought, 'If we could just shoot it a little better…we could play with just about anybody,' " he said. "Once we got past Marion Local in the district final, where we played really well, I thought, 'Hey, we're pretty good.' "
He leaves his own role in that maturation out of the assessment, but his players do not, nor does anyone who watched New Knoxville contend with the pressure Country Day applied to take down Russia, Fort Loramie and Tri-Village en route to the final four.
"It was hard to get them off track," CCD coach John Snell said. "I know I saw some games where I thought, 'OK, this is where we could exploit them or take advantage of it.' But today, not so much.
"They were right on key on a few things we like to do, and they did a great job of rotating out of stuff and getting into certain things that we were a little slow at. A lot of our pressure is point guard pressure. I think that's what caused Russia and Fort Loramie and maybe Tri-Village some problems, but you could tell these guys were senior-loaded and super geared up for this."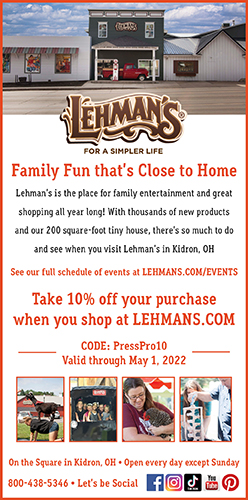 The reason is the guy who's retiring in more ways than one. Retiring, as in about to coach his last game, and retiring, as in, not one to scream, yell or even raise his voice from the bench during games to unnerve his players.
It seems the old dairy farmer takes the approach that, once the ball tips off, the hay's in the barn.
"Tim always pushes us to be our best, even in practice," Henschen said. "He gives us scouting reports. He goes over the offense and defense. He really prepares us well for this."
Now he has just the better part of one day to get his players ready one final time, for Waterford, the team standing in the way of New Knoxville giving Hegemier his first state championship and a pretty cool story to tell his grandchildren when he transitions to the next chapter, watching them chase the dream he and his team will Saturday afternoon.
"My grandchildren are starting to get involved in sports and I don't want to miss that," Hegemier said. "It's not worth that. Will I miss it? Well, I love the game of basketball and I love to coach.
"I watched Dan's teams play all the time when he was at Loramie. Watched how he had those kids play defense and I just tried to replicate that. I think it's paying off."
Bruce Hooley hosts the We Tackle Life podcast on iTunes and GooglePlay.