For the second day in a row, Versailles bowling started slowly, then picked up their pace after a lunch-time call from Versailles PBA pro Michael Davidson.  They kicked things in gear, and on to next week's OHSAA state tournament.
By Brian Bayless for Press Pros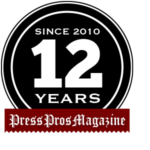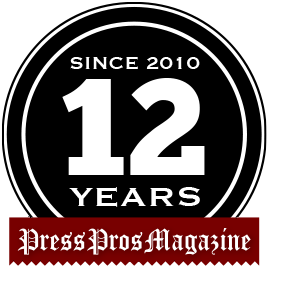 The Versailles Boys Bowling Team is headed back to Columbus for the second straight year, qualifying in dramatic fashion at the OHSAA Southwest Region Finals. The Tigers hope to improve on last year's 3rd place performance.
It's not so much that they qualified, but the way in which it happened.  And it sent a warning to potential opponents.
The message?   Don't count us out.
To coach Tyler Phlipot, it felt like Déjà vu after the first the games were in the books.  He had been in this same position with his girls' squad less than 24 hours prior.  The teams were both three games into the OHSAA Southwest District qualifiers, and both were sitting snugly in 5th place.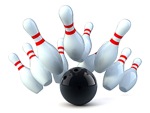 But unlike yesterday, which saw Phlipot's girls team fall just short of reaching the next level, the boys team stayed hidden in the weeds and then pounced on and devoured their competition during the Baker's, adding to their three-game series of 895-978-1021, they threw a tournament high Baker's score of 1351, moving them into 2nd place in the tournament.
"We've been in pressure situations before," said Phlipot.  "We're a Baker's team."
"In January, we were down 68 pins going into the last Baker game and we ended up winning by 10, then we bowled in a Division I Blue and Gold Tournament in Kettering and we came back and beat Coldwater by 2 pins."
"In the MAC tournament we beat Coldwater 3 out of 5, tying them for the MAC Title."
Those matches alone are impressive, especially against a perennial powerhouse such as Coldwater who they will likely see in Columbus.
Early on in the day, things had started on shaky footing.  Versailles found themselves in 15th place throwing a moderate 895.  Game two was an improvement, but something still didn't feel right.
When asked about the team appearing to be a little tight coming out of the chute, Senior Justin Heitkamp admitted "Yeah, the energy wasn't there the first couple of games."
Phlipot agreed with Heitkamp's analysis of the teams' energy level and he began to make adjustments starting in the second game.  Those changes paid some immediate dividends as the Tigers improved their position to 8th, but that was still 4 away from qualifying. The third game was now underway, and it was against Mechanicsburg who occupied the number one position on the scoreboard.
This was apparently a good thing as Versailles seems to thrive on pressure. "We tend to play up to the level of our competition and Mechanicsburg pushed us,"said Phlipot.
"That last game was definitely a boost" added Heitkamp, who ended his day in 10th place overall, recording a 205-225-235, 665 series.  Heitkamp also had some unseen motivation.  His sister, Morgan Heitkamp, a Versailles grad who also bowled for the Tigers and who has continued her athletic career as a bowler for Lincoln Memorial University, was there, in the house, watching her brother bowl.  Morgan was the inspiration and the primary reason Justin had decided to try bowling in 8th grade when he was playing basketball. "I watched my sister in Sectionals and the Districts and recognized that basketball wasn't my forte, so I just picked up bowling."
With a sly smile, he then also quipped, "It all worked out in the end, didn't it?"
Considering that he and his Tiger teammates tore up the Baker's to make their appearance in back-to-back State Finals the answer is an unequivocal yes.  And while it took guts and grit along with some fresh legs, it also took a motivational call from PBA Pro, Michael Davidson during lunch.
Davidson called Phlipot and shared 9 simple words of advice to share with the guys during the break.
They were:
"Relax the Swing, Trust the Ball, and Have Fun." Simple words, but they can have a powerful impact and the team clearly responded.
Success is also sometimes due to our unsung heroes, those teammates who can be called on when needed and whom all are equipped and capable to make a difference.
"You had asked me (earlier today) about 'dark horses'…those guys who can step up when other guys are struggling?" Phlipot recalled.  "Today, one of those guys was Brayden Henry.  Had it not been for his solid performance in games two and three and all six Baker's, I'm not sure we would be where we are."  Henry, is the cousin of Tiger senior Landon Henry.
Next week, the best of the best will be in Columbus at Wayne Webb's Columbus Bowl, but only one will emerge with the coveted first place prize.  And while there will be all sorts of discussion, speculation and analysis about who that will be, teams can't obsess with the noise. If they do, they might miss that Versailles Tiger who is quietly lurking in the shadows and patiently waiting for the opportunity to make its move.
Remember, don't count them out.