Quarterback CJ Stroud threw for 573 yards and six touchdowns, and receiver Jaxon Smith-Njigba caught 15 passes for 347 yards and three scores as the team overcame two-touchdown deficits three times.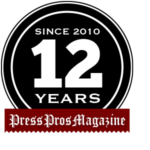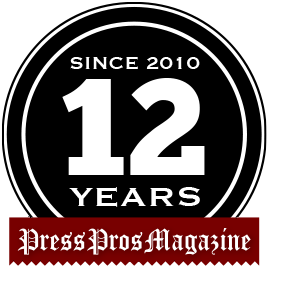 Columbus, OH – A football team should not have any chance to win the Rose Bowl if it does the following:
– Allow a quarterback to run 62 yards for a touchdown on fourth-and-one on a simple dive play.
– Give up a 97-yard kickoff return for a touchdown.
– Catch a pass in the red zone, but fumble into the end zone with the opponent recovering for a touchback.
– Have a pass intercepted in the end zone.
– Have a 75-yard kickoff return called back by a holding penalty.
–  And, lastly, fall behind by two touchdowns not once, not twice, but three times.
But, wait a second, there also was defensive end Jack Sawyer being ejected for targeting in the first half.
Ohio State did all of the above and not only lived to talk about, but celebrated on the floor of the cathedral-like 93,000-seat stadium with roses in the players teeth.
There were questions about whether the Buckeyes would have the will to play hard after losing their spot in the College Football Playoff the final week of the regular season with a loss to Michigan.
There were questions about why they were a 4 ½-point favorite even after four starters opted out of the game to get ready for the NFL.
There were questions at halftime when it seemed Utah was capable of scoring 70 points.
But Ohio State showed astounding mettle on both sides of the ball to come away with a 48-45 victory over the Utes on New Year's Day on a 19-yard field goal by place-kicker Noah Ruggles with 9 seconds left.
Head coach Ryan Day saw his team come back from deficits of 21-7, 28-14 and then 35-21 at halftime.
Utah scored touchdowns on its first three possessions.
"I kind of took a step back,'' Day said of halftime. "Obviously, I was driving hard. But I also at halftime, there (were) a bunch of guys in that locker room that stepped up in a big way. We talked about how that 2019 Big Ten Championship game against Wisconsin (was when) a bunch of guys did that. That same thing happened at halftime in this game.''
What was said in the locker room?
Day kept that inside him like a family secret.
"I'll kind of leave that for the locker room,'' he said. "There were some things that I probably can't repeat. That's okay. That's the way football goes. But that's the toughness and that's the edge we have to play this game with all the time. It's a physical game that has to be played fast and violent. Proud of our guys for playing that way in the second half.''
Senior defensive back Demario McCall, a backup, was given credit for making a speech that resonated with teammates.
"I got up and said a few things," he said.
Buckeyes quarterback CJ Stroud, who admitted he felt slighted finishing fourth in the Heisman Trophy balloting, went off for a single-game team record 573 yards passing and six touchdowns by completing 37 of 48 passes.
No one to ever wear scarlet and gray had thrown for more than 500 yards.
"I have respect for their defense, but when my guys are rolling, I think we're pretty much unstoppable,'' Stroud said. "We've got to go out there and prove it, you know what I'm saying?''
The regular season-ending loss at Michigan bugged him and teammates a lot since that November 28th day.
"I think what motivated us wasn't just this game, but the previous game,'' Stroud said. "I know that was my motivation, just getting that bad taste out of our team's mouth and ending the season the right way and sending our seniors off the right way.''
If you aren't motivated for a game like that, he said, "I question your love of the game.''
Slot receiver Jaxon Smith-Njigba tied his single-game team record with 15 receptions and broke the all-time bowl record for yards receiving with 347. He scored three times.
Day told Smith-Njigba during the week to not try to do too much.
"He didn't listen,'' Day said.
It was just a typical day for Smith-Njigba, he said.
"I think Jaxon has done what he has done all year, and that's just play within himself,'' Day said. "Certainly, some of the plays he made tonight were tremendous. We leaned on him a lot. At one point I asked him, are you tired?''
The look Day received after that comment was: Are you kidding me?
"Our team is built on fighting,'' Smith-Njigba said. It doesn't matter if we're up, down. We were down the first half, but we just had to stay level headed and keep fighting.''
He called it a "must-win'' game.
What about his sensational game?
"Honestly, I just trust the process, trust that Coach is going to put me in the right opportunity, that C.J. is going to put me in the right opportunity,'' he said. "Just taking advantage of every opportunity that I get. That's the only thing I can do really. It worked out.''
The crowd and a national television audience saw the teams combine for 54 first downs and 1,146 yards.
What's simply ridiculous is that Ohio State scored all those points and gained all that yardage despite having possession only 25 minutes, 52 seconds.
"That quarterback is terrific,'' Utah coach Kyle Whittingham said of Stroud. "Statistically the best in the country, as far as quarterback rating system, and he proved it tonight.''
The kid receivers did all right, too. In fact, true freshmen Marvin Harrison Jr. and Emeka Egbuka were something else playing in place of star receivers Chris Olave and Garrett Wilson after they opted out.
Harrison caught six passes for 71 yards and three scores. Egbuka caught three passes for 46 yards and returned seven kickoffs for 163 yards.
On the winning possession, Egbuka returned a kickoff 33 yards to put the ball at the 42.
The game turned in the third quarter with the Buckeyes defense finally digging in big-time.
It forced two three-and-outs and stopped the Utes on downs at the 31-yard line. The latter stop was a one-on-one tackle by Ronnie Hickman on fourth down that kept the ball carrier 1 yard shy of the first down.
The defense gave up only a 23-yard field goal and 15-yard touchdown pass to tight end Dalton Kincaid with 1 minute, 54 seconds remaining.
Linebacker Tommy Eichenberg had 17 tackles – 11 unassisted – and was voted the game's defensive most valuable player.
Backup tackle Taron Vincent (six tackles) was a beast. Cade Stover, who has been a tight end for two years, had six tackles at outside linebacker.
Utah starting quarterback Cameron Rising already was having problems moving the ball before a sack by defensive back Court Williams with about 10 minutes left in the game forced him into the injury tent.
Rising's head bounced off the turf, and there's no doubt that he was forced him into concussion protocol.
The last drive was a portrait of a cool, confident quarterback who worked the clock like a pool shark works a table.
Stroud needed only six plays to put Ruggles on top of the goal posts. He completed passes of 7 and 12 yards to Smith-Njigba and 12 yards to tailback TreVeyon Henderson. Henderson had runs of 5 and 12 yards.
Ohio State's furious game of catch-up finally enabled it to draw even at 38-38 on a 5-yard touchdown catch by Harrison with 10:12 remaining in the game.
The important plays were a 30-yard catch to the Utah 38 by Smith-Njigba and a 22-yard catch by blocking tight end Mitch Rossi to the 12.
The Buckeyes took their first lead, 45-38, on a nine-play, 85-yard drive that, who else, Smith-Njigba ended with a brilliant over-the-shoulder catch with 4:22 left.
Stroud put the ball in the so-called bucket where only the receiver could get his hands on the ball.
A loss would have meant that Ohio State (11-2) lost three games in a season for the first time since 2011 when coach Jim Tressel resigned in the aftermath of "Tattoo Gate.''