Frank Costanza provided us all with the perfect template to say publicly what's built up all year long…just never the right time to share.  Having failed miserably with the feats of strength part of it, 'Festivus' allows for more.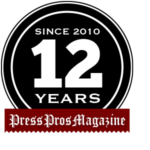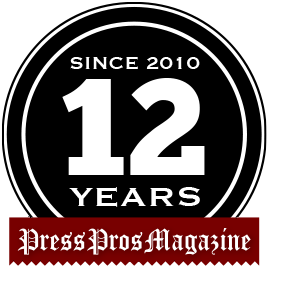 My only issue with writing this was brevity, it seems. This is the third re-write – my original was as long as the West Milton phone book.  A little sports, a little entertainment, a little politics…and some common sense dictates my 2021 list of things that could have made this year (or next) so much better.
I'm now more convinced than ever that AAU is anything but developmental basketball. Twice in the past week I observed teams give games away in the final sixty seconds because of missed free throws…five in a row in one case.
With the emergence of Joe Burrow and Justin Herbert, are there any Browns fans out there still believing that all Baker Mayfield needs is more time and draft choices? And does anyone wonder if Progressive Insurance is questioning its contract for all those "At Home With Justin Mayfield" commercials?
I'm tired of watching TV commercials depicting life in America as something it's not. For instance, apparently you can't have a holiday gathering without everything in Noah's ark being represented, regardless of where it is. And apparently, everyone lives in a $500,000 house now by the looks of those parties. You questioned fake news?  What about fake ads?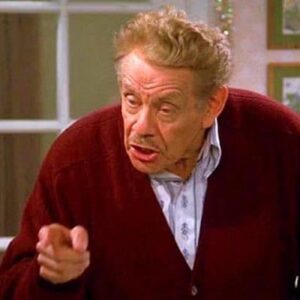 I'm also convinced that Mercedes-Benz is the new Chevrolet in America. Everyone seems to be driving one!
The whole Covid thing has run its course of patience with the people. Now, they're saying more shots, boosters, and no end in site. The new sign on the Statue of Liberty? Give me your tired, your poor, your huddled masses…and your arm for a pin cushion!
While we're on the topic: One of the best holiday cartoons depicts Scrooge leaning out the window of his house and yelling, "You there, boy…what variant is this?"
Major League Baseball may not have a season in 2022 because the two sides have no CBA (collective bargaining agreement). I won't miss it if they don't play. I would rather watch the Stammen or Minster Classic. And if they want to find a way to bring the CBA to an agreement, let a lot of out-of-work players take their chances as an Uber driver. They'll get together…real quick!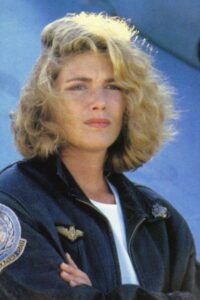 They're making a sequel to the popular 80s movie 'Top Gun', which made everyone who left the theater believe that they could go home and be a Navy fighter pilot. But, they didn't ask actress Kelly McGillis to reprise her role as 'Charlie' Blackwood in the sequel. Gillis, who starred opposite Tom Cruise in the original, left Hollywood behind years ago recently said, "I wasn't asked.  I'm old and I look age-appropriate." I like honesty in my Navy personnel, but 75% of those who will see the new film are only going to see what she and Tom Cruise look like together now.
Feel-good slogans started by people with not enough to do:   I just saw one that said, "It's impossible until someone does it." Here's another: "A journey of a thousand miles starts with a first step." WOW!
All the old westerns on TV Land and channel 538 now have a disclaimer at the beginning that reads: "Out-of-date cultural depictions." Apparently they don't believe you're smart enough to notice…that firing squads and the gallows are out-of-style.
Saw someone at a HS basketball game recently wearing a pair jeans that were more torn and worn than the pair I keep in the barn as a grease rag. Says I: "I think I know what you want for Christmas…new jeans." Said she: "I just got these for Christmas."
After spending a few days recently in northwest North Dakota, I'm convinced that people who live there are among the most satisfied on earth. I was there four days and not once did I observe anyone telling the world that it's their God-given right to be warm. Instead, they were out doing whatever it took to make sure they were warm.
Would you care if we boycott the Winter Olympics? Turn the other cheek? Show of good will. Some of that healing and trust that Biden promised? A thousand-mile journey starts with a first step?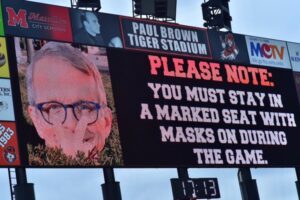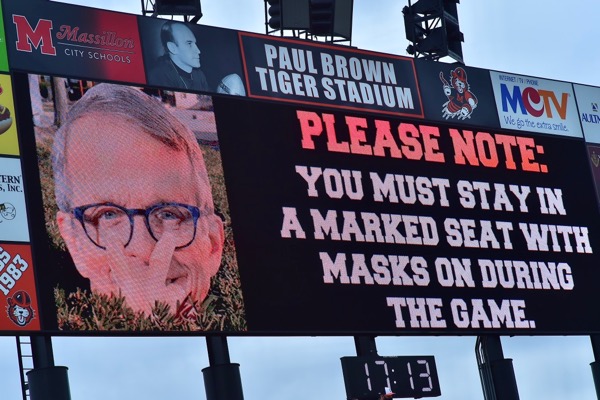 Someone wrote to us during the football season complaining about the photo of Mike DeWine on the scoreboard jumbo-tron that we showed during the 2020 state football finals. That's the one of Governor DeWine giving the sign that he's watching people's every more if they don't observe social distancing. Wrote this person: "That was poor taste." Our position: "We didn't do it, someone else did. We just took a picture." Five thousand others saw it first-hand, and they shared it with five thousand, who shared it with five thousand, etc., etc. Which only proves…you can't limit poor taste!
My final grievance I share with 'Buckeye Nation'…and pertains to those players who've opted out of the Rose Bowl to insure their health and safety for the NFL.  Please tell us who paid for their trip to Pasadena – transportation, food, lodging, and entertainment – if they're not going to play in the game?