The true freshman was the No. 1-ranked running back in his class and a five-star, but he didn't play football as a senior and had one season of experience at the position.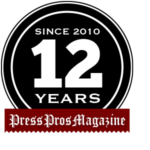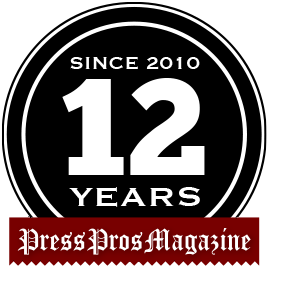 Columbus, OH – Three-and-a-half months ago, the Ohio State sports information department had TreVeyon Henderson sit behind a microphone to talk to the media in depth for the first time as a college football player.
The true freshman might as well have been on a witness stand. All that was needed was a bible for him to be sworn in.
Most of the questions were soft balls, which in the news business is code for easy does it.
Henderson, though, appeared to be taken aback by all the attention. That day, there had to be 20 reporters and approximately four or five television cameras honed in on him.
These days, the kid from Hopewell, Virginia, has done all right with the back-and-forth with the media to the point where he is at ease answering even the most bogus questions.
On the field, the football stuff has come rather easily, and that is stunning considering how far he has come.
Yes, Henderson was the No. 1-ranked running back in his recruiting class by 247Sports. But his team was shut down his senior year because of COVID-19 restrictions.
It's even more amazing that he has run for 1,165 yards and scored 17 touchdowns despite the fact that this is just his second season as a running back. He was a defensive back and wideout as a freshman and sophomore at Hopewell.
"I think I did a good job of not playing football in a year,'' Henderson said last Thursday. "Shoot, it was tough. But coming into spring ball I said, all right, we are banging. We go against some of the best players in the country (in practice).''
Henderson made his mark immediately when he helped the Buckeyes finally shake Minnesota in the opener in Minneapolis with a 70-yard touchdown catch on a screen.
Until then, head coach Ryan Day's plan was to go with a running back by committee of Henderson, Miyan Williams and Master Teague.
That plan went kaput in Game 3 when Henderson thundered for 270 yards on 23 carries in a 41-20 victory over Tulsa.
It became apparent that Williams and Teague would be support backs and nothing more the rest of the way.
Those 270 yards against Tulsa were a freshman team record. So are the 17 touchdowns for a season.
Up next for Henderson is the Rose Bowl against Utah. It's an exhibition in that it's not a College Football Playoff semifinal.
"It's a blessing to be able to play in a bowl game my first year, especially the Rose Bowl,'' he said. "I hear that it's pretty.''
Day and offensive coordinator Kevin Wilson have made sure not to overwork Henderson. He had two other games with more than 20 carries after Tulsa, 28 carries for 152 yards against Penn State in Week 8 and 21 for 92 against Nebraska the following week.
There were several occasions when trainers took him into the medical tent during games. Against Indiana, he had to perform some sprints on the sideline before being put back in. He was dinged against Rutgers, too.
"Throughout the season you feel like your body kind of shuts down a little bit,'' Henderson said. "I think I did a good job of taking care of my body in the training room grinding and trying to get my body straight.''
He did just fine in the 42-27 loss to Michigan that ended Ohio State's chance of playing in the CFP with 74 yards on 17 carries.
"It was a tough game,'' Henderson said. "We heard (the chirping by the Wolverines) after the game, but we're focused on Utah right now.''
The offensive line has taken most – if not all – of the questions for the team having great difficulty running the ball with any consistency against the better teams such as Oregon, Penn State, Nebraska and Michigan.
In turn, Henderson had to learn that this wasn't high school and that a monster run was in the offing at any time.  He said grinding for 3- and 5-yard gains was satisfying in that he had to push the pile and earn it.
What does he have to get better at?
"I want to get better at everything,'' he said.
Pressed to be more specific, Henderson said pass blocking might top the list.
"It was my first time ever pass blocking,'' he said. "I think I did all right for being 5-10 and 212 pounds. I'm trying to get bigger. I'm trying not to be too heavy. Right now, it's good. I know my responsibility. The physical part. I'm a physical player. They are coming at you full speed and you've got to take it. I think I did a pretty good job of sticking my face in there.''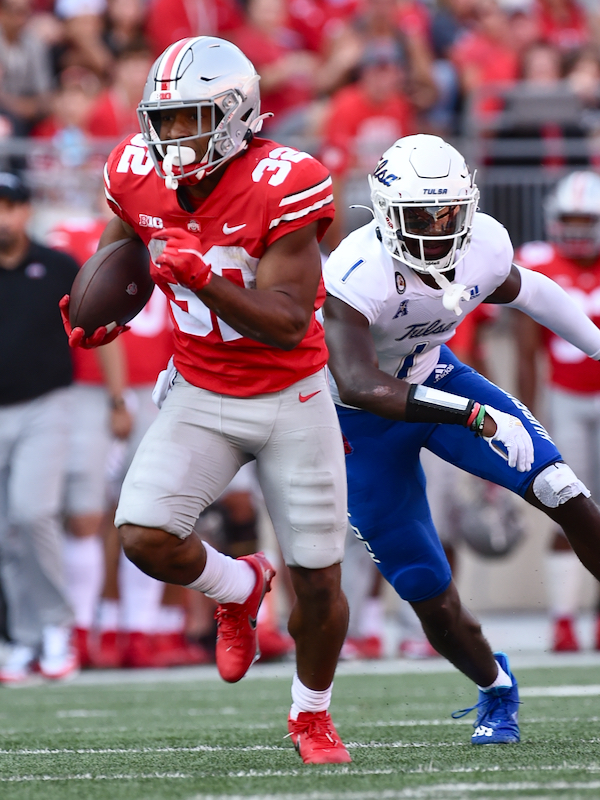 Henderson said way back in September that he had a list of personal goals he wanted to reach in his first season.
The single-game freshman rushing record that belonged to Archie Griffin was one of them. So was the single-season touchdown record for a first-year player.
The only reason the media found out about those goals was because Henderson he attained them.
What else is out there for him to accomplish in Year One?
"I still can't share,'' he said. "I don't like to put myself out there. I'm never satisfied. I will never be satisfied. I always think I've got more to accomplish.''
Another true freshman in the starting lineup kept a secret in the biggest game of them all. Cornerback Denzel Burke played against Michigan with one shoulder in a brace.
He was not at full speed, and it showed. He gave up his first touchdown pass of the season and was burned for long completions two other times.
"I went into the game feeling a lot of pain,'' Burke said. "I played the best that I can for my teammates, my brothers and the coaches. The game is behind me now.''
Ah, but he's already thinking about the 2022 game against The Blue.
"They will definitely feel us this time," Burke said. "We hear it all the time (the Wolverines' trash talk). Who doesn't hear it?''
Burke said playing in the Rose Bowl will be a great experience. He talked about the defense having "lots of room for improvement'' going into this game and beyond.
Yes, he is excited about Jim Knowles leaving Oklahoma State to become defensive coordinator.
It's obvious, though, that the Michigan loss burns inside him.
"I mean, (we're) a team of hunger like we've still got something to prove,'' Burke said. "We're going to go to Pasadena and give it all we've got. I just feel like everyone walks around in the building with a chip on our shoulders. We want to go out there and prove to the world that's we're Ohio State.''