Coldwater's fast start on Saturday night carried the Cavaliers past West Jefferson and into the Division VI state title game. Coldwater — along with Marion Local and Versailles — attempt to add to the MAC's state title haul next weekend in Canton, which currently stands at 37 state football championships.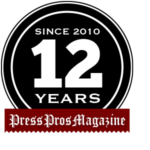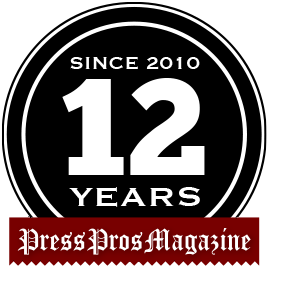 Piqua, OH – Despite the splashy stats posted by the Midwest Athletic Conference, trust Coldwater High School senior Jesse Meyer when he says what the conference has done this season isn't as simple as 1-2-3 M-A-C.
'It' is what will happen at next Saturday's OHSAA state championships. Marion Local (Division VII), Coldwater (Division VI) and Versailles (Division V) all play for state titles at Tom Benson Hall of Fame Stadium in Canton. For Coldwater, it's the Cavaliers second straight trip following last season's title.
"People think it's so easy," Meyer said following Coldwater's 35-13 state semifinal victory against West Jefferson. "But we had to grind our butts off in the off-season to get where we are now.
"It feels amazing to appear at state twice, back to back. Who knows? We could finish out with a state championship. This is awesome."
If there are people who think a MAC team playing for a state title looks easy, it's only because Coldwater – and Marion Local and St. Henry and Delphos St. John's and … you get the idea – make it look so. Nine different MAC teams have combined for 37 MAC state titles.
"There's so many factors whether it's injuries or who you're playing. It's a long season for these young kids," Coldwater coach Chip Otten said of the process. "You start working out in the summer and go through two-a-days. It's a long season to keep them healthy and keep them focused. It's a good group of seniors that like each other. It's a different group each year and you try to keep them fresh and healthy."
On Saturday at Piqua's Alexander Stadium, it took five plays for Coldwater to take the lead. West Jefferson quarterback Tyler Buescher's third pass of the game was intercepted by Coldwater defensive back Tanner Muhlenkamp. Muhlenkamp, with a wall of blockers in front, sprinted 83 yards for the touchdown. Coldwater led 7-0 just 2:33 into the game.
"It just happened to fall in the right hands. It was a great way to start the game," Muhlenkamp said of his second interception this season. "Thanks to all my teammates who blocked there. I just ran for my life and tried not to get caught."
He didn't. And neither did the Cavs.
Coldwater's defense forced a West Jefferson punt on the Roughriders' next drive. Ten plays later, Coldwater's Isaac Fullenkamp capped a 63-yard drive with his 3-yard touchdown. The Cavs led 14-0 with 3:35 left in the first quarter. That was essentially all the points Coldwater needed.
Coldwater rolled up 426 yards of offense behind a balanced offense. Quarterback Reece Dellinger completed 19-of-28 passes for 273 yards and two touchdowns. Fullenkamp rushed 21 times for 117 yards and two touchdowns.
The offensive line of center Josh Kaup, guards Caleb Stammen and Andrew Hicks and tackles Evan Homan and Will Fox helped wear down the Roughriders with some sustained drives. It also kept alive the offensive line's Monday tradition of gathering at the Willow restaurant in Celina. You'd think they'd celebrate with pancakes, but this group according to Kaup "gets double cheeseburgers."
"This feels amazing," Kaup added. "The first time (at state) is fun because it's all new and stuff. The second time, we've been talking about it, to make it as seniors makes it exciting. Everybody is coming together. It's a lot of fun every day at practice. We're having fun."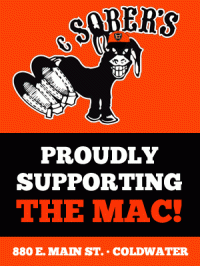 Five different receivers caught passes, led by Meyer (7-112, one touchdown) and Tyler Schwieterman (6-63). Marcel Blasingame also caught a TD. Meyer's score came with a 52-yard strike down the middle when he got behind the defender and Dellinger hit Meyer in stride.
"That play is my favorite, by far. We always have to run it at least once a game. It's always a wide-open play for me."
As for the defense, Coldwater held a West Jefferson offense averaging 34.7 points per game to a pair of field goals until eight seconds left in the game. Muhlenkamp had excellent coverage on Roughriders' standout receiver MJ Book, but Buescher perfectly placed the ball over Book's shoulder in the corner of the end zone. Muhlenkamp was vocal in his disappointment … as if West Jefferson had just made it a game.
"We always expect the best out of ourselves," Muhlenkamp said. "We know what this means to us and this community. A small detail is something major in our book. We just try our best."
Buescher, who completed just three passes in last season's 42-7 regional final playoff loss to Coldwater last season, finished this one 16-of-26 for 98 yards with two interceptions. The Roughriders managed 162 yards of offense, including 64 rushing on 18 carries.
Their best offense was kickoff returns. Adam Fry returned three kicks for 177 yards (59 yard average).
Schwieterman ended a second-quarter drive with an interception at the Cavs' 6. He roamed way over from the middle of the field to grab the pass and tip-toe the sideline to end one Roughriders' scoring threat. Later in the quarter the Roughriders just missed scoring again before settling for the field goal. A second-down pass hit a wide-open receiver at the goal line, but he couldn't come down with the high pass he had to leap for. The ensuing pass in the corner of the end zone was inches out of each.
West Jefferson also reached the Coldwater 15 late in the third quarter, a drive that ended two-yards short on fourth-and-12.
"They're just athletic. They can match up with us and they can run with us," West Jefferson coach Shawn Buescher said. "They did a good job mixing up coverages. They're more coverage-oriented this year than what we've seen in the past. They do some different things. The main thing is they are so athletic on the back end."
This was West Jefferson's fifth playoff meeting with Coldwater going back to 2010. Coldwater has won all five.
"It's one of those things … where you watch their run after they played us and they continued to do the same, if not worse, to other people," Buescher said. "We're just going to keep plugging away and keep attacking our program each and every year. We want to make sure we put ourselves in the best position to compete with them."
Next up for Coldwater (13-2) is Carey (14-1) for the D-VI state championship. Carey beat New Middletown Springfield 26-13 in its state semifinal game. Coldwater goes for its eighth state title and sixth under Otten.
"In junior high and elementary we were winning those titles," Muhlenkamp said. "It was always in the back of our mind that it'd be awesome our senior year to do that. That's been driving us all year, especially coming off the momentum last year. We tasted it last year. We knew if we came out and played well we could get there this year."
And make it look easy.