The Buckeyes can forget about winning a fifth straight Big Ten championship and playing in the College Football Playoff a third straight season…after the Wolverines dominated them in every way to end their losing streak in the series at eight games.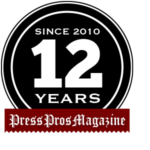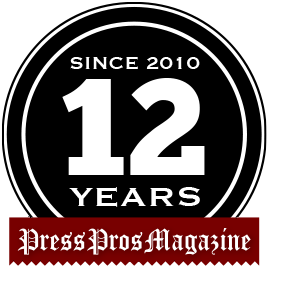 Ann Arbor, MI – There is – or is that was – a web site that chronicles just how many days it had been since Michigan defeated Ohio State on the football field.
Before kickoff, HowManyDaysSinceMichiganBeatOhioState.Com accurately reported that it had been a ridiculous 3,654 days since the Wolverines won "The Game" and didn't talk about having to wait until next year.
As the snow fell gently as if it was a giant snow globe, Wolverines fans were shoulder-to-shoulder from goal line to goal line celebrating heartily on the artificial turf at Michigan Stadium on Saturday.
For old-timers, it felt like 1969 when first-year Michigan coach Bo Schembechler upset then No. 1-ranked Ohio State to renew what had been a rather limp rivalry. It was the same thing in 2001 when first-year Ohio State coach Jim Tressel ended Michigan's dominance.
Led by tailback Hassan Haskins running for 169 yards and five touchdowns and defensive end Aidan Hutchinson getting three sacks, the Wolverines convincingly de-cleated the Buckeyes 42-27 before a delirious crowd of 111,156.
It was the most points Michigan (11-1) scored against Ohio State (10-2) since it had 58 in 1946.
With this pratfall, the Buckeyes (10-2) said bye-bye to their chances of winning a fifth straight Big Ten championship and making a third straight appearance in the College Football Playoff.
Now, it's a trip to the Rose Bowl or somewhere else. That will seem like a trip to Peoria, Illinois.
Ohio State had won eight straight games in the series and 17 of 19.
"It's a failure,'' head coach Ryan Day said. "It hurts a lot. I just know that we didn't get the job done.''
There's no question Michigan had a lot to do with it, but he said his players weren't up to the task.
"Any week, if you don't show up, this can happen,'' Day said. "We didn't play our best game today.''
His post-game news conference lasted a little more than six minutes.
What was there to say?
This is the first time since 2017 that the Buckeyes have lost two games in the regular season.
This was a red-letter day for Wolverines coach Jim Harbaugh. He took a cut in salary, lowered his buyout and gutted a good part of his coaching staff in order to get things right against his No. 1 rival.
He lost his first five games against Ohio State in every fashion one can imagine.
Hutchinson said his team made a stand because it couldn't take the disrespect anymore.
"These guys have been disrespecting us, stepping on our jerseys, talking about hanging 100 on us," he said. "Doing all the rah-rah and all the talk, but we're about it today."
Hutchinson could have entered the 2021 NFL draft, but he chose to return in order to finally beat his tormentor.
"This was it right here; visualized storming the field, I wanted the goal posts to go down but I don't think they're down," Hutchinson said. "All that, just crying, we did it and it's something that I've been thinking about for years now."
The same bugaboos that hit the Buckeyes in a loss to Oregon and difficult victories against Penn State and Nebraska whacked them on the knees.
The Buckeyes entered ranked second in the CFP, but they were unmasked as a fraud in giving up 487 total yards, being flagged 10 times and losing their composure several times during the gray, cold afternoon.
Twice in the first half their offense broke down in the Red Zone  — at the 3-yard line and 13 — and settled for 31- and 30-yard field goals by place-kicker Noah Ruggles.
A false start penalty blew up the first venture into the Red Zone.
Everyone could tell Ohio State was getting frustrated, and it boiled over at halftime when the teams had to be separated after they had walked up a narrow tunnel to their locker rooms.
About midway through the third quarter, defensive back Cameron Brown pried the helmet off receiver Roman Wilson in the end zone and received an unsportsmanlike conduct penalty.
For a while, it looked as if the teams would brawl until officials and coaches restored order.
"We have to be disciplined. We take pride in our discipline,'' safety Bryson Shaw said. "A few times it got the better of us.''
Earlier, he said, "We just didn't execute. We prepare 365 days for this game. This puts a really bad taste in our mouths. We just have to learn from it.''
The sticking point for Ohio State was being unable to even slow Michigan's running game.
The Wolverines ran for 299 yards for a 7.2-yard average.
"It's embarrassing,'' Shaw said. "They came in with a good plan and they executed their plan. We played far from our best game. I give them credit. But we didn't execute out there. It was just bad.''
Michigan quarterback Cade McNamara never got to the point where he had to sit in the pocket and get passing yardage to keep drives alive.
The Wolverines ran for 16 first downs.
"We straight overpowered Ohio state's D-line," McNamara said.
This defense supposedly got things straightened out after secondary coach Matt Barnes replaced Kerry Coombs after the Oregon game.
As things turned out, what the Buckeyes did was pile up gaudy statistics against Tulsa and Akron in non-conference games and the bottom-dwellers in the conference.
This team was never in synch defensively against teams that showed a pulse.
"When you feel they're controlling the ball on the other side of the ball, it gets frustrating," Day said.
Michigan told everyone, including a national television audience on FOX, that it was in this game for the long haul when it drove 75 yards in 10 plays for a 14-yard touchdown run on an end-around by AJ Henning.
Just when it seemed as though Ohio State finally had some rhythm in taking a 10-7 lead on a sensational 25-yard touchdown reception by wideout Garrett Wilson, the screw turned.
The Wolverines jetted 82 yards in 13 plays to take the lead on a 1-yard run by Haskins with 3:51 left before halftime. They converted a third-and-three on the third play of the drive and a fourth-and-one with a 2-yard gain by Blake Corum to the Buckeyes 41.
Getting off the field has been a shortcoming for Ohio State all season, but it wasn't a factor in this loss, with Michigan staying ahead of the chains all day. It was 5-for-8 on third down.
The Wolverines made yet another statement when they needed only three plays to make it 21-13 on a 13-yard run by Haskins just 3 minutes, 10 seconds into the third quarter.
The big play was a 55-yard run to the 13 by Corum in which he hit the hole over left guard, cut slightly to his right and didn't stop until being tackled by Ronnie Hickman.
The crowd and Michigan smelled victory with 5:49 left in the third quarter on Haskins' 1-yard run.
The sense that this long losing streak would be history grew on the next series.
Still, Ohio State got within 28-20 on a 17-play drive that ended with a 1-yard touchdown by tailback TreVeyon Henderson.
But this was Michigan's day and its game, and a 66-yard drive ended with, what else, a 2-yard touchdown run by Haskins that made it 35-20.
The statistics looked pretty good for the Buckeyes' offense. They gained 458 total yards and actually won the time of possession with 31 minutes, 48 seconds.
But quarterback CJ Stroud, a redshirt freshman, has been a 53 percent passer when under pressure. On this day, he had little time to pick out his receivers. He was sacked four times.
He was 34-for-49 for 394 yards, no interceptions and two touchdowns.
"I put my heart and soul into this game. We all did,'' Stroud said. "They did a good job of getting pressure.''
His line was shaky all day, particularly right tackle Dawand Jones. Jones simply could not handle Hutchinson.
The offensive line alone was penalized five times for false starts and once for holding.
"I won't blame my line,'' Stroud said. "I blame myself.''
He said he lost his voice early in the week and couldn't get it back.
"I don't know what type of sickness I have," Stroud said. "But I've been sick all week. I'm just trying to get right, trying to get my voice back. There's not really too much to explain. Sometimes you've got to play sick."