The Wolverines are treating this rivalry a lot differently and doing a lot less talking about it publicly.  And there's no question they have the upgrade in talent to finally win after eight straight losses.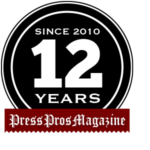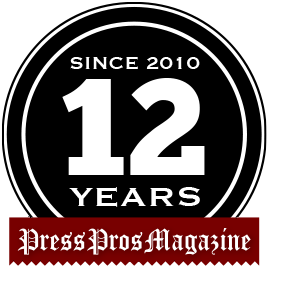 Columbus, OH – In all reality, the 2019 Ohio State-Michigan game was over and done with after the third quarter when the Buckeyes had a 23-point lead.
The head count at Michigan Stadium was 112,071 that day, but people wearing maize and blue had to be thinking about making quick getaways to the parking lots.
The place is dubbed the "The Big House,'' but that day the visitors had a key to the front door and made a mess of things inside.
So why was first-year Ohio State head coach Ryan Day overcome with emotion to the point where his voice was cracking while being interviewed on the field?
"The Game can'' do that to a person.
"I don't know what else to tell you other than there is a lot of pressure, and that's the way you want it," Day said Tuesday. "You want this game with everything riding on it at their place. It's going to be a wild environment, and again, that's why you come to Ohio State."
Day and his ballclub will get their wish at high noon Saturday in Ann Arbor. FOX television people are predicting an audience of 16 million, which would be enormous for a college game.
A ton of Ohio State-Michigan games have meant a lot in the national scope, and this one is right up there with them. The Buckeyes are ranked second in the College Football Playoff and the Wolverines fifth. Both teams are 10-1.
Victory means a spot in the Big Ten championship game next Saturday in Lucas Oil Stadium in Indianapolis and gets that team one step closer to the playoffs.
The loser?
Who would have ever thought the Rose Bowl would be a booby prize?
Ohio State has won the last eight games in the series and 17 of the last 19.
Head coach Jim Harbaugh has reworked his contract for less salary and brought in six new assistant coaches with one being more than 40 years old to get it right against the Buckeyes.
He has lost weight by lifting weights and participating in some drills with the players.
The staff also has made it a point to treat the Buckeyes like the Buckeyes treat the Wolverines. They are living the game almost every day.
There is a 9-on-7 drill that is designed to raise spirit.
"This year, we changed it to (the) Beat Ohio drill,'' offensive lineman Trevor Keegan said. "Now, we're blasting music, smelling salts, everything. And it's a pretty physical period, and we love it."
Day understands that approach.
"We live it every day of the year,'' he said. "This is our No. 1 goal here at Ohio State: To beat the team up north, period. And we've got to do it."
The 10-foot- tall question is whether Michigan has a chance.
This is a team that blew a 16-point lead against upstate rival Michigan State and lost 37-33.
It took a lost fumble by Nebraska quarterback Adrian Martinez in his own territory in the final minutes for the Wolverines to kick a field goal and survive 32-29.
Penn State led Michigan late in the fourth quarter until quarterback Cade McNamara hit tight end Erick All for a 47-yard touchdown pass to eek out a 21-17 win.
McNamara, a junior, thinks his team is ready for this.
"Overall, our preparation this season has been great," he said. "We haven't faced a team that has really fooled us. I know I can say the same thing about my preparation, and I'm confident in my preparation. This week, obviously, there's going to be a heightened level of focus, that's just what comes with this game. It's also a point of emphasis that we don't have to do anything abnormal in this game — we just have to be Michigan."
Ohio State is saying the same thing. It mostly created its own turbulence in struggling in four games.
In Week 2, it gained 612 yards against Oregon, but gave up 505 yards and had eight penalties in falling on its face for a 35-28 loss.
The following week, Tulsa was within a touchdown with 12 minutes, 7 seconds left before losing 41-20.
There was a sorry 1-for-6 showing in the red zone and eight penalties in a 33-24 victory over Penn State, and there were eight more penalties and only 90 yards rushing in a 26-17 victory over Nebraska.
"As an offense, we've got so many weapons, so much talent around the field at every position, I feel like when we go into a game the only person that can stop us is us," receiver Chris Olave said. "So as long as we stay on schedule, keep spreading the ball around, I feel like that's what it is."
The feeling here is that Michigan will have something for Ohio State. It just feels different going in.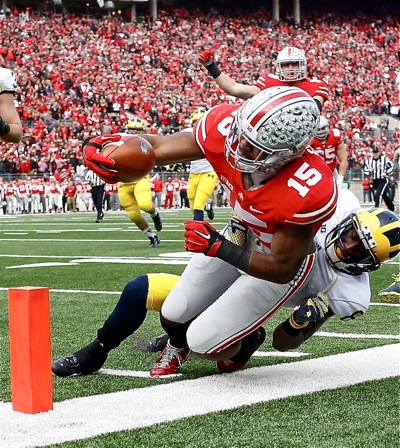 Harbaugh has put together an offense that is run-heavy behind tailbacks Hassan Haskins (1,063 yards, 13 touchdowns) and Blake Corum (778 yards, 10 scores).
Corum has sat out the last two games with an ankle injury, but true freshman Donovan Edwards caught 10 passes for 170 yards in a win last week over Maryland.
The leading receiver is Cornelius Johnson with 32 catches for 516 yards and three scores, but true freshman Andrel Anthony can be explosive despite catching only nine balls.
McNamara has been a game manager with modest totals of 170 completions in 265 attempts for 14 touchdowns and 2,142 yards.
Note: He has been sacked only nine times and intercepted twice.
McNamara told a media outlet that he is "not concerned about Ohio State's defense'' and is looking to take advantage of it.
Look for Michigan to run, run, run and run some more, but also attempt short passes via the screen and behind the linebackers.
In the end, though, the Wolverines must at least hinder the Buckeyes' offense if they have a shot at winning. They have a number of playmakers in defensive ends Aidan Hutchinson and David Ojabo and linebacker Josh Ross. Hutchinson has 9 ½ sacks and Ojabo 10 and Ross has 7 ½ tackles for losses and 80 tackles in all.
Michigan ranks eighth nationally in fewest passing yards allowed per game (178.4) and seventh in fewest passing yards allowed per attempt (5.82).
Only 11 touchdown passes have been allowed, and no opponent has exceeded 300 yards passing in a game.
Stroud, a redshirt freshman who supposedly is the front-runner for the Heisman trophy, has thrown for 3,468 yards and 36 touchdowns and completed 72.4 percent of his passes.
Wolverines defensive coordinator Mike Macdonald spent the previous seven seasons as the Baltimore Ravens' linebacker and defensive back coach.
He came to Michigan highly recommended by Ravens head coach John Harbaugh, Jim's brother.
"I think his style of defense is a little bit more NFL-oriented the way that they're structured," Day said of Macdonald. "They're very good. They have very good personnel. They've done a good job."
But they have not faced a team quite like the Buckeyes.
"They're big players, they make big plays, and that's one thing we saw on film," Michigan defensive back D.J. Turner said.
Ohio State players have a lot of reverence for the Wolverines' defense, and rightfully so.
"They're talented, they're fast, they're athletic, they're strong, they're everything that you would imagine a great defensive end would be," left tackle Nicholas Petit-Frere said. "They're a great challenge for us."