They staged the state's top thriller in the regional final round, and in the end Upper Arlingon remains clean with a three-overtime thriller win over Pickerington Central.
By Aaron Blankenship for Press Pros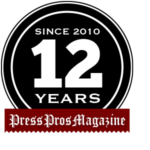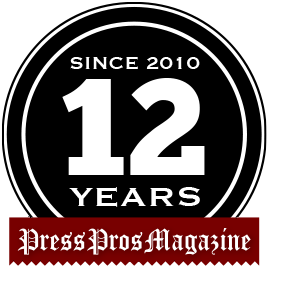 Westerville, OH – Upper Arlington coach Justin Buttermore knew his team would be at a disadvantage in terms of next-level talent and size in its Division I, Region 3 final against Pickerington Central.
While the second-seeded Tigers have at least 10 players who have been offered Division I college football scholarships, including four offensive linemen and four defensive linemen, the top-seeded Golden Bears have none.
Yet, even though UA couldn't hope to match the Tigers' physical size at the line of scrimmage, it was able to overcome that disadvantage with a combination of teamwork, effort and superior execution in defeating Central, 21-14, in an epic three-overtime thriller Friday night at Westerville Central.
Upper Arlington, which improved to 14-0, advanced to a state semifinal to face Lakewood St. Edward on Nov. 26 at a neutral site. The Golden Bears have captured their first regional title since they went 15-0 and won the Division I state title in 2000.
"We were definitely outmanned in terms of size and scholarship players on both sides of the ball, and we knew they were going to use their big guys to try to wear us down as the game went on," Buttermore said. "No doubt most people probably expected them to have the advantage in overtime because of their size, but we had a plan to stay in the game and our kids battled hard all night. Our kids had a belief in themselves and their teammates, and I'm so proud of the heart and effort our entire team showed tonight, because it took a team effort to win this game."
Upper Arlington's offense was limited to only 235 yards on 61 plays. But wide receiver Chris Mazzaferri managed to have five catches for 81 yards and two touchdowns, including a 20-yard touchdown reception on a screen pass in the third overtime, which put the Golden Bears ahead 21-14.
"That's our smoke screen and it worked well with great blocking ahead of me, and that was huge, because it gave us the momentum," Mazzaferri said. "It's been (21) years since Upper Arlington has been regional champions and we've brought our tradition of success back to where it once was.
"But give our defense credit, because they had huge stops all game and we wouldn't have won this without them."
Indeed, UA's defense forced two turnovers and stopped the Tigers on five of their six fourth-down conversion attempts and 13 of their 17 third-down conversion tries.
Kuyper Lashutka had two interceptions, including one in the end zone to keep the first overtime scoreless.
On a fourth-and-goal play from the 1-yard-line in the second overtime, a bevy of Golden Bears converged to stop Tyler Gillison for no gain.
And on a fourth-and-goal play from the 8 in the third overtime, linebacker Collin Ansel ran sideline to sideline to sack quarterback Braden Mantooth to end the game.
"Collin's having a great year, and he and Jake Badgeley and Doug Ryan fought their butts off the entire game against their big linemen," Buttermore said. "We're an effort-based team, and that was a great effort by our entire defense to keep them scoreless in all three overtimes."
Also leading UA's defense were linebackers Carter Brock (13.5 tackles), Chris Reynolds (nine tackles, one tackle for loss) and Asher Hamilton (four tackles, one tackle for loss), and backs Doak Buttermore (7.5 tackles, one tackle for loss), Luke Frederick (seven tackles) and Jack Purcell (three tackles, one tackle for loss).
"We're not the biggest team so we have to fly to the ball," Badgeley said. "We've had this never-quit mentality all season. We just tried to get in the backfield to make tackles and pressure their quarterback to make him throw a bad ball."
UA opened the game with an 11-play, 61-yard touchdown drive, which was capped by a 13-yard touchdown pass from Simon Monnin to Sam Cannon.
Monnin, who completed 13 of 27 passing attempts for 145 yards and three touchdowns, also tossed a 32-yard scoring pass to Mazzaferri early in the second quarter to give UA a 14-0 advantage.
Carson Gresock, the Central District Offensive Player of the Year, rushed for only 87 yards on 30 carries, and had three catches for 11 yards.
"On my first touchdown, both DBs let me run past them to the end zone, and (Monnin) put it up in the air and all I had to do was go up and get it," Mazzaferri said. "Pickerington Central has a great defense, but we played with a lot of heart and chemistry and made big plays when we had to."
Central cut its deficit to 14-7 before halftime, as Gino Williams battered his way into the end zone on a two-yard run, one play after Gillison broke loose for a 60-yard carry.
The Tigers then opened the second half with a 14-play, 80-yard touchdown drive, capped by an 11-yard run up the middle from Gillison.
Just three plays later, Gillison returned an interception 33 yards for another score; but the touchdown was wiped off the board by a personal foul penalty during the runback.
While UA was penalized only once for five yards, the Tigers were plagued with 14 penalties for a total of 95 yards.
With the loss, Central finished 12-2 overall and had its streak of five consecutive regional titles come to an end.
"We played sharp at times, but we didn't play sharp at other times," Central coach Jay Sharrett said. "It seemed like right when we got things going, we got a tough penalty that would really hurt us.
"We got beat by a great Upper Arlington team tonight and there's no shame in that."
Gillison, a Cincinnati recruit on defense, rushed for 93 yards and a score on 13 carries and had one reception for eight yards.
Mantooth was 17-for-25 passing for 109 yards with completions to 11 different receivers.
But UA's defense held up relatively well against Central's imposing offensive line, which features four linemen who already have been offered college football scholarships in left tackle Kobe Asamoah (Rutgers), right tackle Kyle Imboden, left tackle Keilan Smith and right guard Khalil Walker.
"Considering the talent they have, we played lights out overall," UA nose guard Doug Ryan said.
UA defensive tackle Jacob Pritchett added: "We kind of really didn't care about who they had on their team or where they're going to be playing next year. This was just another big game for us, and we all did our jobs to win it."