By Aaron Blankenship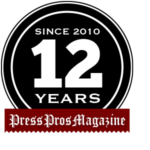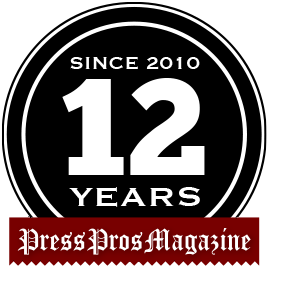 Powell, OH – Simon Monnin hasn't minded playing inside of the long shadow that's been cast by Upper Arlington running back Carson Gresock, who is the Central District Offensive Player of the Year,
The senior quarterback is quick to point out that Gresock has carried the load for the UA's offense throughout the majority of the season, while rushing for 33 touchdowns and more than 2,200 yards.
Yet, when opposing defenses have loaded up the box in an effort to slow down Gresock, Monnin has proven he's capable of stepping up and winning games with his throwing arm.
And that was the case once again in a Division I, Region 3 semifinal, as Monnin completed 10 of 14 passes for 170 yards and a career-best five touchdowns to lead the top-seeded Golden Bears to a convincing 41-10 victory over fourth-seeded New Albany.
Upper Arlington, with improved to 13-0 overall with the win Friday at Olentangy Liberty, advanced to a regional final matchup against second-seeded Pickerington Central, to be held Nov. 19 at a neutral site. New Albany finished 12-1.
"We knew coming in that they were going to load the box to try to stop Carson, so we were going to need to pass well to win this game," Monnin said. "It feels good to be able to contribute and help my team win like this, because (wide receivers) Sam (Cannon) and Chris (Mazzaferri) were open all night and my line gave me a lot of time to find them and get the ball to them."
UA's dynamic wide receiver duo torched New Albany's defense with big plays, as Mazzaferri had five catches for 98 yards and two touchdowns and Cannon had four catches for 71 yards and three scores.
"We knew they were going to load the box, but we have a great passing game," Cannon said. "We're a dual-threat offense and we showcased it tonight. Carson's the best running back in the state, but we have great wide receivers, too."
After New Albany held a 3-0 advantage at the end of the first quarter, the Golden Bears took their first lead of the night early in the second quarter, when Cannon caught the ball on a short crossing route and outraced New Albany's defensive backs 44 yards to the end zone.
On UA's next possession, Monnin threw a deep pass that Mazzaferri was able to reach over his head and snag out of the air with his left hand en route to a 46-yard scoring catch that put the Golden Bears ahead 14-3.
"At first, I thought it was going to be incomplete and I was (angry), so I'm glad Mazz was able to catch that one," Monnin said.
UA continued to pour it on in the second quarter, as an 8-yard catch by Cannon capped a 10-play, 65-yard drive.
And after Cannon returned a punt to New Albany's 22-yard line, Mazzaferri caught a screen pass and ran down the left sideline untouched on the very next play to give the Golden Bears a 28-10 halftime advantage.
"Carson's a special back, so when defenses chose to take him away, we're always prepared to loosen them up with our passing game," UA coach Justin Buttermore said. "We want to be efficient with our passing game, completing 70 percent of our passes or more, because we have a good quarterback and guys on the edge who can make big plays with the ball in their hands."
The Eagles opened the second half by going three-and-out, and then punter Colin Schuler shanked a 9-yard punt that was downed on New Albany's 32-yard-line.
After four consecutive runs by Gresock, Monnin tossed a 10-yard touchdown pass to Cannon.
"Upper Arlington has a great team, and we had trouble getting pressure on their quarterback," New Albany coach Bubba Kidwell said. "It was a perfect storm of them playing well and us not executing as well as we needed to."
Gresock, who was limited to 57 yards on 11 carries in the first half, finally broke free for a 55-yard run all the way to New Albany's 3 late in the third quarter.
Three plays later, Gresock appeared to be wrapped up behind the line of scrimmage, before shaking free of a defender and diving into the end zone to make it 41-10.
Gresock finished with 139 yards and a score on 20 carries, despite sitting out the fourth quarter.
"My favorite play of the game was Carson's touchdown run because it was a great second-effort to ice the game," Monnin said. "Also, our defense made big plays to stop New Albany on fourth down (twice) in the second half."
New Albany's offense, which averaged 48.2 points over its first 12 games, was led by fullback Jadyn Garnes, who rushed for 130 yards on 27 carries. Garnes ran for 51 yards on seven carries on the Eagles' first possession of the game, as they marched 84 yards on 17 plays to take a 3-0 lead on a 26-yard field goal by Schuler.
Christian Manville also rushed for 87 yards on 11 carries, including a 32-yard touchdown burst that pulled the Eagles within 14-10 midway through second quarter.
But New Albany turned the ball over on downs inside UA's territory twice in the second half, and Ned Neely picked off a pass by Brock Kidwell on the final play of the game.
"Getting held to three points on that first drive was big, because we're used to punching it in on those long drives," coach Kidwell said. "Then, they had two quick scores to go up 14-3 and we had to play catchup the rest of the way, which is something we aren't used to."
Leading UA's defense were middle linebacker Carter Brock (14 tackles, two tackles for loss), lineman Doug Ryan (nine tackles, one tackle for loss), back Luke Frederick (six tackles, two tackles for loss), Neely (five tackles, one tackle for loss, one interception) and free safety Doak Buttermore (five tackles).
"We were physical and we read their guards well," middle linebacker Chris Reynolds said. "They were tough and we weren't expecting such a low-scoring game from them. We gave a great effort every quarter and controlled the line of scrimmage."