The Tri-Village Patriots dug out of a 21-0 hole to knock off the defending state champions, using Reed Wehr's game-breaking speed for a 32-29 victory in the Division VII, Region 28 playoffs. The victory sends Tri-Village into another MAC match-up with St. Henry next week.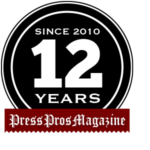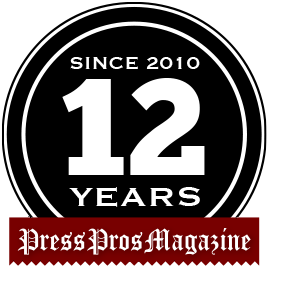 New Madison, OH – When asked post-game about his fourth-quarter screen pass, Tri-Village running back Reed Wehr said it ranks maybe third or fourth among his favorites during the high school football season.
Third or fourth? Those plays that rank ahead of the sophomore's zigging, zagging … and eventually gasping … 77-yard touchdown catch-and-run must be absolutely absurd. Wehr turned a pass two yards behind the line of scrimmage into a two-score lead midway through the fourth quarter, giving Tri-Village the cushion it needed to knock off defending state champion New Bremen on Saturday night.
Tri-Village overcame a 21-0 deficit, the loss of its best offensive lineman to a serious injury, some big-play mistakes and New Bremen's own comeback attempt to post a 32-29 victory in the second round of the Division VII, Region 28 playoffs.
The Patriots' defense deserves a heavy dose of credit for slowing down New Bremen quarterback David Homan, the Midwest Athletic Conference player of the year. But like home runs and slam dunks, everybody loves offense … especially when Wehr has the ball.
He got his chance thanks to that defense. Tri-Village – 10-1 and seeded No. 2 in the region — clung to a 25-21 lead midway through the fourth, a lead that looked in trouble as New Bremen (8-3, No. 7) drove to the Patriots' 12 yard line.
A fumble on a handoff popped into the air. Tri-Village sophomore linebacker Braden Keating pounced on it.
Two plays later, Keating – also the quarterback – lofted a screen pass to Wehr near the sideline. Wehr … and this description won't do his effort justice … grabbed the ball near the 20-yard line.
About four or five New Bremen defenders forced Wehr to cut left. A few steps later Wehr bounced off one of his own lineman at the 30. He regained his balance and kept moving with another cut to the left, taking him across the field with the defense in pursuit.
Wehr cut to his right near midfield to juke a defender. Near the Cardinals' 35 he started slanting left to the corner of the end zone to win the foot race.
"He's crazy. I've never seen a player like him," Keating said. "I think he cut back about four times. He just zig-zagged down the field. He was gassed. I was sitting there smiling and watching. I've never seen somebody do that."
"I just ran out of breath toward the end," Wehr said matter-of-factly. "I couldn't do any of it without my blockers."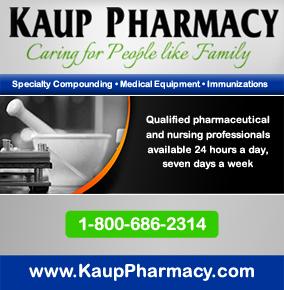 In fact, Wehr did it for one of his blockers. As did his Patriots' teammates. Senior Wyatt Plush, a four-year starter and the team's best offensive lineman, went down with a lower-leg injury with 2:29 left in the first quarter. Plush was taken off the field on a stretcher and to the hospital.
"When he went down … he's a big emotional leader for us," Tri-Village coach Robert Burke said. "We wanted to make sure our kids were in the right head space. They played hard the rest of the night for him. Seth Jesse stepped in and played his brains out the rest of the game."
Added Wehr: "We stepped up when we lost one of our greatest players. It really helped that we had our left guard, sophomore Seth Jesse, step up and do his job when we needed him to."
New Bremen's Homan entered the game with a team-high 1,109 yards rushing on 153 carries. He'd also thrown for 1,586 yards. That means he'd accounted for 245 of the Cardinals' 360 yards per game.
He had 116 yards on nine carries thanks to his 94-yard blast up the middle that gave New Bremen a 14-0 lead with 10:51 left in the second quarter. His six-yard score three minutes later made it 21-0. At that point, New Bremen had about 205 yards of total offense. Tri-Village had 31.
Tri-Village gained some confidence with Keating's 35-yard touchdown pass to junior Justin Finkbine on fourth-and-11. Finkbine also had a 31-yard grab on the drive.
In the locker room Burke's message to his team was simple: slow down, make your reads, stay home on defense. Burke said his team made correctable mistakes on three of New Bremen's big plays.
Second-half adjustments on defense and scheming to get Wehr in open space in the second half – he was bottled up by the Cardinals' team speed to the edge for 14 yards in the first half – made a difference.
"We tell our kids every day, winning is precious. It's very hard to beat anybody," Burke said. "When you play the defending state champ, has the pedigree New Bremen has and a winning record in the MAC … we knew we were going to get everything they had. For our kids to take their best punch and be able to come back really speaks to the character of our kids and our program."
As for New Bremen coach Chris Schmidt, his message was win the third quarter. Instead, New Bremen had one of its more uncharacteristic efforts in recent memory.

The Cardinals five second-half drives went lost fumble, interception, punt, lost fumble and touchdown.
During one stretch in the third quarter, the teams combined for three turnovers in four plays. New Bremen lost a fumble, Tri-Village turned it over on the ensuing pass and New Bremen tossed an interception two plays later.
After the Patriots got the ball back, Wehr immediately ripped off a 50-yard touchdown run to make it 21-18 with 4:01 left in the third quarter. His 2-yard run to on the opening drive of the quarter made it 21-12.
Where does that speed come from?
"It's got to be my mom, my grandma and my grandpa. They were all track stars," Wehr said. "My grandma, she was a bullet."
Faster than Reed?
"Nah," he said smiling, "not quite that fast."
"It's hard to believe he's only a sophomore," Schmidt said. "And I enjoy watching him just as much defensively as offensively. He does a real good job as a linebacker. A couple times we thought maybe we had a bigger play and he used his speed to get over there and fill in."
Tri-Village took the lead with 8:35 to play when Keating found senior receiver Scott Scantland for an 8-yard TD pass.
After Wehr's 77-yard TD, New Bremen used a 14-play drive that took 3:35 off the clock – capped by Homan's 1-yard run – to pull within 32-29 with 1:45 left. The comeback all but ended when Tri-Village junior Jace Lipps fell on the onside kick.
"We said all week they're a good football team," Schmidt said. "Well coached. A lot of good pieces and skill players. Unfortunately when you make some mistakes and you don't play las well as you think you could, you come up short. All credit to (Tri-Village)."

Wehr finished with 108-yards on 25 carries and had 77 yards receiving on his lone catch. Keating completed 14-of-19 passes for 264 yards and three touchdowns. He also threw two interceptions.
He hit Finkbine five times for 94 yards. Junior Joshua Randall, inserted into the lineup at halftime, hauled in three drive-stretching catches for 48 yards.
Homan completed 9-of-23 passes for 105 yards. He rushed for 197 on 29 carries. Hunter Schaefer added 112 yards rushing on eight attempts.
"(Homan) is our leader and he left it all out there tonight. They hit us," Schmidt said. "It stinks when it ends like this because you have to say good-bye to your seniors. But there's a lot of kids coming back and hopefully this fuels them in the off-season."
Next up for Tri-Village? Another MAC challenge. Tri-Village plays St. Henry next Saturday at a site to be determined. No. 6 St. Henry knocked off No. 14 Troy Christian, 34-0.
"I know New Bremen lost a lot of people from last year but they're still a really good team," Keating said. "We just have to focus on St. Henry because they're a good team, too. … A lot of people thought we couldn't hang with a MAC team. It shows we can hang with the MAC schools. We're going to party tonight then get ready for the next game."