New Albany's had too many weapons for Hilliard Darby to contain and broke away to a three-score victory, setting up a regional semifinal showdown with fellow-unbeaten and top-seeded Upper Arlington.
By Aaron Blankenship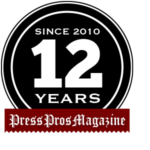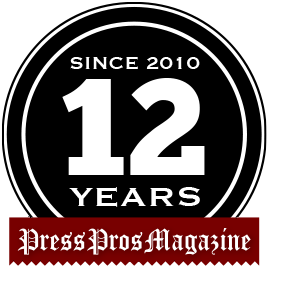 New Albany, OH — New Albany's wing-T offense has been able to cut its way through opposing defenses like a buzz-saw this season by utilizing a balanced running attack that features three players with well over 900 yards apiece in Jadyn Garnes, Christian Manville and Brock Kidwell.
That style of play worked to near-perfection once again on Friday, as the fourth-seeded Eagles piled up 476 offensive yards on the way to defeating fifth-seeded Hilliard Darby, 49-26, in a Division I, Region 3 quarterfinal.
"We put four guys (including wide receiver Jameson Rossler) out there who can do something with the ball, and if you focus on stopping one of them, you have to worry about the others," said New Albany coach Bubba Kidwell, whose squad improved to 12-0 overall. "Our offensive coordinator, Brian Finn, has done a great job of putting our kids in a position to be successful, and all of our kids are making plays to help us win."
The Eagles scored on seven of their nine possessions, converted on eight of their nine third-down attempts and rushed for 458 yards on 50 carries to advance to a regional semifinal matchup against top-seeded and undefeated Upper Arlington on Nov. 12 at a neutral location.
Darby's defense gave up a season-high 49 points after surrendering an average of only 18.2 points in its first 11 contests.
"They moved the ball at will on us," said Darby coach John Santagata, whose team finished 8-4. "New Albany's a really good football team. They are undefeated for a reason."
Garnes rumbled his way to 225 yards and four touchdowns on 27 carries.
Despite playing as a fullback, Garnes showed some versatility as a runner. After lowering his shoulder and plowing six yards up the middle for a score, giving New Albany a 14-7 lead early in the second quarter, Garnes juked his way past a defender at the line of scrimmage and sprinted 66 yards down the right sideline to make it 21-14 in the third quarter.
Garnes also shook off two tacklers at the line of scrimmage on his way to a 23-yard touchdown run to give the Eagles a 28-20 advantage midway through the third quarter; and he scored on a five-yard run up the middle to extend New Albany's lead to 35-20 with 1:05 left in the third quarter.
"Jadyn's a fullback, but he's a great athlete at 6-1 and 190, who can do just about anything," quarterback Brock Kidwell said with a chuckle.
Kidwell read Darby's defense well, consistently distributing the ball to the right players at the right time, as Manville (a halfback) had 70 yards and a touchdown on nine carries and Rossler had three catches for 18 yards and a score. Kidwell, who is Bubba's son, ran the ball 14 times for 163 yards, including a five-yard scoring run that put New Albany in front, 7-0, midway through the first quarter. Kidwell also went 3-for-5 passing for 18 yards, with a six-yard scoring strike to Rossler with 4:12 left, which made it 42-26 and iced the game.
But Kidwell made his biggest play on the first drive of the second half, when he scrambled 27 yards for a first down on a third-and-26 play that began at the 50, after New Albany had been penalized for a chop block.
"I knew we weren't going to get the first down there if I would have thrown it to the open man on a short route, so I started scrambling," Kidwell said. grinning. "That's my go-to, to start scrambling when we need a big play."
On the very next play, Garnes scored his third touchdown to cap a 12-play, 75-yard scoring drive, which gave the Eagles a 28-20 advantage and the momentum.
"That (scramble) just crushed us," Santagata said. "If we would have stopped them there, maybe the momentum swings our way and it's a different game."
Blake Horvath kept Darby competitive by rushing for 96 yards and four touchdowns on 21 carries, while also completing three of six passes for 57 yards.
Horvath scored on a two-yard run with 43 seconds left in the second quarter to pull Darby within 21-20 at halftime.
The senior quarterback also scored on an eight-yard run early in the fourth quarter to set a team record for most career touchdowns (57), breaking the mark set by 2008 graduate Jeremy Ebert (56). Horvath finished his career with a team-record 49 rushing touchdowns.
"Blake's a tremendous football player and I'm sure he will play college football somewhere," Santagata said.
Darby's offense racked up 299 yards, as Beau Bridges rushed for 63 yards on four carries and had a 44-yard-reception, and James Hakes ran for 61 yards on 14 attempts.
"We were concerned about their quarterback because he's one of the best athletes we've faced," coach Kidwell said. "(Horvath) got his yards, but our defensive front, led by Jake Walters, Griffin Pringle and Tom Bohman, did a great job of taking their dive away, and our outside linebacker applied pressure."
The Panthers scored only six points in the second half, converting only two of six third-down attempts and failed on their lone fourth-down attempt.
"Our defense was more physical in the second half," New Albany senior linebacker Brady Willmer said. "We had a rough first half, but then we played better assignment football and filled our gaps."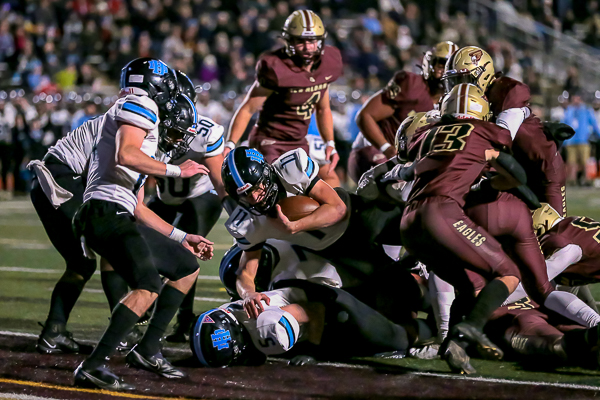 Darby QB Blake Horvath scores on a dive up the middle in the first quarter, one of his four touchdowns that set a school record for career TDs.